Sad News For Alex Guarnaschelli's Engagement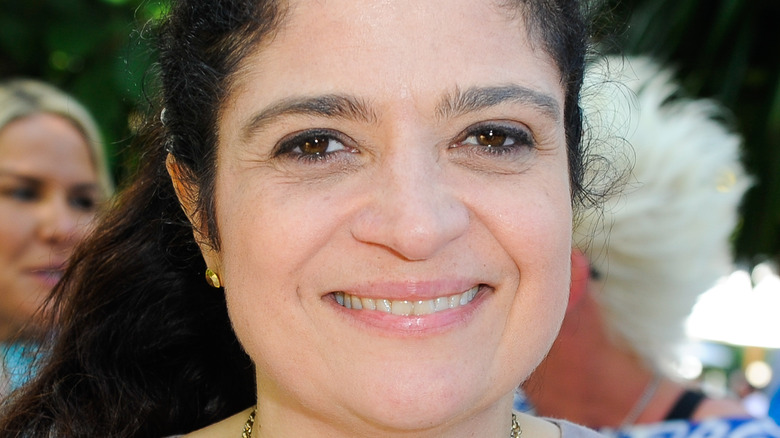 Sergi Alexander/Getty Images
Alex Guarnaschelli is one of the most well-known chefs on television, having appeared on shows like "The Kitchen," "Chopped," "Iron Chef America," and most recently, "Alex vs. America." The Food Network star is known for her approachable personality and oh-so-delicious recipes. Before her success on mainstream television, Guarnaschelli had spent years perfecting her culinary craft. She studied in France, worked in the Michelin star restaurant Guy Savoy in Paris after graduation, and eventually relocated back to New York where she became the executive chef of Butter Restaurant, according to Authority Magazine.
Along the way, Guarnaschelli also found time to start a family. Guarnaschelli was married to lawyer Brandon Clark in 2007 and they share a daughter named Ava together. Unfortunately, they couldn't make their marriage work and divorced in 2015, per Closer Weekly. Following their divorce, Guarnaschelli met Michael Castellon, a fellow chef whom she met while dining in his restaurant with a friend, per People. The two got engaged in 2020, but just as fans were hoping to see them walk down the aisle, the couple has called it quits.
Alex Guarnaschelli and Michael Castellon split after five years together
Cindy Ord/Getty Images
Alex Guarnaschelli has called it quits with Michael Castellon after five years together. Castellon confirmed the news via Closer Weekly, saying in a short statement, "Wishing her nothing but the best." Rumors of their split had been rampant for the past several months after users on Reddit noted that Castellon had not made any appearances on Guarnaschelli's Instagram account, and that she had not been wearing her engagement ring in photos. "He was Chopped," a user wrote in the thread, referencing Guarnaschelli's judging role on the show, while another user said that there was "zero interaction" between them.
Guarnaschelli and Castellon's split comes nearly two years after they got engaged in June 2020. Castellon proposed to Guarnaschelli while they were driving home from a grocery store, telling her that he spotted a deer and she should go look at it. "And he said, 'There's no deer.' He's like, 'This is why I have to marry you because you just believe me every time,'" Guarnaschelli told People. "He said, 'Will you marry me?' and he gave me the ring."  At the time, Guarnaschelli told the outlet that they were in "no hurry" to tie the knot, but were excited to have a "blowout" wedding when the time came. However, it looks like Guarnaschelli isn't too bummed about the breakup, as she continues to be active on social media, sharing recipes and moments with her daughter.