Chris Noth Returns To Social Media And Fans Have Thoughts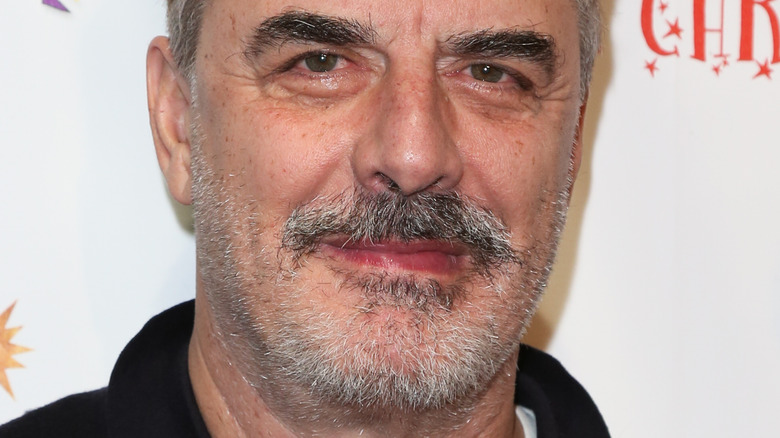 Paul Archuleta/Getty Images
Since first being cast as the iconic Mr. Big in the hit HBO series "Sex and the City," Chris Noth has captured fans' hearts while playing Sarah Jessica Parker's musing romantic partner onscreen. Winning over the love and support from the show's followers since the "SATC" pilot in 1998, Noth has built a respectable career in the limelight, which includes his previous work on "Law & Order," on which he spent five seasons before setting hearts aflutter on the groundbreaking Emmy-winning comedy-drama series.
So when the "SATC" reboot titled "And Just Like That" was released in December 2021, fans who have followed the actor for more than two decades jumped with excitement at the news. But the long-awaited comeback was steeped in controversy almost immediately after its pilot premiered, when multiple women came forward to share sexual assault allegations against Noth, resulting in him being cut out of the Season 1 finale. Since the fallout, the actor hasn't peeped a word on his social media — until now.
Fans show Chris Noth support after he returns to social media
Larry Busacca/Getty Images
"Sex and the City" star Chris Noth has made a subtle return to social media after months away. Before the actor vanished from his Instagram account with more than 475,000 followers in December 2021, he regularly made an effort to reach fans on his feed. Now, Noth seems to be easing his way back into the spotlight.
On February 17, Noth shared a photo that included his teenage son Orion shooting a basket with the caption, "SWISH. It's a thrill to watch his love for basketball blossom." Fans were excited to see it, commenting with heart emojis "We love Chris!!!" Another wrote, "I still believe you." Noth's fans made their support for the disgraced actor clear, with one fan commenting on his online return, "We support you Chris. Hope you are well." Another follower wrote, "So glad u r with ur kids.... Time heals all."
Two days later, the actor showed support for his youngest son, Keats, on his birthday, posting a picture of a shadow of Noth holding his son on his shoulders. One fan wrote, "Hold on! Everything will be fine. Happy Birthday to the little man." However, there was no reaction from his some of his former castmates who still follow him. 
Do Chris Noth's SATC co-stars still follow him?
Keith D. Bedford/Getty Images
Although Chris Noth stayed clear from posting on social media after sexual assault allegations were made against him in 2021, it looks like most of his "Sex and the City" and "And Just Like That" co-stars still follow him. According to the actor's Instagram account, Sarah Jessica Parker — who plays Noth's onscreen lover and wife Carrie Bradshaw in both HBO series — still follows him, even though Parker has not liked or commented on a post of his since October 2021. Kristin Davis, who plays the sweet socialite Charlotte York Goldenblatt, still follows the actor and last liked a post of Noth's in December 2021, while Cynthia Nixon, known to "SATC" fans as Miranda Hobbes, does not follow him. 
Even though some of his former castmates still follow him online, it's unclear whether Noth is on speaking terms with his longtime co-stars or not. Parker, Davis, and Nixon released a statement on the allegations the same month The Hollywood Reporter released an article with statements from some of Noth's alleged victims. The three "AJLT" actors stated, "We support the women who have come forward and shared their painful experiences. We know it must be a very difficult thing to do and commend them for it," per Parker's Instagram story (via W Magazine).