Meghan Markle's Oprah Dress Just Took On A Life Of Its Own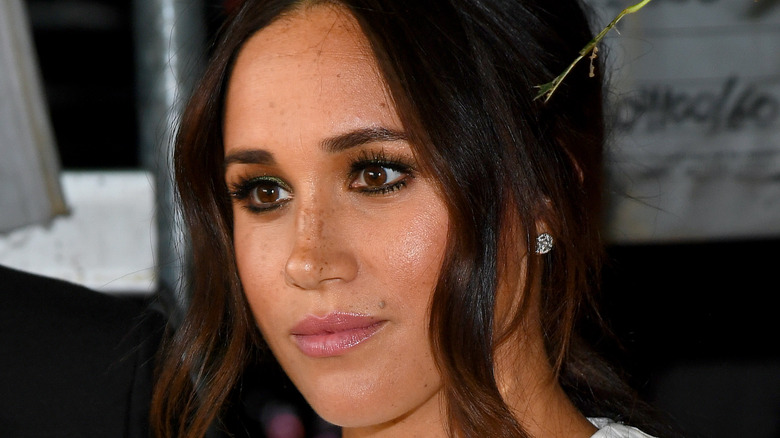 Kevin Mazur/Getty Images
Was there any part of Prince Harry and Meghan Markle's interview with Oprah Winfrey that didn't make history? It would appear not — as even the dress that the duchess wore is now getting its due as a historical artifact. 
In the now infamous interview, Harry and Meghan told the legendary Winfrey exactly why they had decided to officially retire from royal life, dropping all sorts of bombshells along the way. The truth about the Kate Middleton feud, Meghan's struggle with mental health, and allegations of casual racism were some highlights. During the interview, which took place nearly a year ago if you can believe it, Meghan was pregnant with the couple's daughter, Lilibet. Fashion maven that she is, the Duchess of Sussex wasn't about to wear some shapeless maternity dress for the biggest royal interview since Princess Diana. She wore a black, long-sleeved wrap dress by Armani, adorned with a large white lotus flower on one shoulder. 
According to Bustle, the flower was meant to symbolize rebirth and renewal. But now, the dress has a whole new meaning for the rest of us.
Meghan Markle's dress is named Dress of the Year
According to Women's Wear Daily, the Armani dress Meghan Markle wore for her bombshell interview with Oprah Winfrey will be displayed at Fashion Museum Bath, located in the famous Assembly Rooms in Bath, England. The dress will be the final stop on the museum's "A History of Fashion in 100 Objects" exhibition, and was chosen as Dress of the Year by Ibrahim Kamara and Gareth Wrighton of Dazed magazine. 
In a statement, the fashion editors said, "We both latched upon Meghan and Harry's now iconic interview with Oprah as the definitive anti-establishment moment that will forever endure in the British collective consciousness." Meghan's dress, beautiful on its own, is also symbolic of that game-changing cultural moment. "This look now, through sheer association with a viral television moment, is firmly engrained in our pop culture psyche," they said. 
Fashion Museum Bath's Dress of the Year goes back to the year 1963, according to the museum's website, and includes a few other iconic looks you'd definitely recognize. In the year 2000, the Jennifer Lopez's green Versace dress — the one that invented Google Images — got the honor. In 2020, the museum displayed Naomi Campbell's Burberry cape — which she styled over a hazmat suit.