Jenna Dewan's Daughter Everly Is Just Like Mom In Rare Candid Photo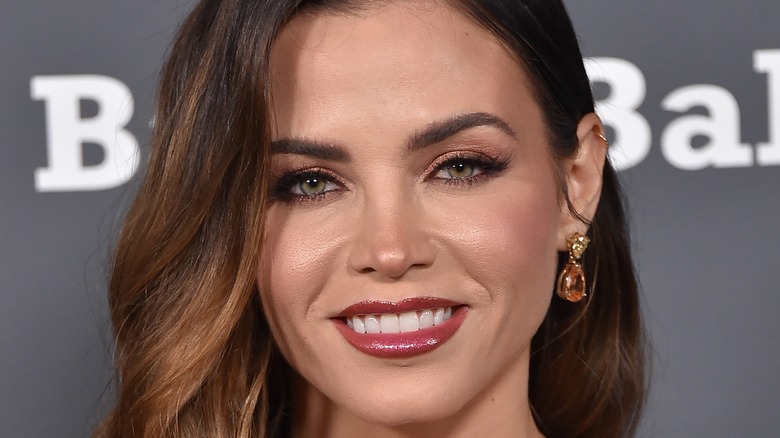 DFree/Shutterstock
Jenna Dewan famously shares her first child, daughter Everly, with ex-husband Channing Tatum. The circumstances in which the "Step Up" star had her second child, son Callum, were far different. Not only did Dewan have her second kid with fiancé Steve Kazee, but she gave birth in the early days of COVID-19, per Us Weekly. The actor was able to stay home with her newborn son in 2020 and that was a departure from her experience with baby Everly. "I had to travel with her and at the time, Chan wasn't available to be with us for the most part," she said on the "Dear Gabby" podcast in August 2021 (via Us Weekly). Dewan was working on "Witches of East End" in Canada at that time. "I did have her on-set with me constantly. It was just really difficult," she recalled.
Being a disciplinarian was another aspect of motherhood that Dewan admitted was difficult. "The thing I continually work on is maintaining boundaries because I am an extremely loving, soft by nature person and mother," she told Yahoo! Life in December 2021. Initially, Dewan created a boundary where she did not post Everly on social media. Eventually, after consulting with her daughter, the "World of Dance" host softened her stance and decided to post snaps of her daughter online. "[S]he's gotten older, she's voiced her opinion and the times have changed, and everyone just across the board was more comfortable with it," Dewan told Yahoo! That led to the actor sharing adorable on-set photos with her daughter.
Fans gush over Jenna Dewan's daughter
Similar to the days when Everly was a newborn, Jenna Dewan took her daughter with her to set, but this time she took snaps to share online. "The Rookie" actor uploaded two photos alongside her daughter to Instagram on February 22. In the first slide, both Dewan and Everly struck a serious pose as they smirked into the camera. The second picture was more candid as the actor made a "kissing" face as she leaned on her child who smiled. "Take your daughter to work day!" Dewan wrote in the caption.
The adorable on-set snaps had fans flocking to the comments section as several pointed out the similarities between Everly and her parents. "That girl has the best combo of genetics!! Lucky!!" one follower replied. "She looks like both her mom and dad. Beautiful little lady," another added, while the official account for "The Talk" lobbied for even more content from the pair. "Does this mean we're getting a mother-daughter TikTok too?" the talk show's official account wrote.
Earlier in the year, on January 7, Dewan shared a couple touching moments between herself and Everly on Instagram. "These are some of my favorite photos of Evie and I. She's pure magic," the actor said about her first born in the caption. The heartwarming shots gave insight to the close bond between Dewan and her daughter, as Everly played with her mother's hair in the first photo, and was seen being held tenderly in the second image.