The Reason Channing Tatum Wasn't Available After Jenna Dewan Gave Birth To Their Daughter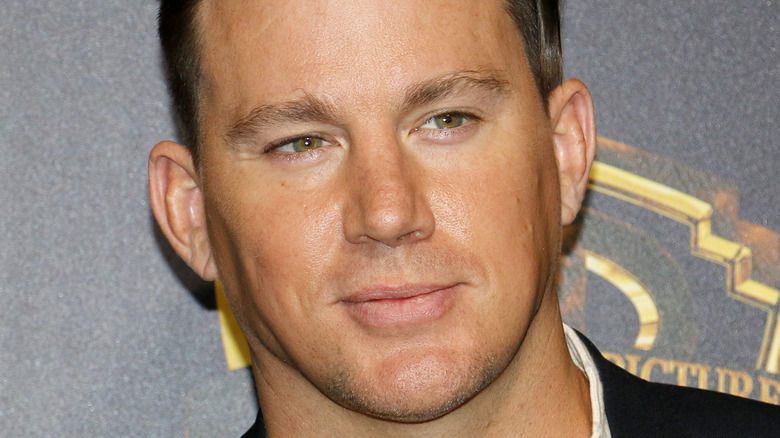 Shutterstock
When Channing Tatum and Jenna Dewan announced that they were headed for Splitsville in April 2018, the world came to an end for die-hard "Step-Up" romantics. They kept the reason for their breakup vague and promised to do right by their daughter, Everly, but the writing was on the wall. In October 2018, Dewan made it official and filed for divorce from her "Magic Mike" heartthrob husband, per E! News. And while they seemingly agreed that their marriage was over, they struggled with custody arrangements that would suit both.
According to The Sun (via the Mirror), the former couple reached a 50/50 custody agreement in 2020. Dewan has Everly from Monday to Wednesday, while Tatum has her until Friday. They then alternate weekends with their daughter in a seemingly fair split. However, Dewan wasn't too happy when her ex violated lockdown rules during the height of the COVID-19 pandemic. They allegedly, again, sought the court's help as they tried to navigate the murky waters of shared custodial rights of a minor child. In April, Tatum approached the court for a trial date because they still need to resolve "child support, spousal support, and division of property" issues, per Radar Online.
And while many initially thought that Tatum and Dewan were #coparentinggoals, it seems as if beneath the glitz and glamor, they were struggling all along. Let's take a closer look at their relationship, especially what happened right after Dewan gave birth to Everly in 2013.
Jenna Dewan struggled post-partum
Jenna Dewan is one happy mama. She regularly shares pics of her young family on Instagram and gushes about her fiance, Steve Kazee, with whom she shares her baby son Callum. And in a recent Dear Gabby podcast (via People), she revealed more about the start of her motherhood journey. "I had to travel with her and at the time, Chan wasn't available to be with us for the most part," the 40-year-old dancer said. "So, it was me, my doula, and Evie all by ourselves traveling at six weeks." It seems as if Channing Tatum had other work commitments after Evie's birth and couldn't travel with them.
Dewan shared that she had "a lot of postpartum anxiety" and it "just never stopped." The actor went on to describe what her post-birth experience was like. "You know, you're up a couple times in the night and then you're working all day," she said, before continuing, "I was breastfeeding, I was pumping, I was without a partner, I mean it was just craziness."
Luckily, the second time around, she had the support of her fiance Steve Kazee. She gave birth to baby Callum as the coronavirus lockdown started. She told Women's Health that initially, "I was in this postpartum-haze bubble, then a week later, everything just shut down. It was new; it was different; it was kind of scary. But we were all in it together." With the stay-home orders, her experience with Callum seemed worlds apart from Evie's start in life.
Channing Tatum calls Everly his "world" and "heart"
A month after Everly Tatum's birth, Channing got real about his introduction to fatherhood. "I am sleeping a little, probably a little more than most," he told The Hollywood Reporter. "A lot of people who have a baby probably don't have as much rest as I do. We have [a nanny] helping us manage all the risks of having a newborn." 
Channing also praised his then-wife Jenna Dewan, per E! News, "She's good, she's really good. Tired, you know... just taking care of the baby on those first months. First months are hard." Channing also seemingly confirmed that he had been somewhat absent. "I'm away from her for 12-13 hours and I feel like I come home and I feel like she's changed—like her face looks different," Channing said. "You feel like every minute that you miss is horrible." 
But things have changed for the better. The "21 Jump Street" actor wrote a children's book last year, "The One and Only Sparkella." According to People, he wanted to encourage Evie to be herself, and so Sparkella was born. "I was really nervous when I became a single dad, and having to raise a little girl, not being able to have the resource of a woman there to be able to lean into how to relate to her as she grows up," he explained. He recently posted a message for Evie on Instagram, "You my littles are everything! You are my world and my heart."