Bindi Irwin's Latest Tribute To Her Late Father Is Absolutely Gutting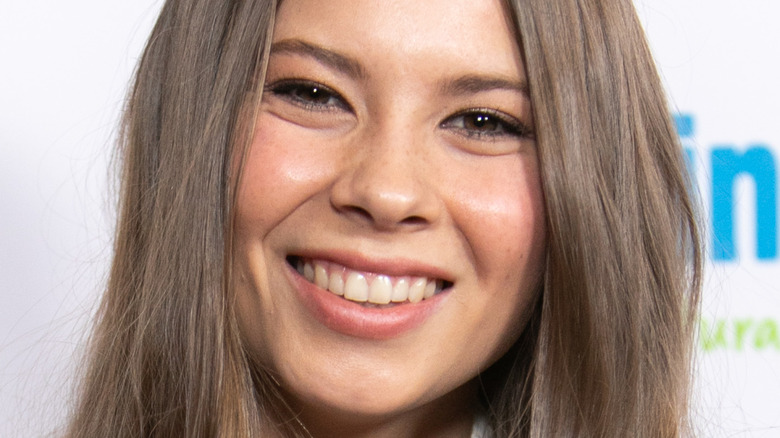 John Wolfsohn/Getty Images
From being born into a family that had a passion for wildlife and wild places, zookeeper and actor Bindi Irwin has always felt at home connecting with animals around her. She even broke a Guinness World Record for being the "Most followed TV conservationist on Instagram" with 4.8 million followers, according to the Australia Zoo.
Inheriting her parents' love for nature and appeal for entertainment, she made her television debut as a child through "The Crocodile Hunter," a show originally based around her father Steve Irwin, a legendary expert on wildlife who grew up around reptiles. Steve was trained by his own father, Bob, who once gave his son a python as a birthday present, per Biography.
Now more than a decade and a half after her father's death, Bindi and her family continue to actively improve conservation work around the world and at the Australia Zoo, her father's wildlife park he left behind, which was first established by her grandparents in 1970. Moreover, Bindi has always been open about missing her talented father, but it's especially more difficult for her family around February each year.
Bindi honors her dad Steve Irwin's birthday in a heartfelt message
The iconic "Crocodile Hunter" Steve Irwin would have turned 60 years old on February 22, per Biography. His daughter Bindi Irwin, who was fortunate to go along and experience some of her father's incredible adventures as seen on television, didn't hesitate to wish the "the greatest dad and Wildlife Warrior" a happy birthday by posting a heartfelt Instagram message.
Being a mom-of-one and an animal expert herself, Bindi added in her caption, "Your legacy lives on," and told fans she was going to spend the day watching throwback episodes with her own daughter, Grace Warrior, while sharing "stories about her incredible Grandpa Crocodile." In the photo shared, you can see a young Bindi standing next to her dad in adoration while he is seen happily holding up a snake next to her. Bindi ended the post with, "I love you with all my heart."
The former zookeeper died after he was stabbed by a stingray barb off the coast of Australia on September 4, 2006, according to Yahoo!. But his family never forgets his memory, often sharing their adventurous Australian lifestyle on social media that their dad implemented. Fans of the Irwin family chimed with, "Happy birthday Steve. We miss you" and "He was truly one of a kind." Additionally, Bindi's followers noted her strength to share her tearful message, "You are so inspiring to me and everyone."