The Controversy Engulfing Pro Golfer Phil Mickelson Fully Explained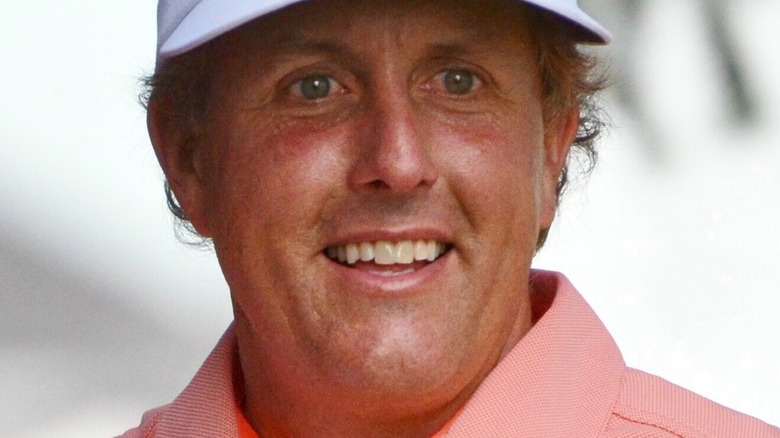 L.E.MORMILE/Shutterstock
American pro golfer Phil Mickelson has had quite a career. He has won several professional titles across tours and has held quite a few records on the field. According to Golf Channel, Mickelson has spent 25 consecutive years in the top 50 of the Official World Golf Ranking.
Mickelson is also one of the names that has been closely associated with a Saudi-backed league — a possible rival to the PGA Tour. However, the golfer is drawing criticism after the resurfacing of an interview from November 2021. The resurfaced interview showed that Mickelson had concerns about Saudi Arabia's human rights issues, which he'd been overlooking during his support for the breakaway league. The resurfaced interview saw the golfer calling out the gulf nation for its "horrible record" with human rights. "We know they killed [Washington Post reporter and U.S. resident Jamal] Khashoggi and have a horrible record on human rights," he told The Fire Pit Collective. "They execute people over there for being gay. Knowing all of this, why would I even consider it? Because this is a once-in-a-lifetime opportunity to shape how the PGA Tour operates."
After his past statements came out, Mickelson has been facing significant backlash, with some calling him out for his "moral bankruptcy," per The Telegraph. Mickelson, however, thinks that his comments were taken out of context.
Phil Mickelson apologized for his 'choice of words'
"It was reckless, I offended people, and I am deeply sorry for my choice of words," Mickelson said in a statement on February 22. "I'm beyond disappointed and will make every effort to self-reflect and learn from this." Mickelson added that he never intended to offend anyone. "This has always been about supporting the players and the game, and I appreciate all the people who have given me the benefit of the doubt," he clarified.
Mickelson also said that he needed a break from golf. "I have experienced many successful and rewarding moments that I will always cherish, but I have often failed myself and others too. The past 10 years I have felt the pressure and stress slowly affecting me at a deeper level. I know I have not been my best and desperately need some time away to prioritize the ones I love most and work on being the man I want to be," he said.
The backlash to his comments has affected his partnerships too. His longtime sponsor KPMG announced that it was ending its association with the professional golfer, "starting immediately." It was a "mutually agreed" decision to end the partnership. "We wish him the best," KPMG said in a statement, according to TMZ.