The Shady Side Of Miranda Kerr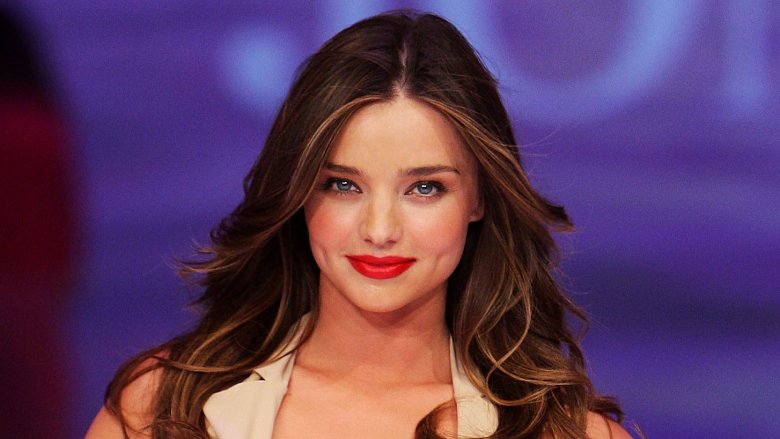 Getty Images
Miranda Kerr is one of the most stunningly beautiful women on the planet, but does her outside really match her inside? There are enough sketchy stories about the supermodel to lead many to believe that beneath the bright, shiny, glowing facade, there's a shady side lurking.
Her diamond scandal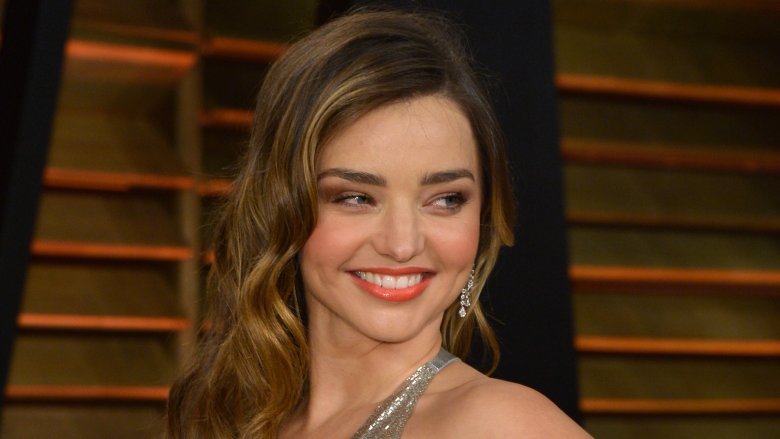 Getty Images
Kerr has an estimated net worth of $45 million, a result of years spent as a supermodel coupled with endorsements, including Swarovski crystals, Samantha Thavasa handbags, and her own beauty and skincare line. Not bad, right?
But not enough for the Aussie stunner. Despite being filthy rich in her own right, Kerr accepted more than $8.1 million worth of jewelry from Malaysian billionaire Jho Low, who she reportedly dated for a year between her marriages to Orlando Bloom and Snapchat CEO Evan Spiegel, respectively. In June 2017, The Wall Street Journal reported that Kerr had to hand over her baubles to U.S. government agents.
"From the start of the inquiry, Miranda Kerr co-operated fully and pledged to turn over the gifts of jewelry to the government," Kerr's publicist told the newspaper. "Ms. Kerr will continue to assist with the inquiry in any way she can."
The paper reported that the jewels, which included an 11.72-carat heart-shaped diamond given to Kerr for Valentine's Day in 2014, were identified in civil-forfeiture lawsuits filed by the United States Justice Department. The department is said to be seeking goods allegedly purchased with misappropriated funds. At the time of this writing, Low has not been accused of a crime.
She may have cheated on Orlando Bloom with Justin Bieber...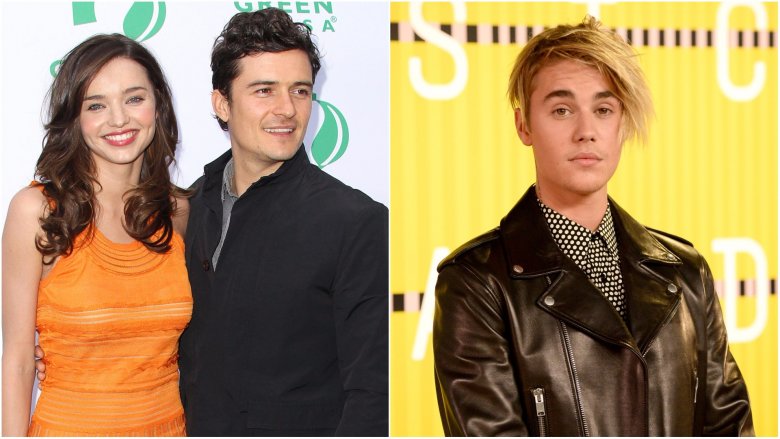 Getty Images
Kerr and Orlando Bloom seemed like a match made in genetically-engineered Aussie heaven—which is why it was extra shocking when she allegedly hooked up with Justin Bieber after the Victoria's Secret Fashion Show in 2012. A source told Page Six, "[Bloom] couldn't look at her the same." An insider also told the New York Daily News, "Bieber would brag about [sleeping with Kerr] while he was in the studio." Classy!
Kerr's camp vehemently denied her dalliance with the "Love Yourself" singer, but sources insist it happened. One insider told E! News, "They were all out partying until early morning and the group went back to the hotel [after the 2012 fashion show]. Bieber and Kerr were acting flirty throughout the course of the evening...Since their already infamous hang out, Bieber has tried to reach out to Kerr several times, but she didn't entertain his attempts at maintaining steady contact—they texted a bit here and there. He was very persistent."
Bloom and Kerr separated in October 2013, and in July 2014, Bloom and Bieber almost came to blows during a tough-talking match in Ibiza, Spain.
...and possibly with Leonardo DiCaprio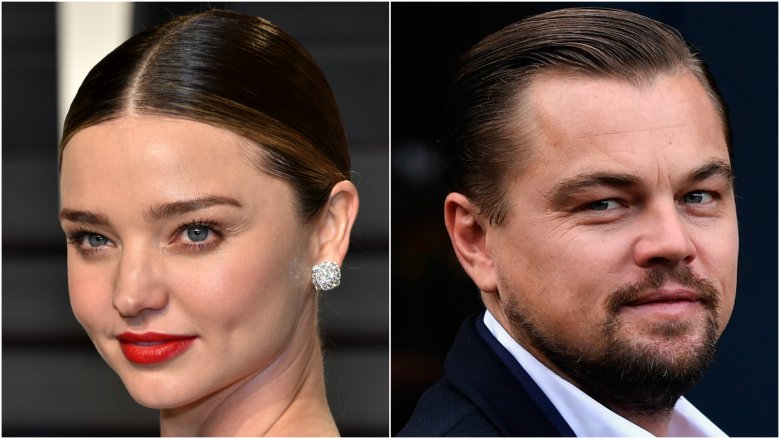 Getty Images
While Kerr and Bloom were still married, the former Victoria's Secret Angel allegedly got very flirty with her and Bloom's longtime pal, serial modelizer Leonardo DiCaprio. Sources told the New York Daily News that Kerr and DiCaprio were quite cozy in New York City in early December 2012 while Bloom was out of the country filming a movie. Eyewitnesses said they talked all night, with Kerr even "draping her legs over him" at one point. Kerr and DiCaprio's camps insisted they're just pals.
She may have spawned a brawl between two billionaires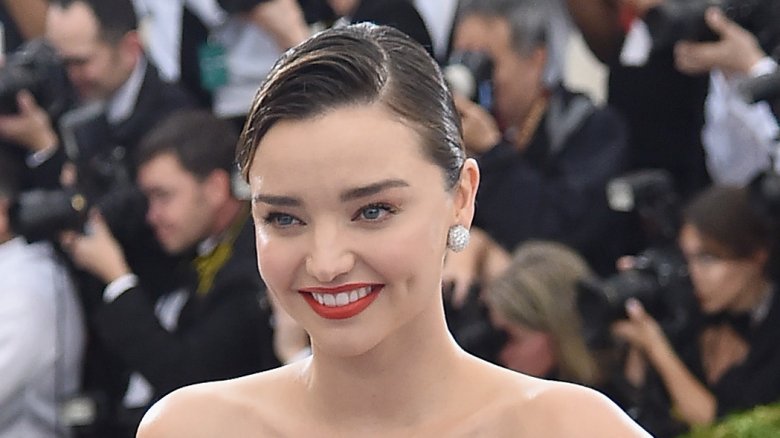 Getty Images
In May 2014, Kerr was rumored to be hooking up with Australian billionaire James Packer, who was spotted in a fist fight with his own former best friend, Aussie TV honcho David Gyngell. Packer reportedly suspected that Gyngell sent a news van to idle outside his home and spy on him and Kerr—an allegation Kerr denied months later. 
"They weren't fighting over me," Kerr told Vogue. "I won't comment on other people's actions and decisions...James and I are friends, but people want to make a story, the public want to put me with someone. I know the truth, I am single, and the people that are important to me know the truth and that is all." 
Though Kerr denied any involvement in the brawl, where there's smoke, there's usually a smokin' hot supermodel.
Her ridiculous Photoshop fails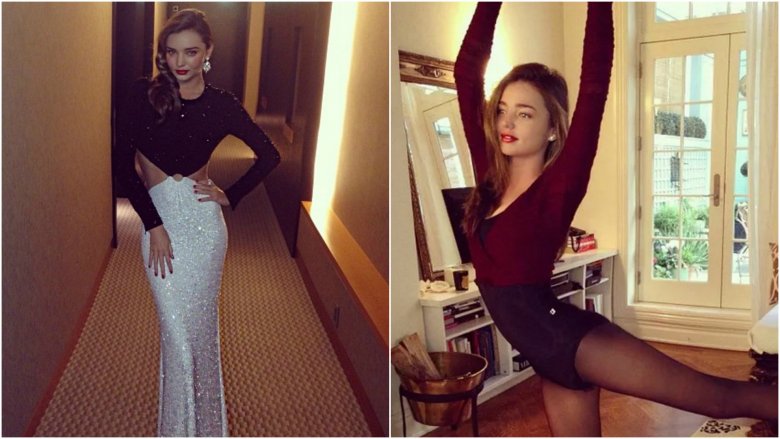 Kerr already has a rather unrealistic, unattainable body type for most women, yet she's been accused of Photoshopping herself to be thinner on more than one occasion. 
In November 2013, fans called out Kerr for posting a photo with fellow Victoria's Secret Angels Doutzen Kroes and Alessandra Ambrosio from the year before, except Kerr's waistline was mysteriously whittled down in the new image. The original photo, from Getty Images, showed Kerr's waist looking quite normal and in proportion with her taut, toned colleagues. Kerr deleted the post, then uploaded the original photo and wrote, "When I re-posted the photo this week to support the girls I screen grabbed it off the internet when I was working in Japan. I had no idea it was photoshopped. All good intentions—sorry for the confusion and congratulations to the girls for such a great show!"
That would have been totally plausible, but Kerr has been accused of posting other doctored images. Note the unusual warping on the rug in the Instagram photo at left, as well as the weird curves in her bookshelves in the Instagram snap on the right. Critics say the discrepancy indicates an effort to look even thinner than she already is.
Her TMI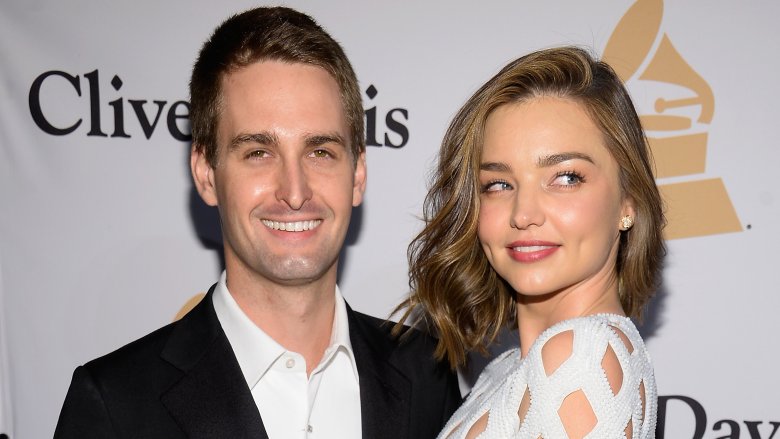 Getty Images
Kerr told The Times of London that she and now-husband Evan Spiegel were abstaining from sex until they tied the knot, adding, "My partner is very traditional."
It was a far cry from a 2014 interview she gave to British GQ (via News.com.au), in which she posed nude and told the magazine, "I always ask for a critique on my [sexual] performance. I always want to better myself in every way. The older I get, the more confident I am about asking for things I enjoy. One thing I've noticed is now that I'm having less sex my body isn't as toned. The more sex I have, the more defined my arms and stomach get." She added of the Mile High Club, "Let's put it this way, I've had an orgasm in the air before. Alone. And together."
Her 'difficult' rep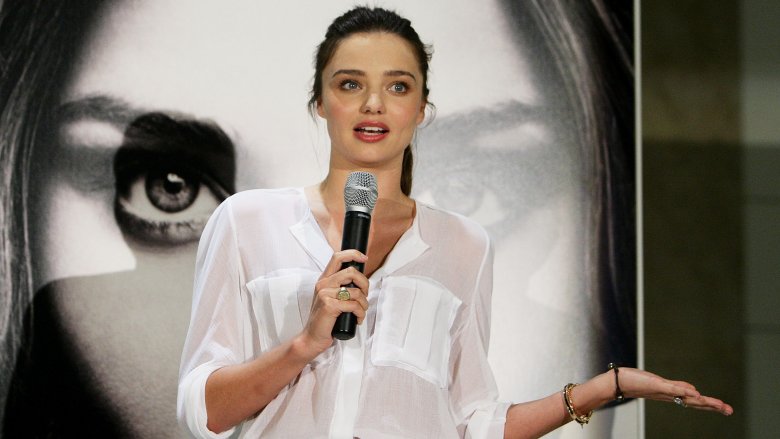 Getty Images
In April 2013, Victoria's Secret ended their contract with Kerr, though the reasons for the wing-snatching vary. Some insiders told Us Weekly it was because she simply was a poor seller, but others claim Kerr had "a difficult reputation." An insider told People, "She can be difficult at shoots and appearances. She's not very timely. She's standoffish with the rest of the girls."
Kerr denied the allegations, telling The Sydney Morning Herald, "I've been modeling since I was 13, [and] I'm now entering a new phase in my life. I realized I needed to prioritize my time. I have to be careful to make strategic long-term decisions with my personal and business interests. I've reached a point in my career where I'm developing my own opportunities that are really reflective of my passions."
She's an annoying neighbor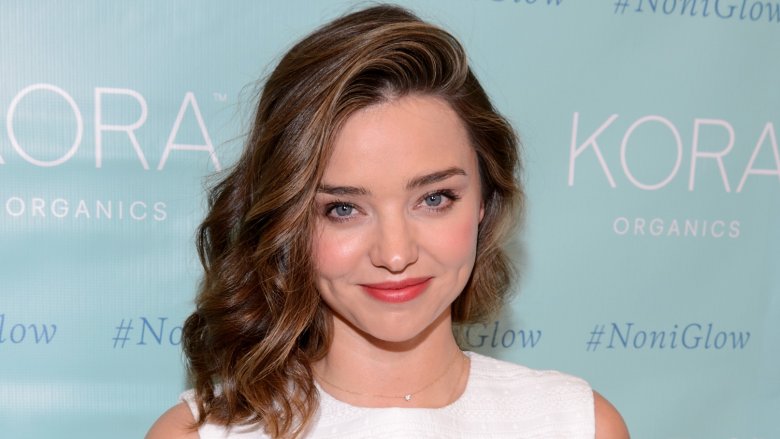 Getty Images
Kerr told The Edit in 2016 that she basically lives a life that's extremely disruptive to her neighbors.
"I had the kitchen and bathroom redone, so I sent them muffins—gluten-free, of course. [A note read] 'Really sorry about the noise, thanks for your patience.'" She added, "I also play my music quite loud sometimes, and run and jump in the pool naked! Do you know that [Flo Rida and Sia] song that goes 'Hey, I heard you were a wild one?'" 
Yes, and there's a difference between "wild" and "obnoxious."
Her proliferation of dangerous pseudoscience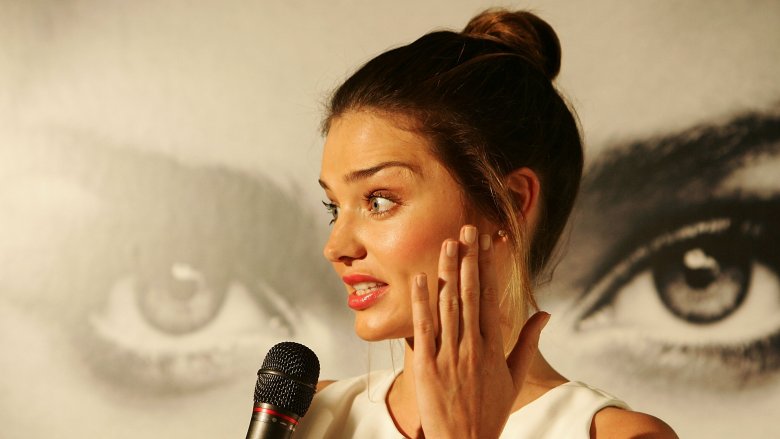 Getty Images
In July 2015, Kerr came under fire for promoting a "holistic parenting" book called Well-Adjusted Babies that spouts a slew of misinformation, including claims linking vaccines to sudden infant death syndrome as well as autism. These claims have long been proven to be both dangerous and false. 
A source close to Kerr later told the Daily Mail, "Her comment was given three years ago to [author] Dr. Barham-Floreani who is a family friend, and refers to the book as a whole, in that it includes all kinds of advice on both traditional and alternative wellness, and does not necessarily mean she endorses specific topics covered in the book."