Tom Brady's First Job Post-NFL Takes His Fans By Complete Surprise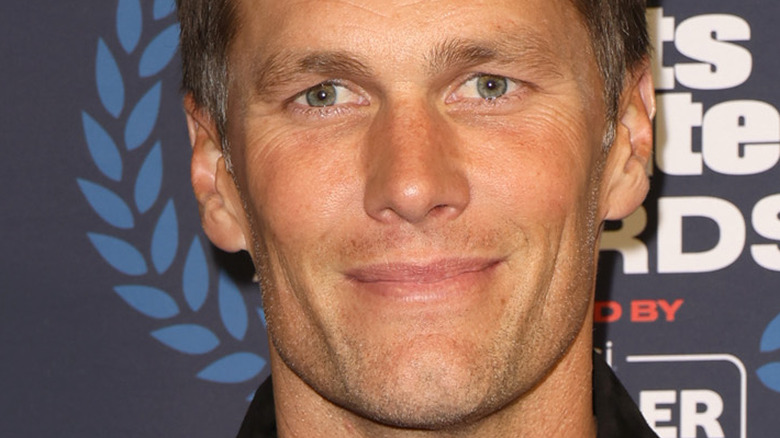 Rodrigo Varela/Getty Images
Less than a month after announcing his plans to retire, Tom Brady is ready to make his first post-NFL move. The seven-time Super Bowl champ has thrown fans and commentators into a frenzy of speculation on what his next move will be, many hopeful of a return to the sport. Former Patriots safety Rodney Harrison, however, told NBC Sports he's sure Brady will enjoy the time with family and other opportunities after such a long, successful run. "I would say no, I don't think he comes back," Harrison predicted.
People reported that — in addition to working on his many brands, including fitness and wellness TB12 and BRADY apparel — the NFL star had been flooded with broadcasting offers. An insider noted, "Tom wasn't focused on broadcasting at all, but he's getting so many offers, and they're projecting these huge salaries." This could be a potential shift in the future, but Brady seems set on a path already. 
Following the outpouring of love and support from fans, Brady posted a heartfelt message on Instagram on February 3. "I played for the name on the front of my jersey and the name on the back of my jersey. I played for my friends, my family, and our community – every single one of you – that have given me what I have today," he wrote. "I love you all. Thank you ALL for making this incredible journey possible." Now, the quarterback is ready for his next chapter, and it is somehow a sharp turn from playing on the field while remaining close in theme.
Tom Brady is headed to Hollywood with a few legendary stars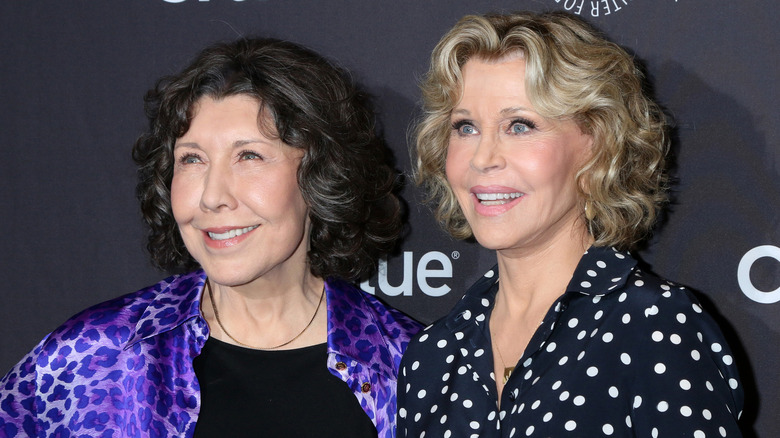 Kathy Hutchins/Shutterstock
Tom Brady is set to produce and appear in a film titled "80 for Brady," according to The Hollywood Reporter. The film will follow acting icons Jane Fonda, Rita Moreno, Sally Field, and Lily Tomlin on a road trip to Super Bowl LI, set in 2017. The adventure of the four best friends is inspired by true events and Brady was "deeply involved" with getting things up and running. The project for Paramount — a studio that is comfortable with successful ensemble-driven titles like "Book Club" and "The First Wives Club" — is slated to begin production in spring 2022.
The news prompted surprise from fans, some posting to Twitter, "huh?" and "why?" concerning the athlete's jump to acting, while one fan stated, "well that was quick." Discussing Film reported talks of the movie on January 29, following developments from Brady's production house 199 Productions that was founded in 2020 just ahead of the pandemic. The company is also developing a documentary guided by Brady called "Unseen Football," which will be a love letter of sorts to the sport and a breakdown of the game overall.
In 2015, a source told Star Magazine (via the Boston Herald), "At 37, Tom knows he only has a few seasons left before retirement. He's thinking ahead and believes he could become a huge movie star." His Super Bowl win that year prompted "thinking about new challenges outside of football." It looks like these long-term plans are finally playing out.
Tom Brady has a little acting experience already
Tom Brady shared the news of the Paramount road trip comedy on his Instagram Story February 23 and briefly acknowledged its random move, quipping, "The collab you never expected. LFG." Rita Moreno started hyping up the project as well: "Next up, the girls and I take a trip to the [Super Bowl]," the "West Side Story" alum wrote. Fans flooded her comments with excitement and support — one comment said, "obsessed with all these ladies," complete with a heart-eyes emoji.
It is far too early to tell how featured Brady will be in the film — as the plot follows the legendary squad's Super Bowl quest after all — but he will need to shake off the dust from his brief acting roles in the past. According to AV Club, the quarterback has been most comfortable — or simply type-casted — as himself. Brady's IMDb credits include appearances in "Entourage," "Living With Yourself," "The Simpsons," and, most notably, "Ted 2."
In the "Ted" sequel from 2015, Mark Wahlberg and his best teddy bear buddy disrupt Brady's air conditioning for an absurd scheme. Wahlberg gives a nervous, mumbling "You're not a cheater, I think your balls are perfect," making light of the whole "deflategate" debacle. A willingness to poke fun at himself is a good sign for pursuing comedy, and may put him on the radar to be cast in other projects. We'll see if the athlete can keep up with the rest of the "80 for Brady" cast.