How Charlamagne Tha God Really Came Up With His Name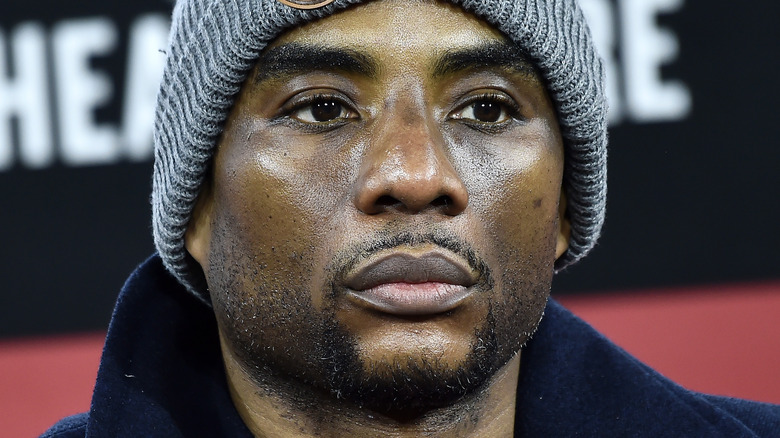 Steven Ferdman/Getty Images
Charlamagne tha God is a household name who has made a very successful career for himself through his prominent roles in media, including hosting both radio and television productions. He started out in the industry by working in radio in his home state of South Carolina, and went on to work with media personality and television host, Wendy Williams, per his bio on "The Breakfast Club," which is an entertainment-focused radio show he co-hosts with Angela Yee and DJ Envy.
Frequently guesting MTV's "Guy Code" in the early 2010s, Charlamagne began hosting his own TV talk show program called "Tha God's Honest Truth with Lenard 'Charlamagne' McKelvey" in 2021, per IMDb. Although the world is used to calling the radio and TV host by his stage name of Charlamagne tha God, his birth name is actually Lenard McKelvey. And, as it turns out, there is a very interesting backstory for his unique name change.
Charlamagne tha God's name has an eyebrow-raising origin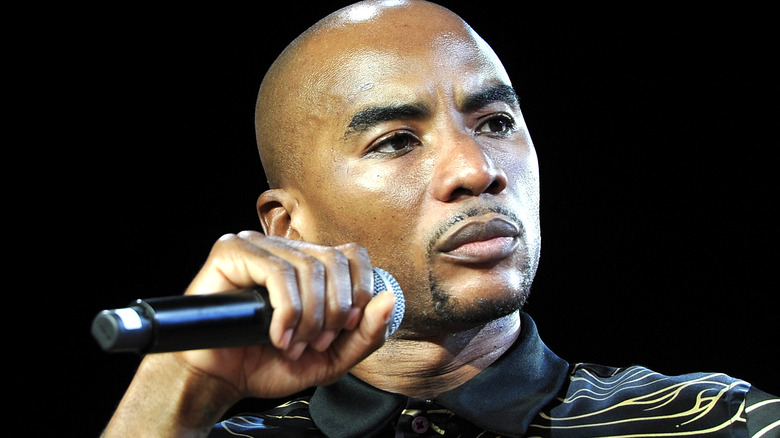 John Sciulli/Getty Images
Radio and television personality Charlamagne tha God grew up in the small town of Moncks Corner, South Carolina, as his "The Breakfast Club" bio states. Here, he originally went by his birth name of Lenard Larry McKelvey. In 2017, during an "Elvis Duran and the Morning Show" interview, Charlamagne discussed why he chose to change his name. At the time he came up with the title Charlamagne tha God, he was selling drugs, as he told the morning show host.
"...I used to sell crack amongst [the] corner, my government name is Lenard Larry, my father's name is Larry, [and] it's a small town," Charlamagne said. "If they'd see me, they'd be like, 'Oh, that's Larry's son.' So I would always say my name was Charles or Charlie, and that's how the Charlamagne came into play, because Charlamagne is French for Charles the Great." The New York Times reported that he included "tha God" at the end of the name because he thought it had a cool sound to it. Interestingly enough, when asked about the choice to spell his name as Charlamagne instead of Charlemagne (the proper spelling), the radio host said, "I think I just spelled it wrong."
Charlamagne tha God turned his life around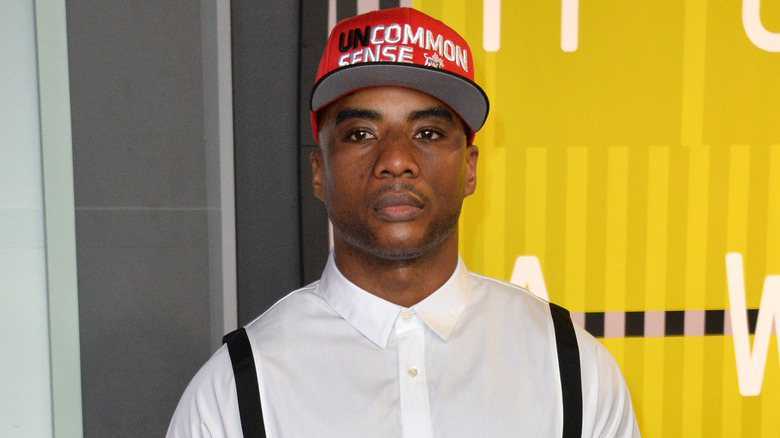 Jaguar PS/Shutterstock
Rather than holding him back from his long-term goals, Charlamagne tha God's past experiences with selling drugs ultimately inspired him to get his life back on track and find his passion. While he first thought about becoming a rapper, he eventually made his way into radio after a fateful encounter with a radio host who was visiting a studio where he was recording music one day. 
"I remember just asking him, 'Yo, how did you get on the radio?' And he was like, 'I went down there and I got an internship.' ... I was like, 'Yo, it's that easy?' So I went down there and I filled out an internship, and they gave it to me," he said in the docuseries, "Uncensored." After putting in a lot of hard work in this position, the internship led to Charlamagne getting a part-time job with the station. "That's when ... the bug, like, really, really bit me ... it just felt like, yo, this is mine," Charlamagne said.
Charlamagne would go on to cement his legacy in entertainment through his appearances in MTV's "Guy Code," hosting the "Brilliant Idiots" podcast with Andrew Schulz, and ultimately becoming one of the leading voices on Power 105.1's "The Breakfast Club." And though he remains Lenard Larry McKelvey on paper, only time will tell if he ever legally changes his name Charlamagne tha God!