Has Carrot Top Had Plastic Surgery?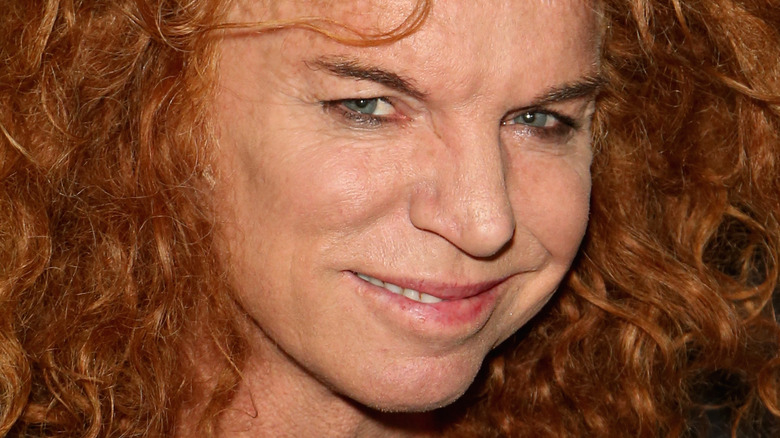 Gabe Ginsberg/Getty Images
Carrot Top's curly red hair and over-the-top comedy bits made him a household name in the early '90s. The effervescent stand-up comedian and actor (born Scott Thompson) is arguably one of the most recognizable entertainers of his generation. His use of a treasure chest filled with mannequin heads, baseball bats, and other props made him a favorite amongst comedy lovers.
By 1992, Carrot Top's vivacious personality and quirky stand-up routine earned him a spot on "The Tonight Show With Jay Leno." The famous ginger then went on to serve as the announcer for Cartoon Network, while also curating the network's morning block of animated shows called "Carrot Top's AM Mayhem." These days the famed comedian hosts a long-term residency at the Luxor Hotel and Casino in Las Vegas and is headed into his 17th year as the Luxor's headliner, according to Las Vegas Magazine. 
Apart from his outlandish comedy routines and often brazen jokes, Carrot Top's appearance has also come under scrutiny in recent years. The 56-year-old comedian, who was visibly slimmer when he started his career in the '90s, has gone through a series of physical transformations. Fans have speculated whether his once scrawny, then buff, and then slim again physique is the result of a well-designed bulk or the product of cosmetic assistance.
Carrot Top denies plastic surgery rumors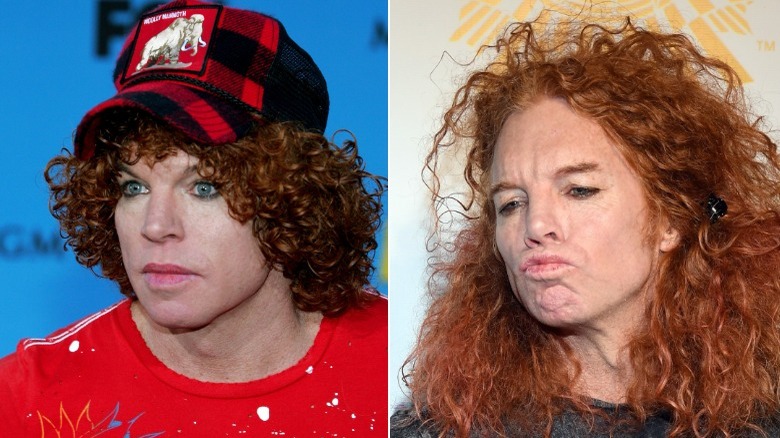 Ethan Miller/Getty Images
When Carrot Top reemerged over a decade ago, appearing noticeably different, fans immediately began to speculate about the cause of the comedian's seemingly sudden transformation. The "Chairman of the Board" star, pictured here in 2005 and 2018, has adamantly denied the rumors, saying that his chiseled jaw, and toned face were the result of lifestyle changes.
"I just worked out a lot, and I never had any plastic surgery. I can see why people would think that since I got really big for a while, but I never had any work done," he told Florida Today in 2015. It was during Carrot Top's time in Vegas that he recalls becoming immersed in his workout regime. His newly developed muscular frame came equipped with a more defined facial structure, according to Carrot Top. "I mean, if I was going to have plastic surgery, I would look better than this," the comedian joked. "My crew, my family and my friends all know I work so hard I wouldn't have had time to get work done if I wanted to."
In a 2013 interview with Oprah (via HuffPost), Carrot Top was also dismissive. "I'm sorry that I look good," he cracked. "I get a lot of grief because I've always been in shape and I think for comedy in general, they don't expect comics to be in shape." 
Slimming down and quitting cold turkey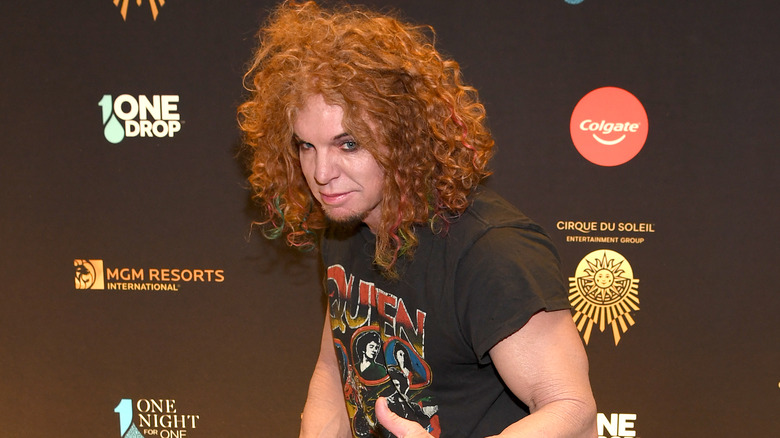 Denise Truscello/Getty Images
While many things in Carrot Top's life have remained the same — his Vegas residency is going strong, and his famous red mane is just as luscious — the previously jacked entertainer has returned to his pre-bulked physique. He revealed on a 2022 episode of "The Joe Rogan Experience" that his decision to stop working out resulted in a nearly 50-pound weight loss.
"When I got that permanent gig. I had nothing to do all day in Vegas, literally. So, I started just going to the gym every day," he told Rogan. "Like I'd go three hours a day, literally."  Eventually, a time came when Carrot Top was shocked by his enlarged stature, which peaked at 190 pounds. "One day I went to my warehouse to do something: a picture, something. I was like 'what the f***?' Like, I'm like, I was like 190 (pounds)," he said on the podcast. These days, the renowned comedian has a slimmer appearance, standing at 5-foot-9-inches and weighing about 140 pounds.
After years of public scrutiny and hours at the gym, Carrot Top decided he was done bulking up. He revealed during a 2015 interview with Esquire that he simply stopped. "Maybe five years ago, I decided I'd worked out enough. I quit cold turkey," he explained, opting to run instead. "I just kind of wanted a normal build."