The Real Reason Jessica Alba Threatened To Sue Playboy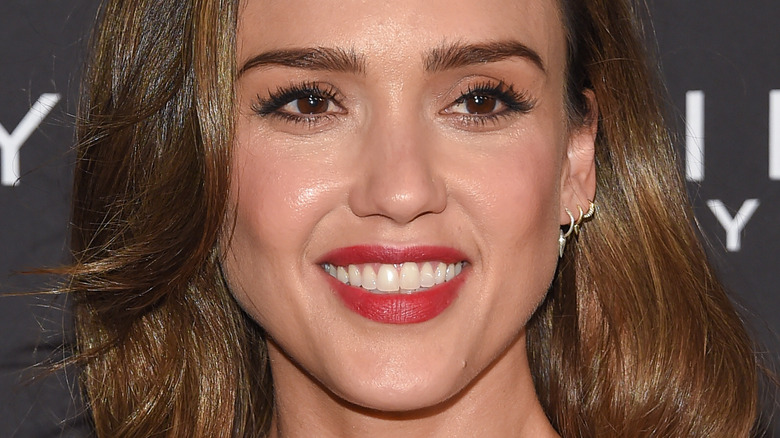 DFree/Shutterstock
Actor, mom, boss, and entrepreneur, Jessica Alba, can do it all and make it look graceful in the process. In 2016, she was also voted by Forbes as one of "America's Richest Entrepreneurs Under 40." Five years prior to making the Forbes list, she co-founded The Honest Company, which made its way to stores like Ulta Beauty and Target and was valued at nearly $1.7 billion by 2015, Celebrity Net Worth notes. Alba's initial intention was to offer a subscription service for baby items like diapers, but she's since built the brand into a nontoxic-empire that even offers clean beauty products, per Forbes. 
When the "Fantastic Four" and "Sin City" actor isn't giving all her energy to her billion-dollar business or filming for a new role, she's topping most beautiful lists and landing magazine covers. But fame and winning beauty polls haven't come without some trouble for Alba in Hollywood, who has voiced disdain for her media portrayal, such as when Playboy misleadingly put her as their cover girl more than a decade ago, per Hello Magazine.
Jessica Alba was unaware about Playboy using her likeness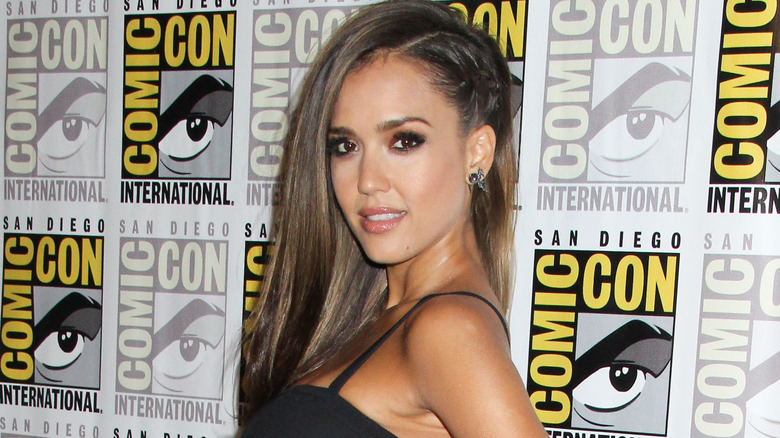 Kathy Hutchins/Shutterstock
In March 2006, Jessica Alba threatened to sue Playboy for making her an unwilling cover girl, per People. The magazine's cover photo showed the star rocking a slim-fitted bikini from her 2005 movie "Into the Blue," in which Alba's lawyers claimed Playboy tricked Sony Pictures Entertainment into supplying after she denied the opportunity to pose for the magazine's cover. 
"Playboy has violated my personal rights and blatantly misled the public, who might think I had given them permission to put me on their cover when I didn't," she said in a statement (via People). Alba's lawyers asked that the issue be removed from newsstands and quickly demanded a "monetary settlement." With this, she noted that "I'm simply protecting my personal rights and I hope that they will think twice before they try to do this to someone else."
Interestingly enough, Alba incorporates a no-nudity clause in all of her film contracts. "I don't want my grandparents to see my b***s. That's it. It would be weird at Christmas. And, I mean, really, if you look at the movies I have done, getting naked would never 'elevate' the picture," she told Glamour in 2014.
Jessica Alba forgave Playboy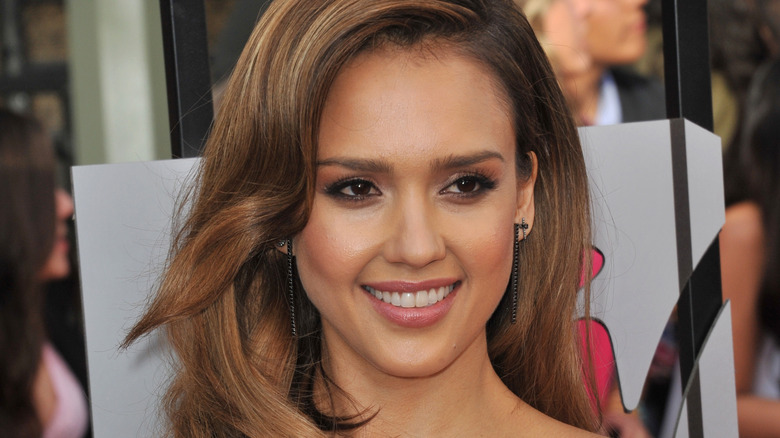 Jaguar PS/Shutterstock
After a month-long legal battle against Playboy, Jessica Alba and the outlet made amends. In April 2006, Playboy founder Hugh Hefner personally apologized to Alba and donated money to her favorite charities to make up for his magazine's actions, per AP (via People). In turn, Alba agreed to drop the lawsuit.
"I appreciate Mr. Hefner's acknowledgment of the distress caused by Playboy's actions, and I'm happy to put this unfortunate event behind me," the actor said in a statement (via People). "This was never about money, it was about setting the record straight about something that was done without my knowledge or consent." Playboy spokesperson Lauren Malone responded to Alba being forgiving of the situation, saying, "Hef felt bad that Jessica was upset and apologized for unintentionally hurting her feelings. We're happy the matter has been amicably resolved."
Playboy previously claimed to have "done nothing wrong" by putting Alba on the cover without her consent, being she was chosen by their readers as sexiest star of the year in 2006 through an online poll, per Today.