Heidi Montag Wants To Film Herself Eating Raw Liver Without Any Criticism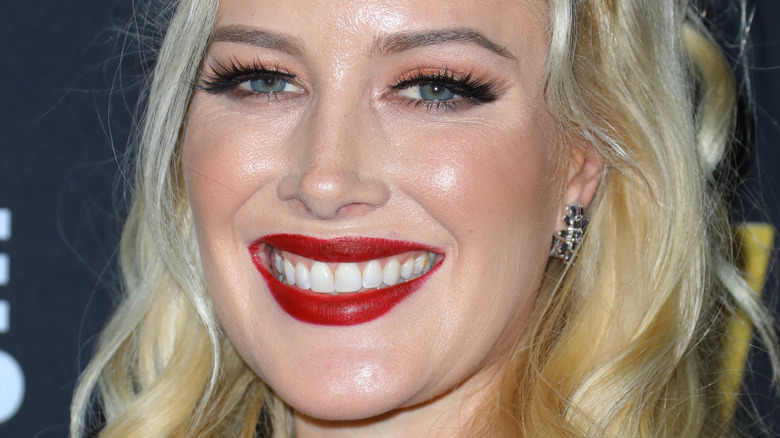 Jc Olivera/Getty Images
"The Hills" alum Heidi Montag's bizarre pursuit of beauty has shocked fans since 2010. Over a decade ago, a 23-year-old Heidi underwent 10 plastic surgery procedures in a single day to give herself a nearly unrecognizable makeover. "I was too young to be making decisions like that, that are life altering," Heidi reflected on her drastic plastic surgery transformations on "The Doctors" in 2016. "Thank God I'm okay and everything turned out well, but I certainly wouldn't suggest that, I wouldn't recommend that. I think I should've gone to a therapist and thought about why I was doing all these things."
As she tweeted in 2021, "You can only be hot for so long," Heidi has since moved on from achieving unattainable beauty to pursuing wellness. Heidi's antics, however, remain just as jaw-dropping now that she's more focused on health and lifestyle. Heidi's latest diet, which according to New Beauty offers a bounty of vitamins, antioxidants, and other health benefits, involves the reality TV star consuming raw animal organs. It appears that Heidi now wants to show off her shocking dietary habits to the world without the noise of naysayers in her comments section.
Heidi Montag turns off reactions to her shocking diet
Heidi Montag shared a video of herself munching on raw liver to Instagram on February 24. "There are so many health benefits to eating liver, animal organs, raw liver," Heidi said into the camera. While chewing, Heidi shared, "You definitely get used to it." Earlier in February, Heidi gave more insight into her "#carnivorediet" by sharing a video to Instagram of her eating bull's testicles. "Not too bad," she said after taking a small bite.
While the reality star turned off the comments to her social media posts showing off her raw diet, that didn't stop folks from responding to Heidi's odd eating habits. "WHAT IN THE WORLD. Did I just witness... @heidimontag please explain why you would eat RAW liver," one Twitter user wrote in reaction to Heidi's new video. Another disgusted Twitter user likened Heidi chowing down on the raw liver to her eating a cheeseburger, adding, "Don't wanna talk about it."
Heidi's decision to turn off her Instagram comments may stem from being cyberbullied in the early days of social media. She revealed to Cosmopolitan in 2019 she actually sought her drastic plastic surgery makeover in her early 20s because she "was under so much pressure because it was the beginning of comment sections and negativity and hate on the internet." It appears that Heidi may now be protecting her peace of mind while going full carnivore.