Kathy Griffin Shaves Head In Support Of Cancer-Stricken Sister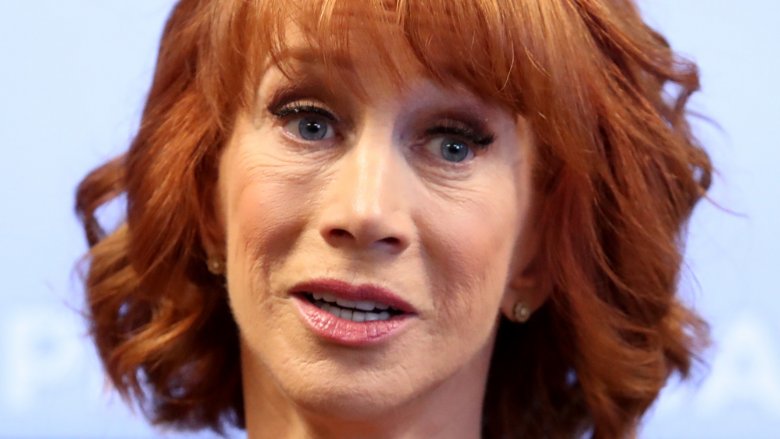 Getty Images
The controversial comedian is standing by her sister, who has been diagnosed with cancer.
Page Six reports that Kathy Griffin has shaved her head as a show of support as her sibling undergoes chemotherapy for treatment. Photos quickly emerged on social media, presenting Kathy's brand new look. In one photo, the famous redhead's mother, Maggie, touches Kathy's recently buzzed head and appears to be in shock. In another, Kathy feels her own bald head, smiling off to the side.
In solidarity with her sister, who is going through chemo, @kathygriffin shaved her head. Donate to @AmericanCancer: https://t.co/NazIbJ9FQ2 pic.twitter.com/UXr9YH1LYc

— Yashar Ali (@yashar) July 31, 2017
Maggie later shared the photos on Twitter, writing, "My daughter Kathleen Mary is a wonderful human being."
Unfortunately, this isn't the first time that cancer has struck the Griffin family. According to People, Kathy's brother Gary passed away in 2014 from stage-four esophageal cancer.
While Kathy's photos show a commendable commitment to her sister's fight against cancer, they're also likely to help put a positive spin on Kathy's public persona. The former Fashion Police host faced huge backlash after sharing a photo of herself holding a prop of President Donald Trump's bloody, decapitated head. Though she apologized soon afterwards, the 56-year-old wound up losing a number of gigs, including her CNN New Year's Eve hosting job with Anderson Cooper, and was even investigated by the Secret Service.
On Friday, July 28, 2017, Kathy revealed that she was no longer under federal investigation for the photo shoot.