What We Know About Maks Chmerkovskiy's Arrest In Ukraine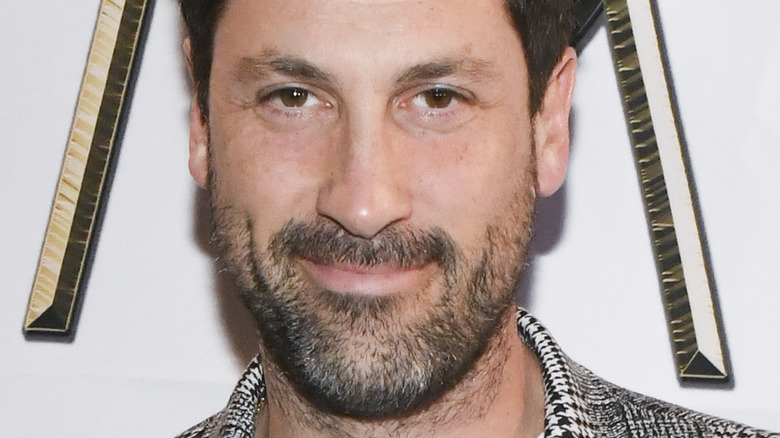 Rodin Eckenroth/Getty Images
"Dancing With The Stars" alum Maks Chmerkovskiy has been sharing gut-wrenching updates from his native Ukraine, as people around the world have been watching in both horror and disbelief over the events that have unfolded in the country following Russia's military invasion. Chmerkovskiy emigrated with his family to the United States in 1994, but often returns to Ukraine as he's a judge on the Ukrainian version of "DWTS." Accompanying an Instagram video posted on February 24, Chmerkovskiy wrote, "This is stressful and I'm getting old feelings back, like I've done this before. This does feel like the way it was when and why we left in the 90s. Like my old PTSD I've finally fixed is coming back." The professional dancer added, "There's ALWAYS another way! WAR is NEVER an answer!"
While Chmerkovskiy has been providing updates and videos of himself at his hotel, in an underground shelter, and even while walking on the streets of Kyiv, his latest clip has a lot of fans incredibly concerned, as Chmerkovskiy has revealed that he was recently arrested.
Maks Chmerkovskiy briefly detained while trying to leave Ukraine
Maks Chmerkovskiy has made it no secret that he is desperate to leave Ukraine and get back home to his family, which includes his wife, Peta Murgatroyd, and their son, Shai, according to People. Chmerkovskiy said that he's been trying to leave as quickly as possible which led to him being detained on the streets of Kyiv. "The streets are crazy," he said in a February 28 Instagram video. "At one point I got arrested but again all good, promise. That was probably the least traumatizing moment in this whole thing as far as Ukraine is concerned, but for me, it was just a reality check." 
Chmerkovskiy didn't explain how he got arrested or what led to id but did add that he is going to try and make his way to the border. CNN reported on February 27 that there are at least 368,000 refugees that have fled to neighboring Poland, Romania, and Moldova. Meanwhile, Chmerkovskiy's wife Murgatroyd took to her Instagram account to share a photo of cookies that a stranger had baked and left at her doorstep. She also thanked everyone who has reached out to her with their messages of thoughts, prayers and support. Chmerkovskiy replied to her post with, "I love you and I'll see you soon! Save me a cookie."