The True Meaning Behind For Tonight By Giveon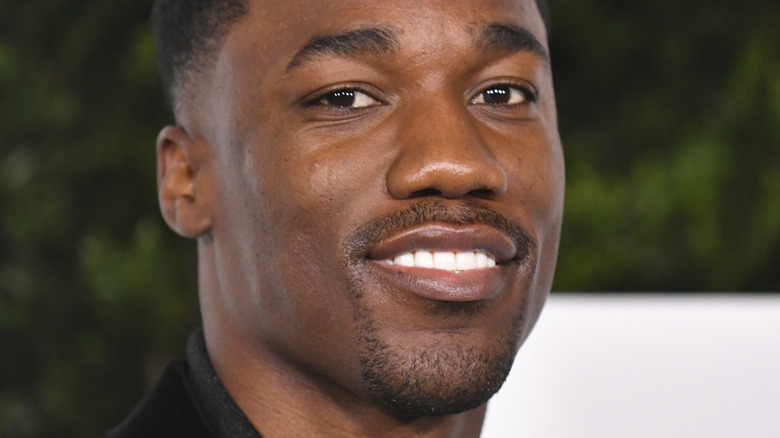 Rodin Eckenroth/Getty Images
For several years, it felt like hip-hop and pop were the chart-topping genres getting all the love with R&B slowing fading into the shadows — though it has made quite the resurgence. Artists like Summer Walker, Ari Lennox, Miguel, Yebba, Pink Sweat$, and so many more have worked to bring back that old-school vibe to music. On top of that, Giveon, a contemporary R&B artist, has had quite an explosive breakout career. 
The California native appeared on the record "Chicago Freestyle" off of Drake's 2020 mixtape, "Dark Lane Demo Tapes," and was also featured on Justin Bieber's hit song "Peaches" alongside Daniel Caesar — landing him his first No.1 spot on the Billboard Hot 100 songs chart. "For everyone else, it kind of felt like it was overnight," Giveon told Rolling Stone, adding, "But for me, I put years in."
While the "Heartbreak Anniversary" artist has been adding his touch of magic to everyone's songs, he's also intent on perfecting his own catalog. On September 24, 2021, he released "For Tonight" — the leading single for his debut studio album. 
Giveon opens up about an unstable relationship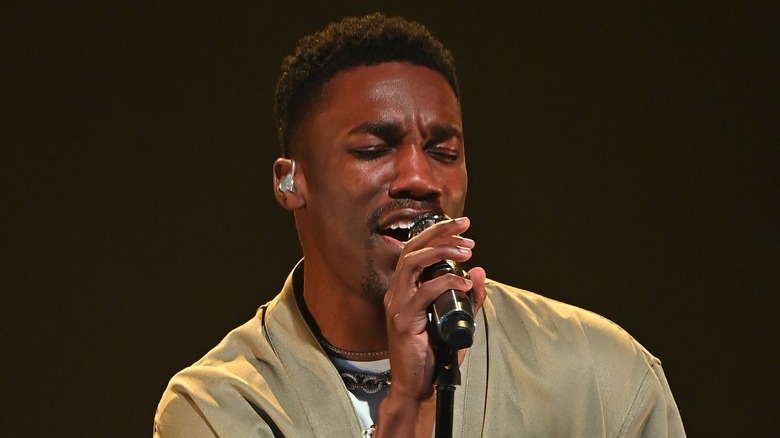 Paras Griffin/Getty Images
"For Tonight," a record about spending just one more night with someone although they are not good for you, was an instant hit. "This is the story of a taboo vice that I just can't seem to stop indulging in," Giveon said in a Sony Music press release. And, despite the meaning behind it, his angelic voice makes it all sound heavenly. "We've been done long before it all begun / Still can't give it up / Lead me on but leave before the morning comes," he sings. 
Giveon and singer Justine Skye sparked dating rumors in June 2021 after she posted an Instagram photo of themselves with a black heart (via The Jasmine Brand). However, after a few short months, Skye deleted all her pictures with him and began posting cryptic messages about his alleged cheating. Fans quickly assumed it was directed at the R&B singer, per Complex. Therefore, the chorus sounds more like an internal struggle between Giveon wanting to do what's right but failing to do so. 
"Deny the truth / We'll stay behind closed doors / 'Cause all I wanna do is lie with you / Even though it's wrong to lie with you / We've become numb to what we know is wrong." Fans weren't happy about what allegedly happened in his relationship. "Now anytime I hear a Giveon song, I get a mental picture of [Justine] Skye crying and skip it," a fan wrote on Twitter. 
'For Tonight' proves Giveon's ability to dominate in R&B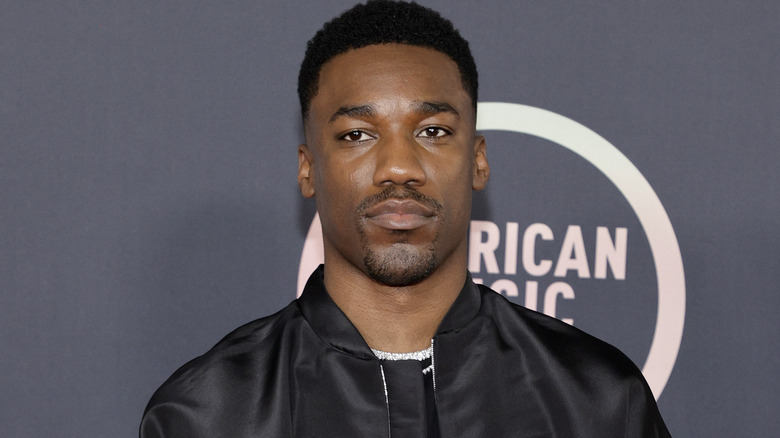 Amy Sussman/Getty Images
According to Genius, the track was written by Sevn Thomas, Patrick "J. Que" Smith, Marcus Semaj, Antonio Dixon, and Giveon himself. Aside from his unique soulful voice and undeniable talent, Giveon's loyal fan base has played a vital role in his rise to fame. "For Tonight" was a massive success with over 78 million Spotify streams at the time of writing. The record also debuted at No. 91 on the Billboard Hot 100 charts and the official music video on YouTube has over 14 million views at the time of writing. 
The "Like I Want You" artist released his EP "Take Time" on March 27, 2020 and since then his life has never been the same. Billboard announced that the project awarded him his first top 10 Billboard 200 album. "I'm also driven by hard work, but I don't just put it out in the universe and sit there," he said during an interview with Billboard. "There has to be some action too and surrounding myself with people that are better than me and that know more than me. I think I found a combination of what it takes to learn. Learning is the biggest key."