Did Joan Rivers Leave Melissa Rivers Anything In Her Will?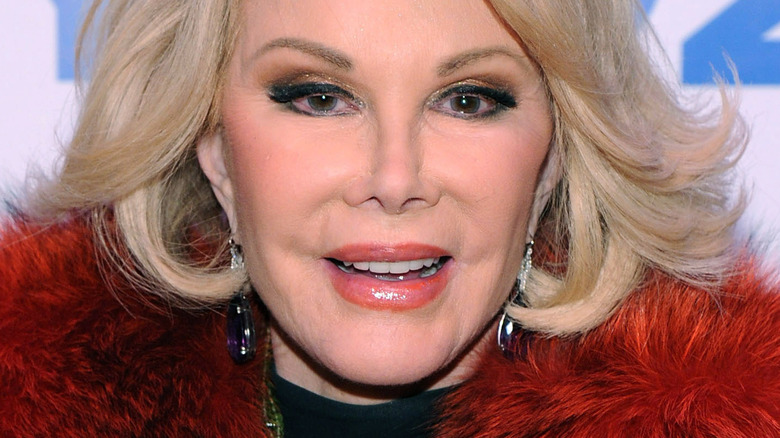 Ilya S. Savenok/Getty Images
As a best-selling author, ground-breaking comedian, and a red carpet fashion commentator for E!, Joan Rivers reportedly made a major fortune in her decades-long career. She was earning about $40 million annually between her various entertainment roles and QVC product line, racking up an estimated net worth of $150 million before she died in 2014 (via Celebrity Net Worth). She starred as the host of "Live from the Red Carpet" on E! for eight years and was known to be one of the richest comedians of her time before her death. Rivers wasn't shy about her extravagant, lavish lifestyle and often bragged about her $35 million Manhattan apartment where she quipped, "Marie Antoinette would have lived if she had the money," according to Business Insider. 
Years after her death, there are more answers about the friends, family, and charities Rivers left her millions to. Family members have often recalled her as "an incredibly generous woman," and iconic comedian left some of her wealth to her closest staff members, per Page Six.
Who did Joan Rivers leave her $150 million estate to?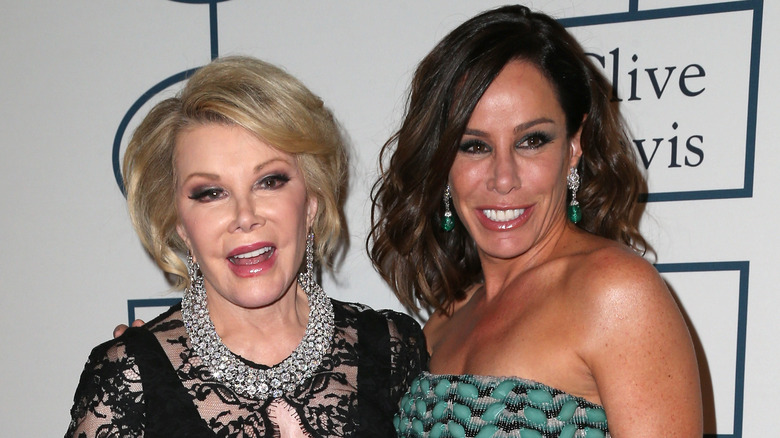 Frederick M. Brown/Getty Images
Iconic comedian Joan Rivers left an estimated fortune of around $150 million after her death. She underwent a "minor procedure" and passed a few days later, at the age of 81 on September 4, 2014 (via E! News). Rivers was always known to speak her mind, in her stand-up, and on TV. She defined her career by knowing exactly what she wanted, and the same was true same for the wealth she left behind. In her will, the "Fashion Police" host stated that she wanted everything split between her daughter, grandson, pets, niece and nephew, publicist, two assistants, and some favorite charities, including the New York-based nonprofit Gods Love We Deliver. When Rivers competed and won money on "Celebrity Apprentice" in March 2009 (per Business Insider), she was playing on behalf of Gods Love We Deliver. The majority of Rivers' fortune was left to the late entertainer's only child, Melissa Rivers.
Melissa received all of her mother's tangible property and was cited as the executor of her estate, being chosen to deal with the comedian's millions in accumulated assets. Two years prior to her death, Rivers published her book "I Hate Everyone...Starting With Me" where she described in a passage what she planned to do with her fortune after her death writing, 'When I die (and, yes, Melissa, that day will come; and, yes, Melissa, everything's in your name), I want my funeral to be a huge showbiz affair," per Daily Mail.
Inside Melissa Rivers' close relationship with her mother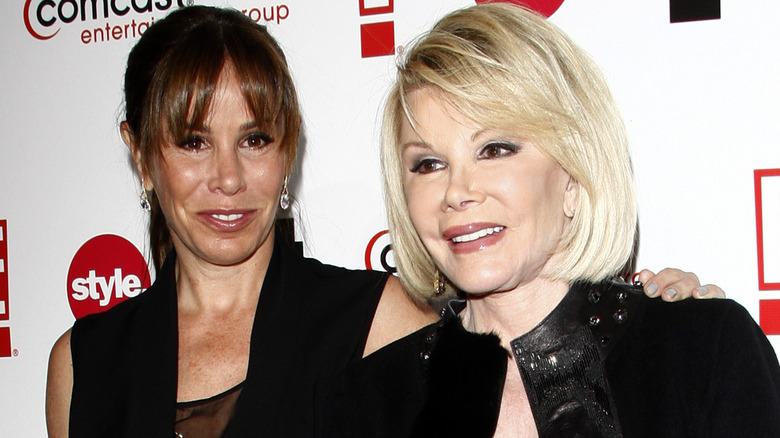 Kathy Hutchins/Shutterstock
Joan Rivers' daughter, Melissa Rivers, worked alongside her closely in the spotlight until the comedian's death in September 2014. The pair hosted numerous red carpet specials together, and Melissa helped her mom create "In Bed With Joan," a weekly YouTube web series focused on her mom's decade-spanning career and love life (via ABC News). It's no wonder the iconic host left her hefty $150 million estate to her daughter, who was known to be her mom's other half of success. Proving that their bond was inseparable before Rivers' death, she was staying in her daughter's guest room that was specifically set up for their web series located near the Pacific Palisades area of Los Angeles.
Six months before her death, Rivers spoke to the Wall Street Journal about a tight relationship with her housemate and daughter Melissa, joking that she reaped the benefits of living next to her family members, "My room is down a flight of stairs. You really learn your place here fast." She also explained that living with her daughter allowed her to grow closer with her grandson, Cooper, in his teen years. Melissa added that her mom and son were always "deep in cahoots against" her when they were all together.