Does Ketanji Brown Jackson Have Children?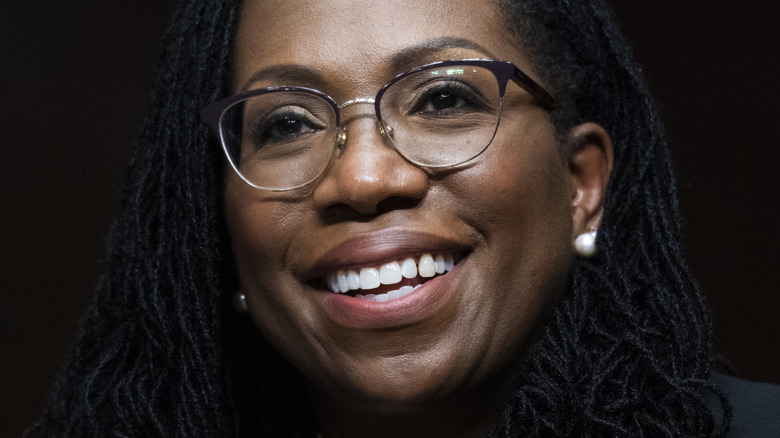 Pool/Getty Images
Judge Ketanji Brown Jackson needs little introduction given the exciting week she's had. On February 25, President Joe Biden made history by nominating the D.C. judge to a seat on the Supreme Court. If the Senate confirms Jackson's nomination, she will make history, becoming the first Black woman and only the sixth woman overall to sit on the high court, per Newsweek. 
Jackson revealed in a 2017 lecture that her love of the law started at age 3, when she would sit with her father, doing her preschool work while he studied for his own law degree. "There is no question that my interest in the law began at that time," she said. But A good work ethic isn't the only life lesson Jackson can teach her children. "I believe it's my obligation to teach my children to refrain from casting aspersions on others because of their life circumstances," she said. "In other words, as they often say in religious circles: I know that there but for the grace of God go I."
Jackson's nomination to the Supreme Court would certainly please her children, especially her daughter Leila, and for good reason. 
Judge Ketanji Brown Jackson is a mother of two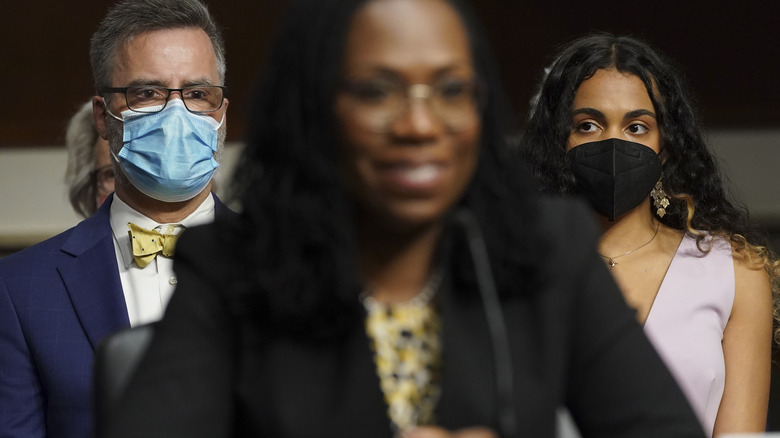 Pool/Getty Images
Judge Ketanji Brown Jackson married her husband, Dr. Patrick Jackson in 1996 after six years of dating, per The New York Times. In a 2017 lecture, Jackson discussed the challenges being a new lawyer and new mother to her oldest daughter, Talia. "The hours are long," she began. "The workflow is unpredictable. You have little control over your time and your schedule, and you start to feel as though the demands of the billable hour are constantly in conflict with the needs of your children and your family responsibilities."
In her 2017 speech, Jackson revealed she calls her daughters the "sassy sisters." Talia Jackson, who is 21, is currently in college, while her younger sister, Leila (pictured above right), is 16 and in high school, the AP reports. Leila actually once wrote a letter praising her mother to former President Barack Obama, whom she thought would make a good fit for the Supreme Court. "She's determined, honest and never breaks a promise to anyone even if there are other things she'd rather do," Leila wrote. "She can demonstrate commitment and is loyal and never brags. I think she would make a great Supreme Court justice." Jackson reminisced in her aforementioned speech that she and her husband had to explain to an 11-year-old Leila that a nomination to the Supreme Court wasn't exactly the sort of job you could apply for. Too sweet!