Joe Biden's Historic Supreme Court Pick Has Been Revealed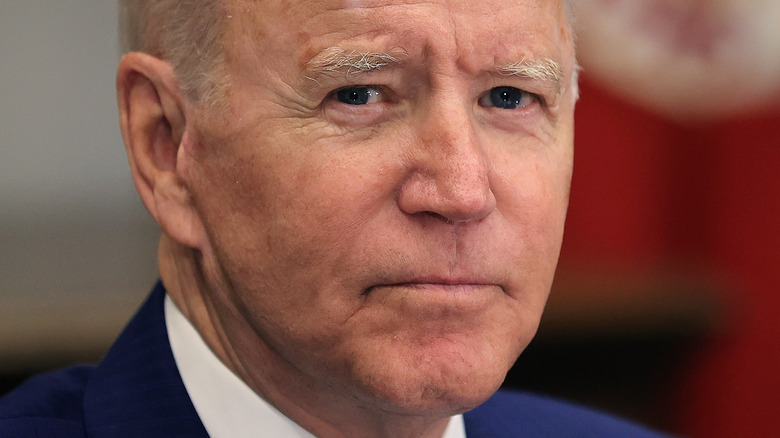 Chip Somodevilla/Getty Images
When Joe Biden took office as President of the United States, he of course had many plans that he wished to implement. One of the longest lasting and historical goals of Biden was to put a new member on the United States Supreme Court. This was particularly timely for the Democratic President given the addition of the conservative Justice Amy Coney Barrett, who replaced Justice Ruth Bader Ginsberg after her death in 2020. "The person I will nominate will be someone with extraordinary qualifications, character, experience and integrity. And that person will be the first Black woman ever nominated to the United States Supreme Court. It's long overdue in my view," Biden pledged on his campaign trail before winning the election, per NPR. Some Republicans were less than thrilled by the statement, considering the pledge to be discriminatory to other potential candidates, per The Washington Post.
Biden's plan became closer to reality when Justice Stephen G. Breyer announced he wanted to retire in 2022. Breyer, the most senior of the court's liberal minority and a justice since 1994, said he would hold the seat until his replacement was confirmed, per The New York Times. In his letter of resignation to the President, Breyer — who was 83 years old — said, "I have found the work challenging and meaningful. My relations with each of my colleagues have been warm and friendly."
Less than a month after Breyer's announcement, the president finally announced his pick to the highest court in America.
From Judge to Justice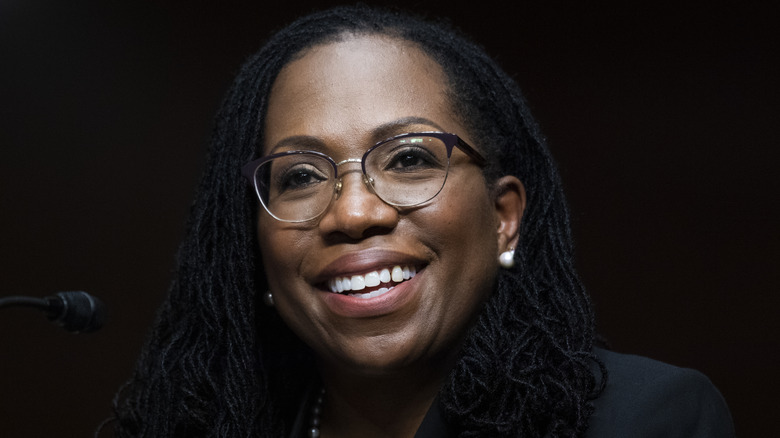 Pool/Getty Images
In the midst of the conflict between Ukraine and Russia in 2022, President Joe Biden announced he nominated Judge Ketanji Brown Jackson to join the Supreme Court to replace the seat filled by Justice Stephen G. Breyer. In a tweet, the president cited Jackson as "one of our nation's brightest legal minds." 
When insiders began speculating who would replace Breyer, three names seemed to be the front runners, per The New York Times. First, Judge J. Michelle Childs, who was appointed by Biden to join the Washington D.C. Circuit Court. Another was Justice Leondra R. Kruger, a California native and member of the California Supreme Court. The final top candidate was Ketanji Brown Jackson, who became a judge on the United States Courts of Appeals in the District of Columbia Circuit in 2021. When Jackson received the selection from Biden, she seemed a particularly fitting replacement for Breyer, as she once served as a law clerk for him and two other federal judges. 
For her education, Brown graduated from Harvard Law School before working for a law firm in Boston. "Like so many women who enter Big Law, I soon found it extremely challenging," Jackson said in a 2017 speech, according to Bloomberg Law. "You start to feel as though the demands of the billable hour are constantly in conflict with the needs of your children and your family responsibilities," she added. Jackson later became a public defender and then a federal district judge in D.C. in 2013 after she was nominated by President Barack Obama.