Joy Behar Lashes Out At Donald Trump For His Thoughts On Putin
Santiago Felipe/Getty Images
If there are two people in this world whom you can always count on to tell you exactly what they're thinking, it's Joy Behar of "The View" and former President Donald Trump. So, of course, Trump said something completely off-the-wall about Russian President Vladimir Putin after Russia invaded Ukraine. And, equally unsurprising, Behar totally went off on the former president in response. 
While most world leaders have totally condemned Putin for his attack on Ukraine, Trump has been slightly more complimentary. Speaking to a crowd at CPAC, Trump doubled down on calling Putin "smart" and NATO "dumb," according to the Independent. "The problem isn't Putin is smart — which, of course, he is smart — it's that our leaders are dumb," he said.
It's not the first time that Trump has praised Putin either, even after the invasion of Ukraine, per The Washington Post. And Behar isn't the first person to call him out on it either, though her language is a bit more colorful than others. 
Joy Behar questioned Donald Trump's intelligence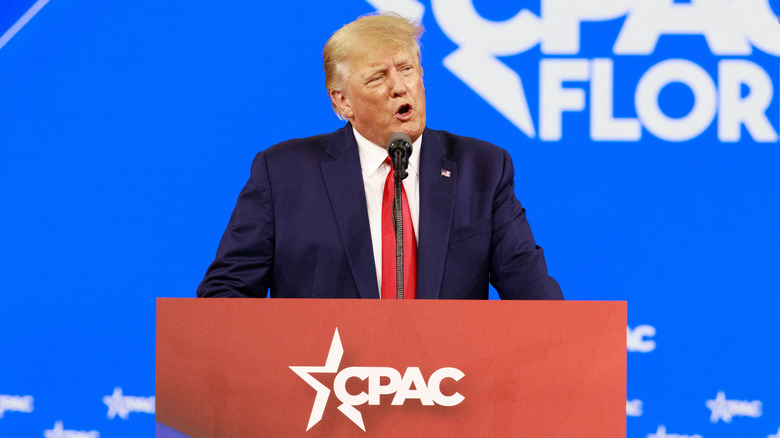 Bloomberg/Getty Images
When the topic of former President Donald Trump calling Russian President Vladimir Putin "smart" came up on "The View," Joy Behar essentially told her cohosts that Trump was too stupid himself to even know if Putin was smart or not. That's not even an exaggeration. "It's very rich that he thinks anybody's smart. How smart is he?" Behar asked. "Can he even spell CPAC?" 
Tell us how you really feel! Just kidding, we know we don't need to ask Joy Behar twice. The liberal host continued, "I mean, I don't think that he's any kind of a person to say who's smart and who's not smart. His vocabulary, for one thing, is extremely limited. He knows about 10 words."
It's hardly the first time that Behar has gone for the jugular when talking about Trump. There was the time she said he looked like he'd pooped his pants, per the Independent. Or that time she called him a "domestic terrorist," according to Decider. She also once predicted that the only way Trump would run for president again in 2024 was if he did it "from Rikers Island," per The Wrap. We'd say she's not a fan.