Joey King's Engagement Ring Is Truly One Of A Kind - Exclusive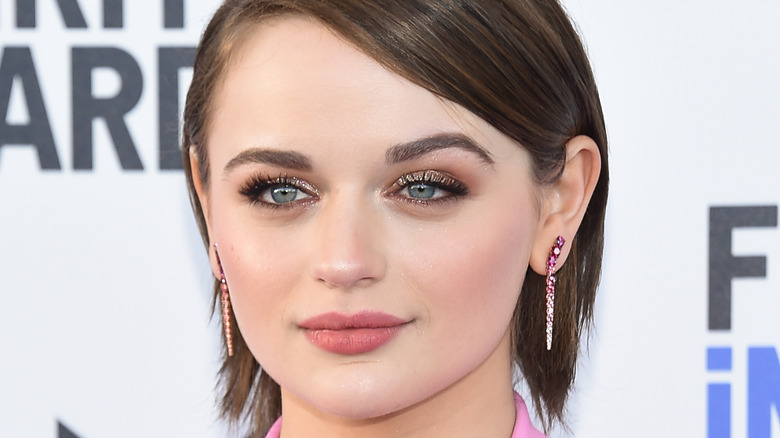 DFree/Shutterstock
Joey King is officially engaged to her non-famous producer boyfriend Steven Piet, and we couldn't be happier for her! But enough with the gushy stuff. Let's talk about that ring. 
King included a photo of the absolute stunner of a diamond in her Instagram engagement announcement, along with a few other adorable pics of her and her hubs-to-be. In the caption, the actor wrote, "I never knew happiness could be so powerful that it can take the air from your lungs, overwhelming every part of you that you can't help but feel your eyes well from the undeniable joy." The long, heartfelt screed continued, "The date was 2/2/22 when you asked me to marry you and made me the luckiest lady alive. I love you more than an Instagram caption could ever do justice. Hanging out with you forever sounds like a real dream, so let's do it."
Sadly, King did not include any details about the rock she's showing off in the photos, so we went to the diamond expert, The Diamond Pro CEO Mike Fried.
Joey King's engagement ring is as unique as she is
Just like the actor herself, Joey King's engagement ring is a true beauty and totally one-of-a-kind. The Diamond Pro CEO Mike Fried agrees, telling Nicki Swift, "There's no doubt that Joey King's ring is one of the most personalized celebrity engagement rings of this year." Rather than a setting that shows off a single, large gem or an old-fashioned design with the stone surrounded by a halo of smaller diamonds, King's ring is a unique three-parter. "It highlights an elongated oval cut diamond set horizontally alongside three smaller stones in a rose or yellow gold setting," said Fried. As for the value? Hang on to your hats. "Her oval cut diamond looks to be 2 or 3 carats and I'd estimate the value to be near $70,000," Fried tells us. "Plenty of care and attention went into designing this ring and it likely carries significant meaning to this dynamic couple."
Presumably because her fiance Steven Piet isn't a celebrity himself, we haven't heard much about their relationship in the media. According to People, Piet was a producer and director on Hulu's "The Act," which premiered in 2019, which we'd guess is where they first met. Before that, the last person King had been linked to romantically was her "The Kissing Booth" co-star Jacob Elordi.