The Internet Can't Stop Talking About Kamala Harris' Reaction To Biden's SOTU Gaffe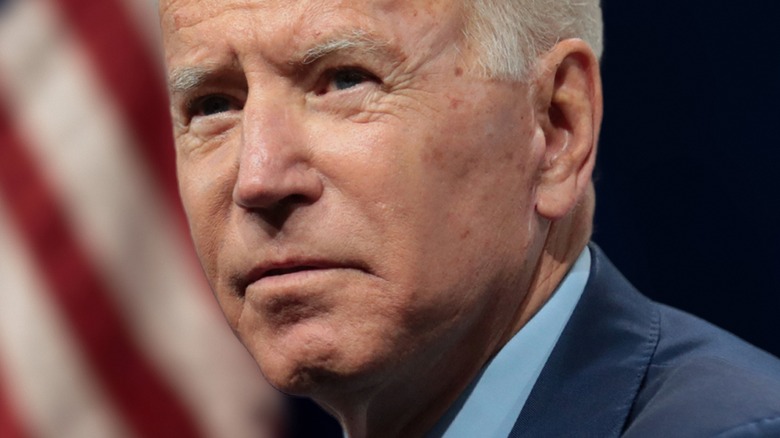 Haditha26/Shutterstock
President Joe Biden came under attack from all sides over his first State of the Union address. Democratic Rep. Alexandria Ocasio-Cortez slammed POTUS for not focusing on more "progressive policies." Conversely, "Turning Point USA" conservative podcast host Ben Johnson lambasted Biden for flip-flopping on his stance to defund the police. "We should all agree: The answer is not to defund the police. It's to fund the police," Biden vowed during the speech, according to CNN. "Fund them. Fund them. Fund them with resources and training."
Johnson was quick to jump on 46's 180 turn. "Don't retweet this clip of Biden saying he would 'absolutely' 'redirect' funding away from police departments after he just made an empty promise to do the opposite at his #SOTU. Please don't RT. Brandon will be very mad," Johnson tweeted along with a clip of the then vice president making a speech in support of defunding.
The Black Lives Matter movement also called out the president. "POV: listening to Biden declare 'the answer is not to defund the police, it's to fund the police,'" BLM tweeted, with a pic of Democratic Rep. Maxine Waters looking far from impressed. Even Biden's second-in-command appeared to cringe during his speech at one point — and it didn't go unnoticed, of course. In fact, the internet can't stop talking about Kamala Harris' reaction to Biden's SOTU gaffe.
Biden says Iranian, we say Ukrainian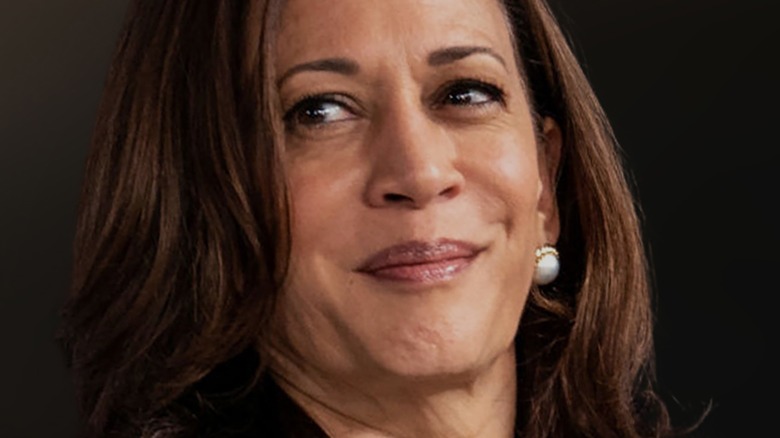 Haditha26/Shutterstock
When Kamala Harris was the attorney general of California, she prided herself on being tough on crime — and she doesn't support defunding the police, per Austin American-Statesman. So President Joe Biden's comments on that subject definitely didn't phase her. However, the veep does know Iran from Ukraine. So, when Biden made a monumental mix-up during his speech, she couldn't hide her chagrin.
"[Vladimir] Putin may circle Kyiv with tanks, but he'll never gain the hearts and souls of the Iranian people," Biden declared, per the Independent. "He'll never, he'll never extinguish their love of freedom," he added as the audience responded with a decidedly tepid round of applause. According to the New York Post, Harris, sitting directly behind the president on stage, was apparently seen muttering "Ukraine" following the flub. Meanwhile, MSN claimed that the error may not have actually even occurred. The outlet suggested the alleged mix-up could have been the result of Biden's "slurred" speech pattern, thereby making "Ukrainian" sound like "Iranian."
Thankfully, the subject wasn't raised again, but that didn't mean social media was going to let it lie. Metro reports that "Iranians" began trending on Twitter within minutes of the purported flaw. "LMFAO Kamala appears to mouth 'Ukrainian' when Joe Biden said Iranian," one user tweeted, along with an unsubstantiated video clip. However, others appeared to be more interested in Harris' clothing choice. "Didn't she realize the background is also brown before she chose a brown suit?" another user mused. Perhaps both Biden and Harris could've used some assistance before taking center stage.