AOC Has Some Notes For Biden's State Of The Union Speech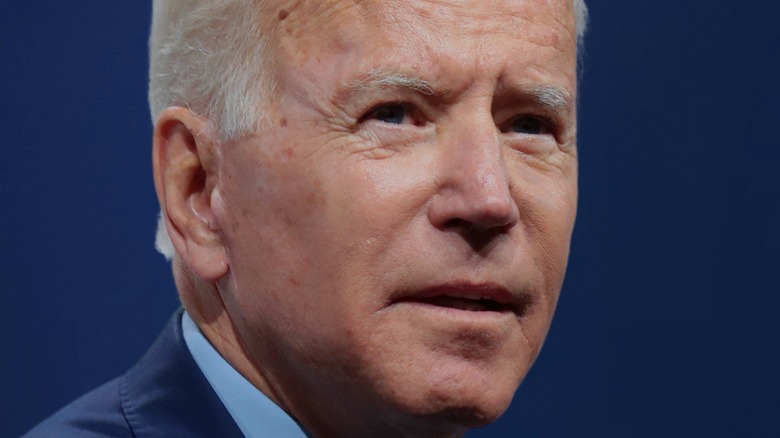 Haditha26/Shutterstock
Joe Biden just can't get a break. The President of the United States was facing insurmountable challenges before even taking office, and the state of the world doesn't seem to be improving. According to CNN, Biden "has one of the worst approval ratings going into his first inaugural address of any president in the polling era."
Add in a pandemic and studies that suggest that "more than 40%" of the U.S. population still don't believe that Biden legitimately won the Presidential race, per The Guardian, and you can understand why he's fighting an uphill battle.
A recent poll by Harvard University's Institute of Politics finds that the country's younger voters are increasingly losing faith in Biden. The biennial survey shows that the POTUS' approval rating has dropped 13% between 18-29-year-olds, who are becoming more and more disillusioned with the political climate in the USA. So, it's little surprise that the star of the Democratic youth movement, Rep. Alexandria Ocasio-Cortez, is not a fan either. The POTUS gave his first speech concerning the country's current condition on March 1, and AOC has some notes for his first State of the Union speech.
Oil and immigration issues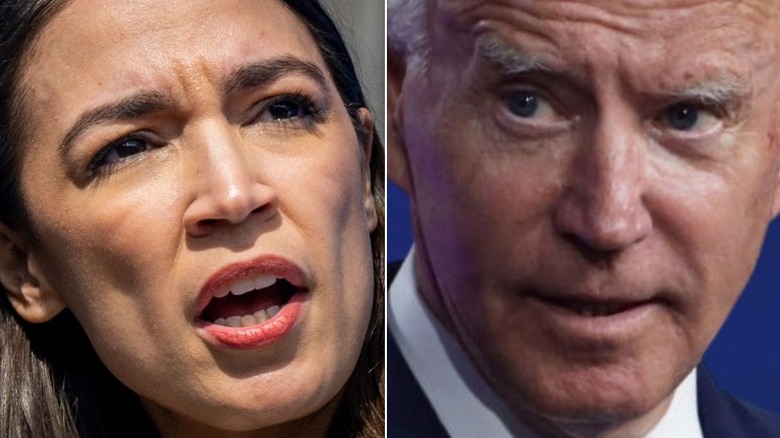 Haditha26/Shutterstock & Brandon Bell/Getty
Per The New York Post, AOC was decidedly underwhelmed by Biden's State of the Union speech. She claimed it "left a little bit to be desired" as it didn't pack any punch on "progressive policies." The representative from New York City cited immigration and the climate change crisis as her prominent bones of contention.
"The piece on immigration was really just glossed over, and we have over 10 — you know, anywhere between 10 to 13 million immigrants in this country that feel desperate for a path to citizenship," Ocasio-Cortez told MSNBC, via Yahoo! News.
AOC criticized Biden's unwillingness to tackle the USA's dependency on oil, primarily as much of it is sourced from Russia — making it hugely problematic given the situation with Ukraine. She claimed Biden should have focused more on alternative forms of clean energy and reform of the country's transportation infrastructure — although she noted that a move to electric vehicles isn't a viable option for most U.S. citizens at this time. "We really need to hear more, I think, about mass transit, trains, high-speed rail, and renewable energy," Ocasio-Cortez said.