Fans Are Going Wild Over Rihanna's Sassy Reply To A Fan's Critique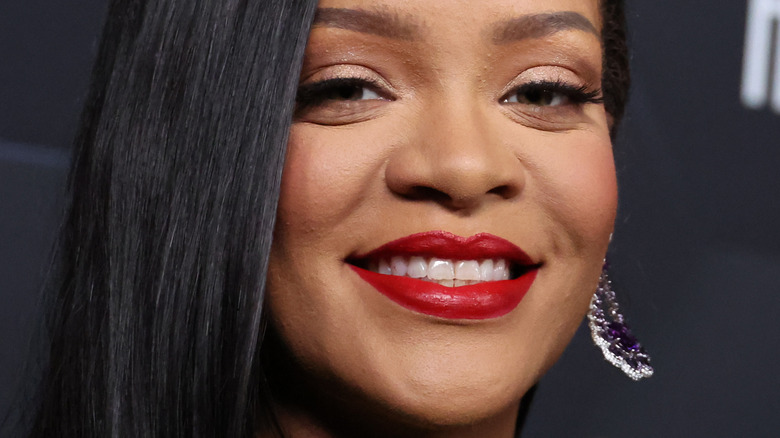 Mike Coppola/Getty Images
In addition to being a chart-topping singer, performer, and all-around boss businesswoman, Rihanna is also a sassy queen that we just cannot get enough of. Throughout her long, successful career, the "Don't Stop The Music" hitmaker has had her fair share of shady exchanges that have made headlines.
In 2011, Ciara, one of her peers, made an appearance on E!'s iconic "Fashion Police" show and didn't have the nicest things to say about RiRi. "I ran into her recently at a party and she wasn't the nicest and it's crazy because I've always loved and respected what she's done with fashion," the "Like A Boy" singer explained, adding, "I've ran into her before, but this time it wasn't the most pleasant run-in." It didn't take long for Rihanna to hear about what Ciara had to say, resulting in her responding on Twitter, "My bad ci, did I 4get to tip u? #howrudeofme," she wrote. Ciara decided to bite back and responded with, "Trust me Rhianna u dont want to see me on or off the stage." Rihanna, however, took it a step further and insisted that Ciara's career wasn't in demand enough to book a show, writing, "Good luck with bookin that stage u speak of." In the end, the duo appeared to have squashed their beef, especially after Rihanna apologized and said they should make up.
Ciara and Rihanna's mini-feud may be more than a decade old, but that doesn't mean Bad Gal RiRi's sassy demeanor isn't active.
Rihanna had something to say when a fan told her she was late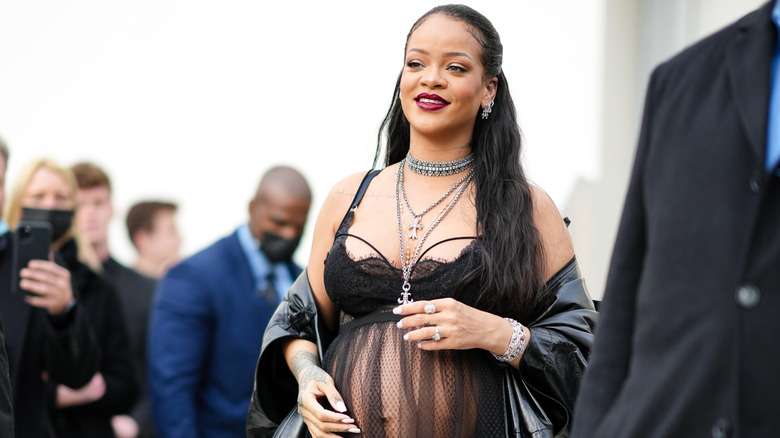 Edward Berthelot/Getty Images
Rihanna is the queen of fashion and is no stranger to making statements. As previously reported by People, the Grammy award-winner turned up to the Dior Autumn-Winter 2022 show at Paris Fashion Week on March 1 and looked nothing short of incredible. As seen in the snapshot above, the "Shut Up And Drive" hitmaker stunned in a sheer black dress that showed off her growing baby bump. The superstar singer — who is expecting her first child with rapper A$AP Rocky — wrapped herself up in a PVC jacket of the same color and styled her long, dark hair back.
Being that Rihanna is an A-list celebrity, many fans turned up to watch her make her entrance to the fashion show. As seen on Twitter, a video overheard a fan who kept stating Rihanna was "late" while she was walking in. Since Rihanna has no chill, she gazed over her shoulder at the fan and said "no s***" at them. The upload certainly didn't go unnoticed online, and has racked up more than 100,000 likes, becoming a viral moment that everyone can't get enough of. "I mean imagine having Rihanna looking into your eyes and saying "no s***" i would faint," one user wrote. "'b**** be glad I even came' energy. I love it," another person shared. "the way she cut her eye at her i'm screaming," a third fan wrote. Rule No. 1: Don't mess with Rihanna!