How Chris Kirkpatrick Really Felt About Getting Dissed By Eminem
Tim Boyles/Getty Images
Having your name mentioned in a song is the pinnacle of celebrity. Who wouldn't want to be immortalized in musical history? For example, actor Halle Barry was the famed inspiration for the Hurricane Chris song, "Halle Berry (She's fine)." Miley Cyrus similarly name-dropped both Jay-Z and Britney Spears in her hit 2009 single, "Party In The USA."
However, not all celebrity mentions are favorable — some are downright savage. Mariah Carey directly called out Wendy Williams in the song "Touch My Body," singing, "They'll be all up in my business like a Wendy interview," referencing the talk show host's reputation for asking invading questions. Pusha T slammed Drake in his 2018 song, "The Story of Adidon," sparking an intense rivalry with the Canadian rapper, per Billboard.
No public bashing was quite as loud as Eminem's threat to NSYNC member Chris Kirkpatrick in the 2002 single "Without Me," on which Eminem raps, "Anybody who's talking this s**t, that s**t / Chris Kirkpatrick, you can get your a** kicked." Nearly 20 years after the notorious diss, Chris Kirkpatrick has finally responded to the "8 mile" rapper.
Eminem took aim at all boy bands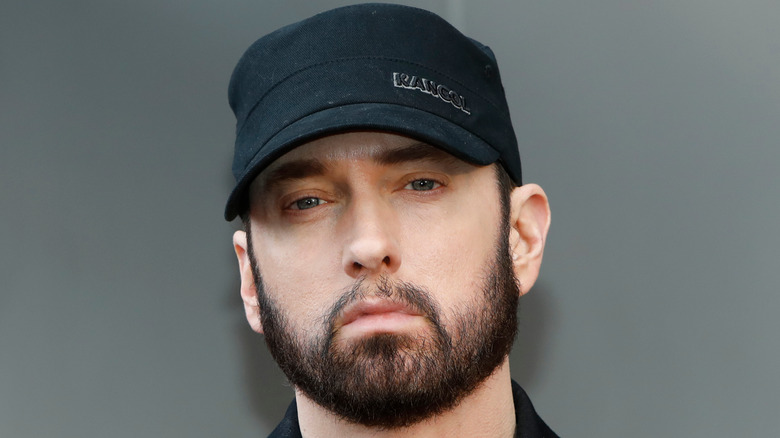 Kathy Hutchins/Shutterstock
NSYNC was arguably one of the most popular boybands of the 2000s. The group consisted of Justin Timberlake, JC Chasez, Lance Bass, Joey Fatone, and Chris Kirkpatrick. By 2002, the band had amassed global success, having scored six top 10 singles on the Billboard Hot 100 chart and a number one album with 2000 smash hit record "No Strings Attached."
Rapper Eminem was equally successful in his own right, having mainstream success with his top 10 single, "The Real Slim Shady," in 2000. The Detroit native, who gained notoriety for his brash lyrics and racy music videos, had been known to diss his fair share of public figures. His 2002 album, "The Eminem Show," saw him fire shots at Mariah Carey, Jermaine Dupri and even his own mother, per Genius. Also included on the sophomore project was a shot at NSYNC's Chris Kirkpatrick, reminding the pop singer that he could get his "a** kicked."
The diss seemingly came from left field, but Eminem explained during an appearance on MTV's Total Request Live that he name-dropped Kirkpatrick because he was the only band member who stood up to him after he rapped, "I'm sick of you little girl and boy groups," on his hit "The Real Slim Shady," per Idobi. Kirkpatrick would later confirm the Detroit rapper's story, revealing in an interview on Ron Gaita's "For The Burgh" podcast that he compared Eminem to The Crocodile Hunter during a TRL appearance. 
Chris Kirkpatrick wasn't hurt by Eminem's words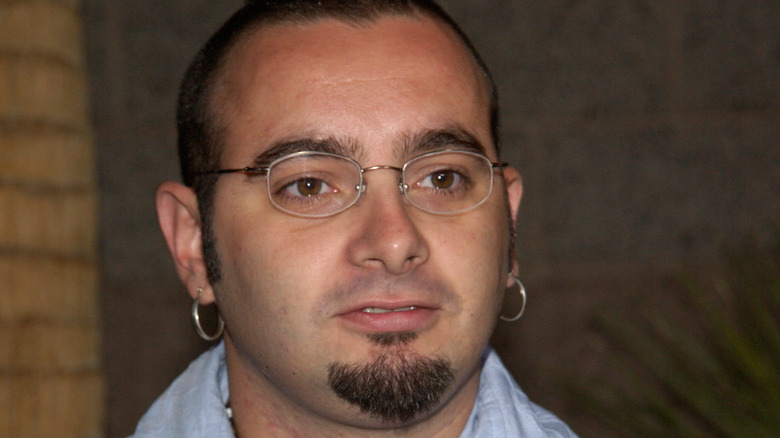 Featureflash Photo Agency/Shutterstock
It would take nearly two decades for Chris Kirkpatrick to respond to Eminem's famous diss. During an interview on "Insight with Chris Van Vliet," the NSYNC band member joked that although he was initially shocked by the threat, he was ultimately flattered to be mentioned in the song. "At first, I was kind of freaked out and then, of course, nowadays I think It's amazing," Kirkpatrick said, adding, "That song is one of my favorite songs, and then to have my name in it too. It's just like I did something right — or wrong."
Kirkpatrick went on to reveal that the two have crossed paths numerous times since Eminem released "Without Me," although he has never addressed the rapper directly. Kirkpatrick said that despite his feud with Eminem, he's actually a fan of the "Lose Yourself" artist, saying, "I've always been a big fan and it was just to be in the song, whether or not he wants to kick my a**."
It seems that Kirkpatrick has taken the "Without Me" shout-out in stride throughout the years. The NSYNC star joked about the situation with a fan on Twitter in 2015, writing, "I'm in an Eminem song?" Despite whatever petty beef they had back in the day, Eminem and Kirkpatrick interestingly share a birthday on October 17. "Thanks for sharing my born day," Kirkpatrick tweeted at the rapper in 2013, showing that the former boy bandmate wasn't so hurt by Eminem's diss.