The Tragic Death Of Lethal Weapon Actor Mitchell Ryan
Mitchell Ryan was a veteran star with a slew of small and big screen roles under his belt. According to IMDb, the Cincinnati-born actor was first drawn to performing during his stint in the Navy. Following his service, he took to the stage before landing his first significant TV role, playing Burke Devlin on the iconic '60s soap "Dark Shadows." However, Ryan struggled with being a longtime alcoholic, and even making it in Hollywood couldn't stop his drinking. The actor's alcoholism resulted in him being axed from the show after one season.
It appeared to be the wake-up call Ryan needed, as he eventually quit the bottle after three decades. "I'm blessed that, 30 years a drunk, I've managed to live a working actor's life to be envied," Ryan admitted in his autobiography, "Fall of a Sparrow," (via U.S. News & World Report). "And I've lived a great deal of real-life while I was at it," Ryan continued. "Sober for the next 30 years, I'm told that I've come out of it all a good and useful human being."
Ryan's sobriety resulted in a glittering movie career. He appeared in "Lethal Weapon," "Liar Liar," and "The Devil She Wrote," amongst other hit flicks. In addition, he scored starring roles in multiple TV shows, including "Dharma and Greg," "Murder She Wrote," and "Santa Barbara." Sadly, per Variety, the actor died on March 4. Here are the details on the tragic death of "Lethal Weapon" actor Mitchell Ryan.
Mitchell Ryan lived long and prospered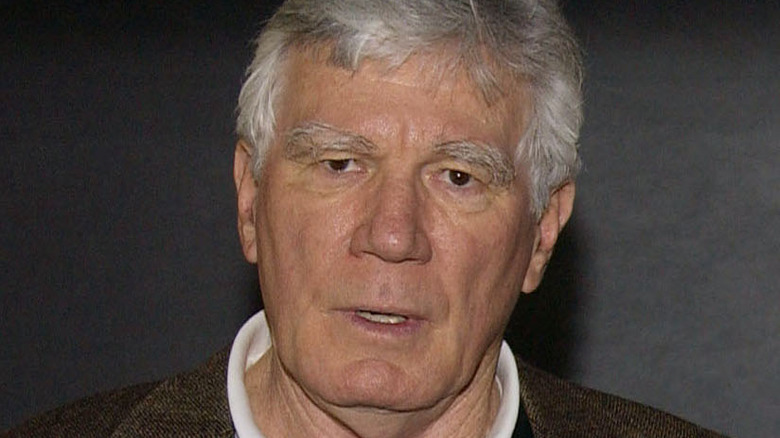 Robert Mora/Getty Images
"My sweet, beloved friend Mitch died early this morning," his former "Dark Shadows" co-star Kathryn Leigh Scott shared on her Facebook page. "He was a great gift in my life. I cherish my warm memories of his beautiful soul. I'm heartbroken." Ryan's stepdaughter, Denise Freed, said he died in his Los Angeles home. She told The Hollywood Reporter that the 88-year-old's cause of death was "congestive heart failure."
Four years before his death, in January 2018, Ryan revealed an interesting tidbit fans might be interested in to revisit in light of his death: He almost landed the role of Captain Picard on "Star Trek: The Next Generation." He said he was the lead contender until producers "ran across that incredible British actor... Patrick Stewart." The StarTrek fansite asked Ryan if he wished he'd won the part instead of Stewart. "I don't know. Who knows? I never really planned my career in any way, shape, or form," he admitted. "I just did what came up. It was great, what I got to do in my career, but theater is the only thing you can plan, whereas films and television come up."
Per KCal9 CBS Los Angeles, Ryan, who had walked down the aisle twice, is survived by three children from his first marriage, his second wife, his stepdaughter, and his five grandkids.