The Subtle Way Queen Elizabeth Seemingly Showed Her Support For Ukraine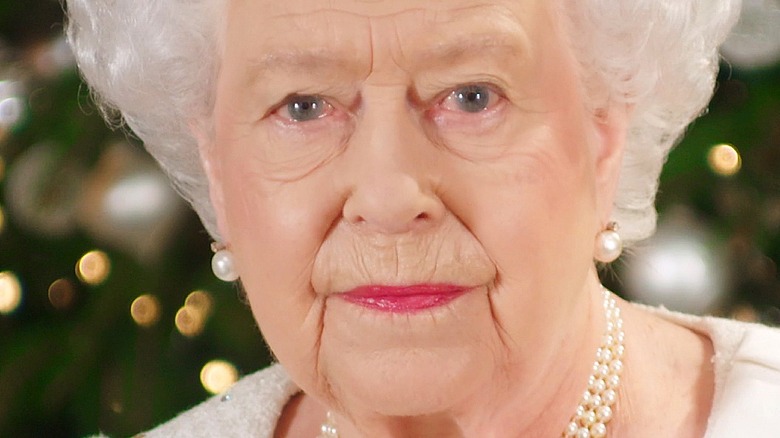 Handout/Getty Images
Queen Elizabeth II is a monarch who almost never engages in politics. Even though it is certainly part of her job to meet with foreign leaders and dignitaries from around the world, the queen almost never comments about world affairs, especially when it comes to controversial ones. And while some have suggested that the queen might be 'hooked' on political gossip, per Politico, the royal family is known to remain politically neutral. 
However, the ongoing bloodshed in Ukraine after Russian President Vladimir Putin's decision in invade the country is one thing that the royal family simply cannot and has not ignored. In fact, Ukraine's President Volodymyr Zelenskyy went out of his way to thank Prince William and Kate Middleton for their message of support for the Ukrainian people, while Prince Charles has gone out of his way to condemn Putin's "aggression" in his war with Ukraine. He praised "the extraordinary bravery, generosity and fortitude of the Ukrainian community in the face of such truly terrible aggression" during a visit to a Ukrainian Catholic church in London.
With that said, it seems like Queen Elizabeth's support for Ukraine might be the most powerful, if not also the quietest.
Queen Elizabeth is saying it with flowers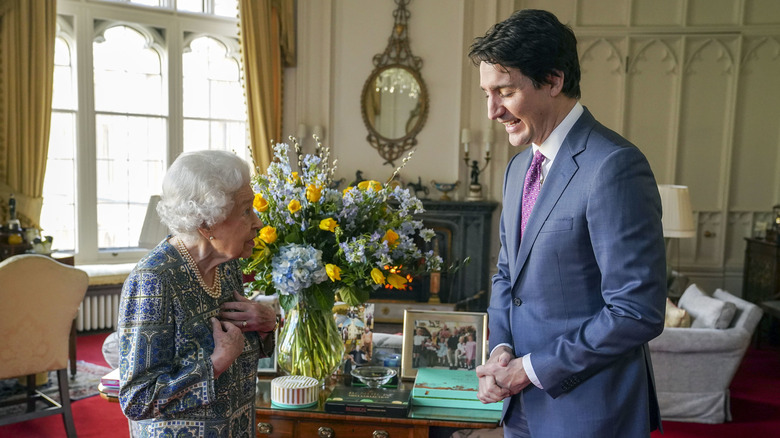 Wpa Pool/Getty Images
As Russia's ongoing war in Ukraine has the world on edge with its growing number of casualties, Queen Elizabeth II is showing her support for the Ukrainian people in the best, if not also the most subtle way she can. While meeting Canadian Prime Minister Justin Trudeau at Windsor Castle, many eagle-eyed royal fans noticed two things: the blue and yellow flowers behind the queen in her photo op with Trudeau along with the blue and yellow print dress she wore, which some believe is supposed to be a nod to the colors of the Ukrainian flag. Royal correspondent for The Sunday Times, Roya Nikkhah, even pointed out in a tweet that the queen's "deliberate sign" of support is certainly there and that "very little tends to happen by accident." 
While this color coordination is certainly on brand for the queen, someone must have forgotten to have given Trudeau the memo, as the prime minister wore what appears to be a pink tie. Maybe he thought it was Wednesday?