Megan Mullally And Nick Offerman Let It Rip On The Topic Of Putin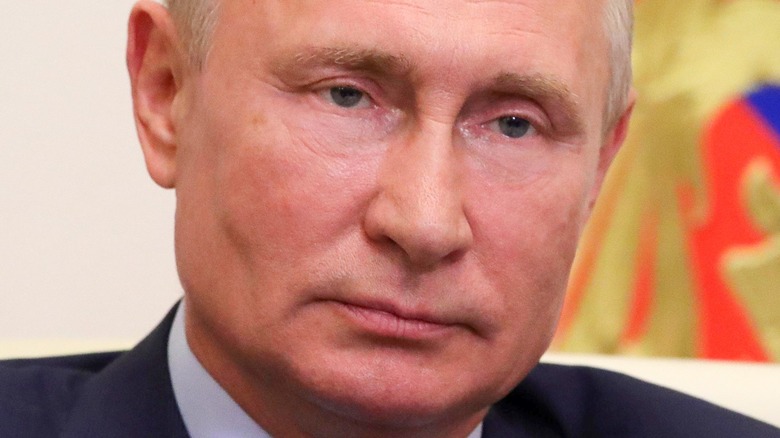 Photographer RM/Shutterstock
Vladimir Putin has managed to supersede even his biggest fan, Donald Trump, as the most talked about and polarizing president globally. Trump's still vying for the top spot and grasping for the headlines, though. As Russian forces began their bulldozing and bombing of Ukraine, 45 praised his former KGB buddy. After continuing to insist that the 2020 presidential election was "rigged," Trump claimed the U.S. should be more like Putin.
The former commander-in-chief hailed his presidential pal's Ukrainian invasion strategy as "genius" in an interview with Clay Travis and Buck Sexton. "[Putin's] gonna go in and be a peacekeeper. That's the strongest peace force... We could use that on our southern border," Trump continued. "Here's a guy who's very savvy... I know him very well. Very, very well," he boasted.
Even honorary Russian citizens Steven Seagal and Gerard Depardieu have condemned Putin's actions and called for an end to the war. "I am against this fratricidal war. I say 'stop the weapons and negotiate,'" Depardieu told the AFP, according to Newsweek. Not surprisingly, the mainly Democratic Hollywood crowd doesn't subscribe to Trump's dictator fangirling either. In fact, comedians Megan Mullally and Nick Offerman let it rip on the topic of Putin during the Independent Spirit Awards on March 6.
Megan Mullally and Nick Offerman shoot off F-bombs, not explosives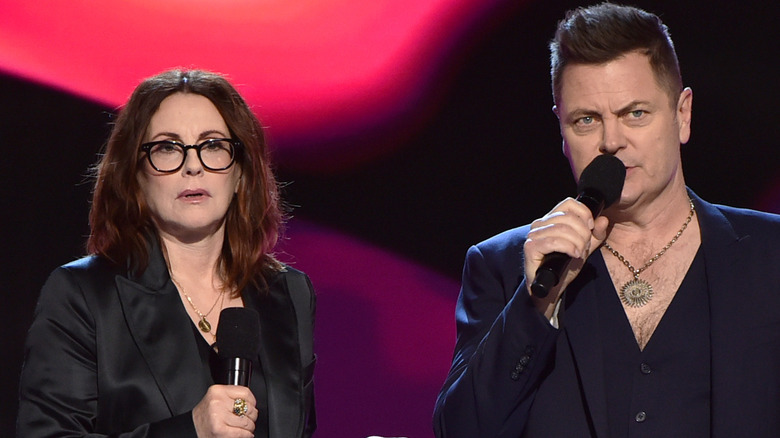 Alberto E. Rodriguez/Getty Images
According to The New York Times, NATO has claimed Russia is dropping "cluster bombs" on Ukraine. The munitions cause large-scale and long-lasting damage, as they scatter remnants post-explosion that go on to become "de-facto landmines" (per Human Rights Watch). Thankfully, Megan Mullally and Nick Offerman's award show attack didn't result in any physical harm, despite them dropping some heavy-duty F-bombs during their tirade.
"I think we speak for everyone here when we say that we are hoping for a quick, peaceful resolution. Specifically, f*** off and go home, Putin!" Mullally decreed, according to Variety. "We hope Putin f**** off and goes home, and to that end, let's all join together with a Spirit Awards salute to Putin," Offerman rallied, as the co-hosts gave the middle finger to the camera.
Per The Hollywood Reporter, Ukraine was a hot topic throughout the show. Ruth Negga declared that she stood with Ukraine during her pre-recorded award acceptance speech. Fellow actor Javier Bardem also conveyed his support for the country and its citizens. He shared he was hoping for "a diplomatic and peaceful resolution" to the raging war. And, cinematographer Eduard Grau admitted in his emotionally charged speech that he could not envisage the suffering caused to the Ukrainian people.