This Is Who Almost Ruined Rosie O'Donnell And Barbara Walters' Relationship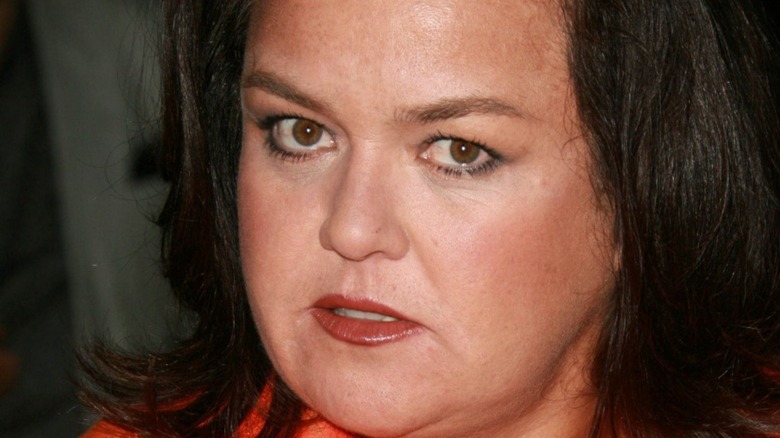 s_bukley/Shutterstock
After her wildly successful stint in the '90s as the host of "The Rosie O'Donnell Show," comedian Rosie O'Donnell was a huge name when she was asked to co-host "The View" in 2006. She moderated the show alongside Barbara Walters, Elisabeth Hasselbeck, and Joy Behar until 2007, and then she returned again for the 2014-15 season. However, there was a mountain of tension between her and Walters behind the scenes. Walters was a co-creator of the show and a legend in the world of broadcast journalism, so when O'Donnell lost her cool (like in that infamous onscreen blow-out with Hasselbeck), Walters had to deal with it.
But it was Walters' relationship with former "Celebrity Apprentice" host and former president Donald Trump, who in 2006 was producing the Miss USA pageant, that left O'Donnell feeling unsupported from her co-host. In a now-legendary rant to camera, O'Donnell mocked and lampooned Trump live on-air after he tried to present himself as "the moral authority" when one of his pageant contestants was found to be breaking the rules by clubbing and partying.
"He's the moral authority? Left the first wife, had an affair. Left the second wife, had an affair!  But he's the moral compass for 20 year olds in America?" she said as the audience roared with laughter. But according to O'Donnell, Walters was not laughing.
Rosie said Barbara was in Trump's 'circle'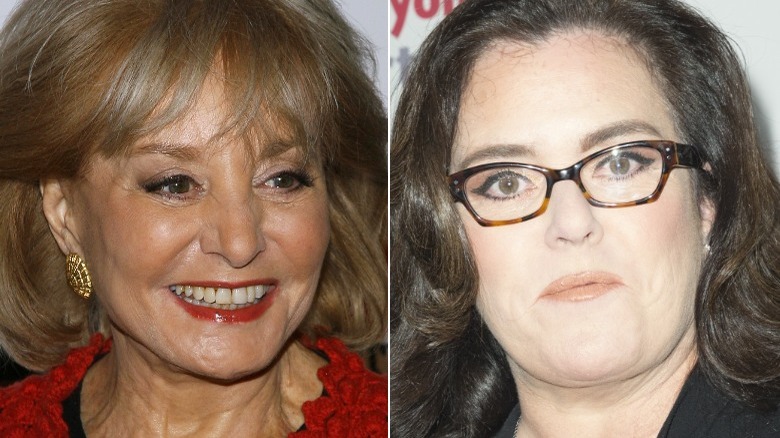 lev radin & stocklight/Shutterstock
In 2021, speaking with Jess Rothschild on the "Hot Takes and Deep Dives" podcast, O'Donnell spoke of Walters' reaction to that incident. "So, the Trump thing happened and [Barbara] was off on that day," O'Donnell explained. "And you know, she lived in the world of Donald Trump. I did not." She continued, "I'm never going to be at a party where Donald Trump is ... We don't go in the same circles. But Barbara Walters was in that circle and felt threatened by him. A lot of people were afraid of him. Including, I think, Barbara Walters."
O'Donnell also noted that Trump claimed Walters apologized to him in a letter the real estate mogul leaked to the press. O'Donnell said she tried calling her co-host over the Christmas break, but was treated with radio silence. When they returned to the studio in the new year, that's when O'Donnell said they really butted heads.
"We had it out in the dressing room," she admitted. "About things that were way too personal to bring up. And I brought them up and I felt regretful, you know? Since I talked about her relationship with her daughter, which is none of my business. And, you know, put her on the spot. And Bill Geddie [The View's executive producer] was so upset. Everybody was upset."
Rosie still has nothing but respect for Barbara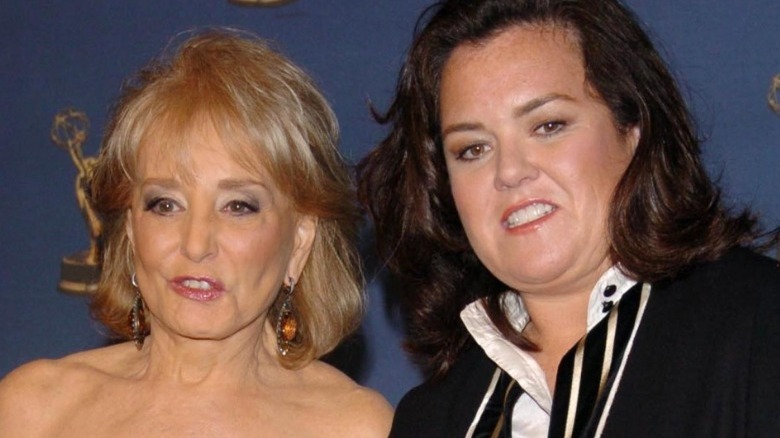 s_bukley/Shutterstock
According to Rosie O'Donnell, they were still able to film an episode of "The View" that day despite her tense exchange of words with Barbara Walters. "You know it was a rocky, rocky place that we were in, but we got through it," she said on "Hot Takes and Deep Dives." O'Donnell said she still has nothing but the utmost respect and admiration for Walters. "She deserves respect and she deserves to be honored for all that her work," O'Donnell added. 
While she may still keep Walters in her good books, she definitely still has some choice words for the former prez, telling W Magazine in 2017, "I seriously worry whether I personally will be able to live through [his presidency] and whether the nation will be able to live through it and survive." She added, "It's a terrifying concept, on the brink of nuclear war with a madman in charge."
In 2020, she said in an interview with The Daily Beast that Trump still won't let their feud die. "I said some things about him — not nearly as bad as I could have said ... but I just talked about him not being a self-made man, having money from his father, and saying he went bankrupt — and it made him go berserk. He went on a tirade for a good decade that hasn't ended today." She added, "I think he can't let go of a strong woman standing up to him."