Kanye West's Disturbing New Poem Is Concerning Fans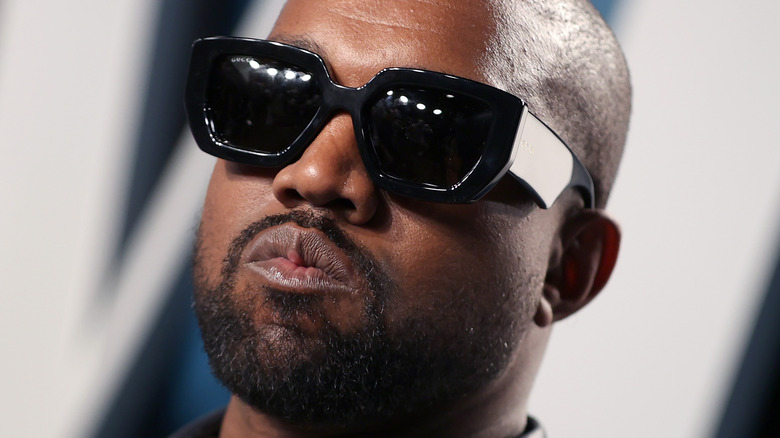 Rich Fury/vf20/Getty Images
Rapper Kanye "Ye" West has often been hailed as an artistic genius — by others and himself. "I am unquestionably, undoubtedly, the greatest human artist of all time. It's not even a question at this point. It's just a fact," he boldly declared in a 2019 interview to host Zane Lowe on Apple Music Beats 1 radio station. 
Lately, however, the artist has come under scrutiny for some of his most recent work — including a Claymation-style music video for his song "Eazy" wherein comedian Pete Davidson is decapitated and buried alive. Still, Ye was adamant that art should not be taken seriously. "Art is therapy just like this view. Art is protected as freedom of speech," West explained on his Instagram account (via Page Six). "Art inspires and simplifies the world. Art is not a proxy for any ill or harm. Any suggestion otherwise about my art is false and mal intended," he added.
But now it's a poem that has fans concerned...
Kanye West wrote a poem declaring himself 'dead'
Victor Boyko/Getty Images
On March 8 billionaire Kanye "Ye" West posted a poem to his Instagram account titled, "Dead." 
Within the confines of the poem, Ye continues to drive home the narrative that he is already dead and even goes so far as to say he was murdered. "I found out one day at the newsstand in pergatory [sic] there was a front page article of my murderers [sic] story," the famous lyricist rhymed. "I was so surprised at what it said / This info is for the living / And surprise... You're DEAD." While the poem is certainly open to interpretation, Ye made it clear in the caption of the post that he had no interest in explaining it to anyone. "The explanation destroys the mystery and magic of true love and puts it in a box that can be counted," he penned. 
Still, art or not, many fans flooded the post's comments section in concern for the rapper. "The man just wants his family back.." one user wrote. Meanwhile, another penned "KANYE I AM HERE FOR YOU." In yet another supportive comment, one fan wrote, "It's gonna be okay bro."