Who Inherited Anthony Bourdain's Money After His Death?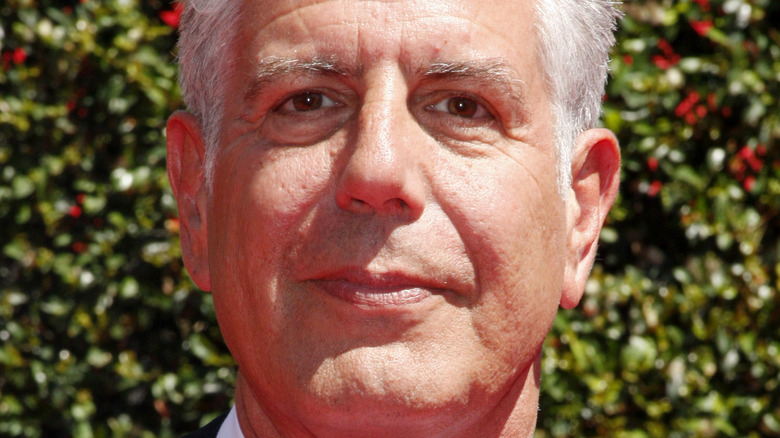 Tinseltown/Shutterstock
Anthony Bourdain's love for good food developed during summers spent in his paternal family's native France in childhood, and that passion would grow into a career, as he wrote in his 2000 memoir "Kitchen Confidential: Adventures In The Culinary Underbelly" (via The Guardian). The book turned the New York chef into a best-selling author, paving the way for the lucrative deals he would later strike with the Food Network, the Travel Channel, and CNN. Bourdain also had a genuine interest for the human condition, a trait that set him apart from other celebrity chefs.
Toward the end of his career, Bourdain placed a higher focus on the people behind the cuisines he enjoyed around the world on "Parts Unknown," never shying away from difficult topics like politics and human rights. That bet proved successful. Bourdain's "Parts Unknown" won seven Emmy Awards and a Peabody Award between 2013 and 2018, when Bourdain tragically died by suicide in France.
Landing "The New York Times" best-seller in 2000, in addition to shooting him to stardom, also taught Bourdain a thing or two about fiscal responsibility. "Until 44 years of age, I never had any kind of savings account," he told Wealthsimple in 2017, referring to his age when "Kitchen Confidential" was published. "I'd always been under the gun. I'd always owed money. I'd always been selfish and completely irresponsible." That changed when he left his chef's apron behind. When he died, Bourdain had quite a bit of money and not many heirs. 
Anthony Bourdain left his fortune to his daughter Ariane
Anthony Bourdain's net worth at the time of his death is dubious. Early reports estimated that Bourdain was worth about $16 million. In 2022, Celebrity Net Worth reduced its approximation to $8 million. Estimating Bourdain's fortune is difficult because the best-selling author and award-winning host most likely used trusts and other methods to protect his finances, Cambridge LLP explained. 
What we do know, however, is that the Bourdain estate was worth $1.2 million. Most of it was left to his daughter, Ariane, who was 11 when Bourdain died, the law firm noted. Bourdain likely opted to put part of his estate in trust funds to prevent it from becoming public record after going through a probate court, like a will would, according to USA Today. Trust funds also prevent beneficiaries from paying "unnecessary tax," Cambridge LLP detailed. While Bourdain's total fortune is unknown, he revealed the multi-million estimates were "about ten times overstated" in an interview with Wealthsimple.
Bourdain's estate was comprised of $425,000 in savings and cash and another $35,000 in brokerage accounts, according to USA Today. His properties were listed at $250,000, while royalties and residuals were listed at $500,000. Bourdain appointed Ariane's mother and his ex-wife, Ottavia Busia (though Bourdain and Busia never legally divorced) as executor of his estate. Ariane will begin benefitting from her father's fortune when she turns 25, in 2032. When she is 35, Ariane will gain access to the estate's balance.
Anthony Bourdain had a special bond with Ariane
Anthony Bourdain was 50 when he became a father. "That's late, I know," he wrote in his 2016 "Appetites: A Cookbook" (via People). "But for me, it was just right. At no point previously had I been old enough, settled enough, or mature enough for this, the biggest and most important of jobs: the love and care of another human being." Still, his relationship with his daughter, and wife, for that matter, suffered the consequences of his job, which required him to be away for "about 250 days a year," he told People in 2016. 
He and Ariane made it work, though. "You know, this is a girl who knows her parents are weird," he told the outlet. "We have somehow managed to raise a very healthy, very happy, self-assured little girl who knows she's loved, who finds her parents entertaining." Ariane and Bourdain shared many passions, including cooking and Brazilian jiu-jitsu. In 2016, Bourdain published the "Appetites" cookbook, a compilation of the dishes he loved to cook for Ariane. "She's who I need to please, and if she's not happy, I'm not happy," he told NPR in 2016.
Ariane remembers her father's support and wisdom with fondness. "He pretty much encouraged every single thing I wanted to do in my life, and gave me the information to back it up," Ariane said in "Bourdain: The Definitive Oral Biography," via Vanity Fair.