What We Know About Jake Paul's Surprising Split From Julia Rose
Warren Little/Getty Images
Jake Paul has taken the saying "love at first sight" to a whole new level. The infamous YouTuber first met influencer Julia Rose in 2019, when she starred in his music video "These Days." Ironically, Rose was cast to play the "girlfriend" role in the video. During an interview on "In Depth with Graham Bensinger," Paul spoke candidly spoke about the moment he knew she was "the one," despite their relationship being on-again, off-again during 2020. 
"I told her I loved her the first day that we met," he said while he held Julia close. "I've never done that, ever. I don't love people like that." Although they had only spent six hours together, the YouTuber-turned-boxer just knew the Instagram model was his soulmate. "He's crazy. He's psycho, but I like it," Julia said in response to how she felt when she heard Paul say those three words. 
While it sounds like a fairy tale, the couple's relationship wasn't always easy. "We went through a lot of s***, and that's okay. When you're young kids with a lot of responsibility, in the spotlight, and the media's involved in your relationship, and fans are involved in your relationship, it's hard," Paul said.
Jake Paul and Julia Rose have a history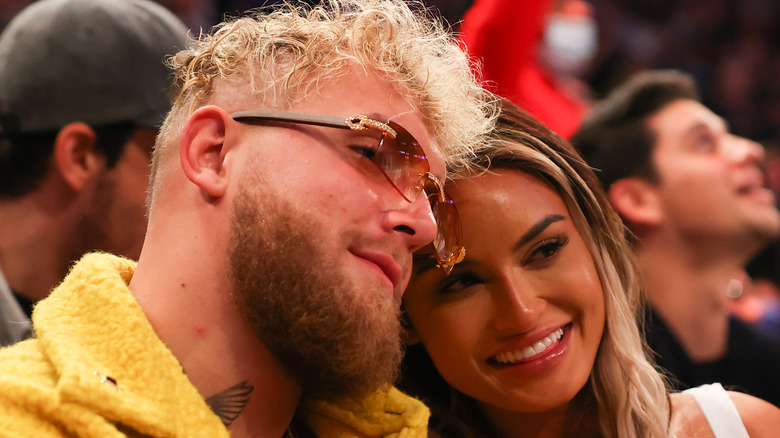 Rich Graessle/Getty Images
Jake Paul may be a winner in the ring, but he's taking a loss when it comes to his love life. Fans started to speculate there was trouble in paradise after the influencer tweeted, "Alexa, play I'm Single by Jake Paul" (via Page Six). The post has since been deleted, sources close to the media outlet confirm that the professional boxer has been telling his circle of friends that he and Julia have called in quits and that he is "devastated." 
The source claims that Paul is distraught by the breakup, they also added that he has "moved on with other girls" and has hopes of working things out with Julia at some point. "He would like to get back together with her and maybe they will, but they both need to slow down their lives," the insider told the outlet. 
There is a big possibility the pair could find themselves back to each other considering this isn't the first time they've gone their separate ways. In 2020, Julia opened up about their breakup during an interview with YouTuber Kyle Forgeard. "Having a very public relationship where a lot of people don't see exactly what happened, it's tough," she said. "But you know, I don't think either of us are bad people. We are just trying to live our lives and do the best we can."