The Hilarious Reason Javier Bardem Once Worked As A Stripper
Tinseltown/Shutterstock
When you think of Javier Bardem, you may think of his wife, Penelope Cruz, or his work in critically-acclaimed films like "No Country for Old Men," and "Mother!" You may even acknowledge the Spanish actor's Oscar nods for performances in movies like "Before Night Falls" and "Being the Ricardos." Interestingly enough, Bardem doesn't view his own triumphs the same way. When he won his Oscar for "No Country for Old Men," he told The Guardian, "I felt great, but it didn't make any sense. It was more: 'Wow, what is this? I need to earn this now so they don't take it out of my hands!'"
Along with his many successes in entertainment, Bardem is also an ambassador of Greenpeace to the protection of Antarctica. In 2018, Bardem rode a submarine down to a remote location in the Antarctic Ocean, according to Greenpeace. The experience lasted two hours, after which Bardem said, "It is an incredibly important mission to go down and document these species in all their colorful existence and to prove the importance of protecting this unique ocean."
But while these aforementioned accolades are well-known by fans across the globe, In fact, Bardem was involved in one particular activity that may, well, come as a surprise.
Javier Bardem was once a stripper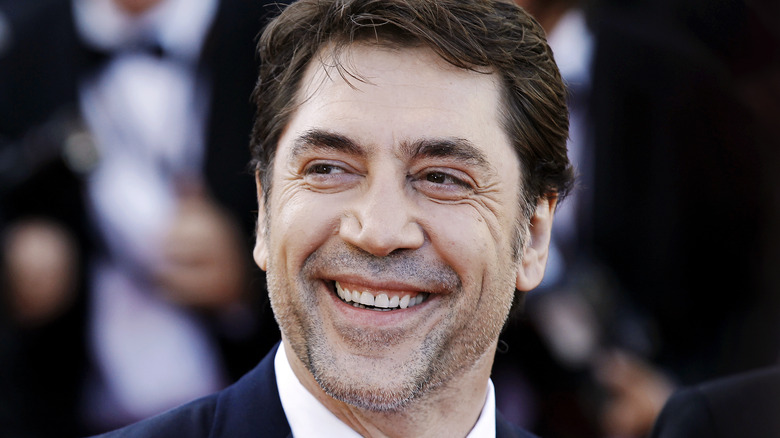 Andrea Raffin/Shutterstock
For one day, Javier Bardem worked as a stripper. When he appeared on "The Ellen DeGeneres Show" in March 2022, Bardem spoke about his wife, Penelope Cruz, before DeGeneres chimed in and said, "I learned today that you were a male stripper." Bardem replied, laughing, "Yeah." 
He continued by explaining that when he was 20, he was hopping out of a cake at a party for his friend's fiancée. He said that when he did that and performed a routine afterward, the owner of the club they were at was an immediate fan and asked if Bardem would do that routine every Friday. He admitted that he drunkenly said of course, he would. "They hired me, and I had to perform the next Friday," he explained. 
Bardem said that when he returned to perform the following week, he was so nervous that he invited his mother and sister. He concluded by saying there were only three people there and the experience was embarrassing, but he did do it. He concluded, "I'm a performer, and I have my work!" Bardem's "Ellen" appearance comes off the heels of not only his but also wife Penelope Cruz's Oscar nominations — a first for the couple, he revealed. Bardem is currently in the running for best actor in a leading role for "Being the Ricardos," while Cruz is in contention for best actress in a leading role for "Parallel Mothers."