Rupert Grint Reveals The Explicit Word His Daughter Can't Stop Saying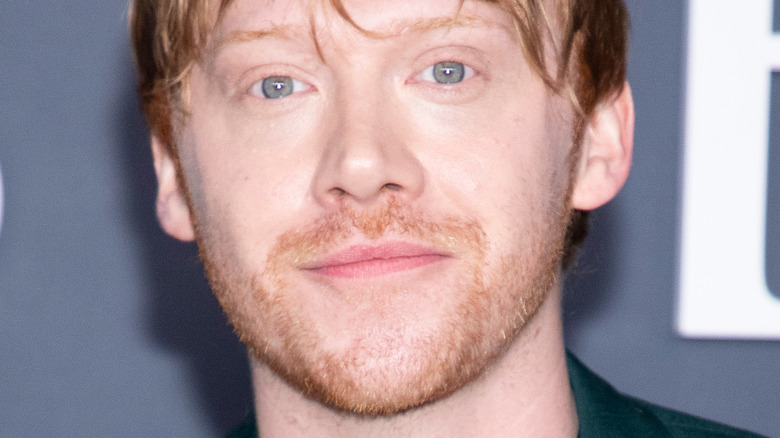 Sam Aronov/Shutterstock
Actor Rupert Grint has been a familiar face for moviegoers since he debuted as the character Ron Weasley in the "Harry Potter" franchise films as a young kid. Now, one of his most recent roles is starring as Julian in the Apple TV+ series "Servant," about which he spoke to Esquire in 2021. He also told the magazine about his history of avoiding sharing his personal matters with the world, saying, "I'm quite a private person, I think, and the idea of sharing everything to the world does kind of terrify me."
Although the star normally keeps details about his private life to himself, in 2021 he opened up to Glamour about having a baby girl, Wednesday, with his partner, fellow child actor Georgia Groome. "I am still kind of coming to terms with what being a dad is, but I'm loving it. I'm absolutely loving it," Grint said. He also explained that easing into fatherhood has been "a very calming process" for him thus far. In his latest interview, however, Grint mentioned a hilarious tendency his young daughter has that is not quite as calming.
Rupert Grint's daughter has a tendency to say the F-word
Rupert Grint and Georgia Groome are happy parents to their young daughter, Wednesday. Since he joined Instagram in 2020, Grint occasionally posts photos of Wednesday on his account, as he did to celebrate the new season of his show, "Servant," in January. In the post, he showed a picture of Wednesday from behind as she sat in a director's chair adorned with the show's logo.
Apparently, seeing her father's work on "Servant" may be starting to rub off on Wednesday. Grint shared on "The Tonight Show Starring Jimmy Fallon" that one of the first remarks his daughter has begun to utter is a swear word, which she learned by listening to his lines in the series.
"The F-word came pretty quick," Grint said about Wednesday's first words. "She spends a lot of time in my dressing room when I'm kind of doing my lines ... and my character says the F-word a lot. Now she just says it whenever she's excited." Grint said he and Groome find this "hilarious," and Fallon and his audience members' laughter confirmed that they feel the same way about Wednesday's mature vocabulary.