Ben Affleck's Latest Move With Jennifer Lopez Has Us Completely Surprised
Tinseltown/Shutterstock
As one of the most successful self-made women in the world, as noted by Forbes in 2020, singer and actor Jennifer Lopez has climbed her way to the top of Hollywood's elite. So, when Lopez started dating actor and producer Ben Affleck after meeting on the set of "Gigli" in 2002, their reign as one of Hollywood's most prominent coupless began, notes Us Weekly. Lopez and Affleck got engaged the same year and she told Diane Sawyer on ABC's "Primetime" her relationship with Affleck was "bigger and realer" than all her previous ones.
But, of course, their whirlwind engagement came to an end in 2004, according to the Independent. The intense pressure from the paparazzi and media throughout their high-profile relationship was one reason for their split. In a 2016 interview with People, Lopez said the two "just happened to be together at the birth of the tabloids," which resulted in "a lot of pressure." But, in April 2021, "Bennifer" fans jumped for joy when the pair rekindled their romance — and they have been going strong ever since.
And with Lopez telling People this time around "feels very different" — and subtly adding Affleck into her newly released "Marry Me" music video — it appears the two are better than ever. Do we hear wedding bells ringing?
Ben Affleck appears in Jennifer Lopez's new music video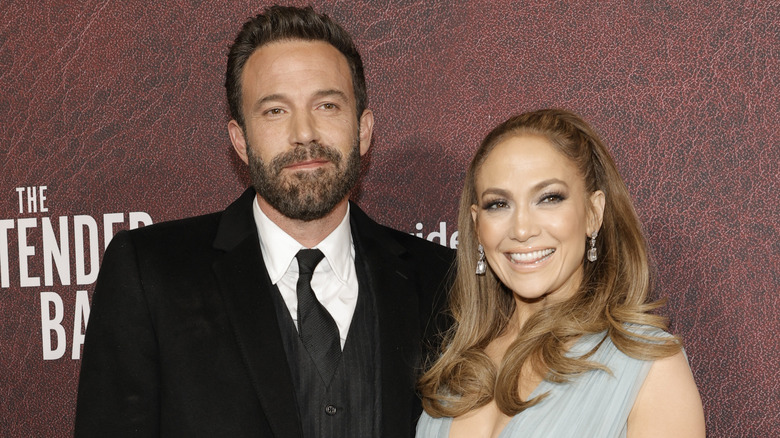 Amy Sussman/Getty Images
Ben Affleck and Jennifer Lopez gave "Bennifer" fans something to talk about. In a surprise move, Lopez subtly added Affleck to her steamy new music video for "Marry Me" released on March 11. Although Affleck's face is never fully shown in the video, he does appear to reach out for Lopez's hand in bed while the two laugh and play around in the sheets. This was Affleck's first music video appearance in two decades. He previously made his debut in the video for Lopez's hit single "Jenny From the Block" released in 2002, the same year the two initially started dating, according to Entertainment Tonight.
Lopez told People in February that she feels "so lucky and happy and proud to be" with Affleck and expressed her gratefulness that the two get a "second chance." Even though the fame that comes from being in a high-profile relationship has gotten to them in the past, Lopez clarified they are approaching this time around with a more positive approach. She said rekindling their romance 20 years later means they "have more experience" and are both "smarter" and "older."
According to Entertainment Tonight, who talked to a source familiar with the couple's current relationship status, "Ben and Jen are so in love," in addition to being "open to the possibility of getting engaged and married." We can't wait to see more "Bennifer" content in the future, even if it's only a brief glimpse.