Joanna Gaines' Son Crew Has The Cutest Bedtime Ritual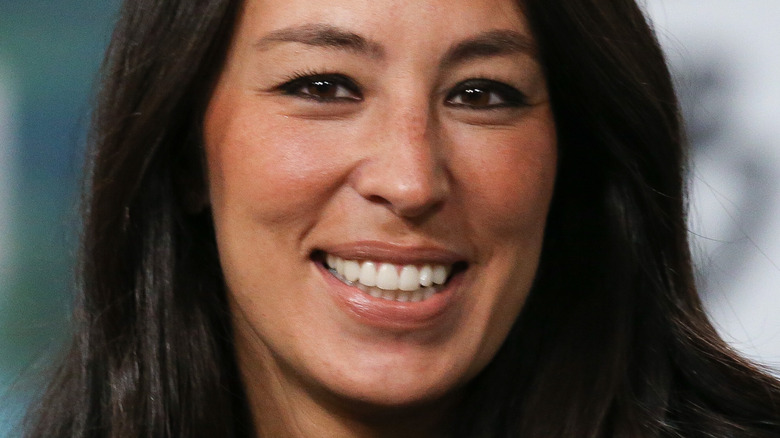 Rob Kim/Getty Images
Joanna Gaines might be busy running her own television network, restaurant, and home goods empire, but the woman who turned a shopping complex in Waco, Texas, into a vacation destination always makes time for her family.
The Magnolia founder and her husband, Chip Gaines, have five children: Drake, Ella Rose, and Duke are all teenagers, and it won't be long before 12-year-old Emmie Kay joins them. Then there's the baby of the family: 3-year-old Crew. That's a lot of kids for the parents to divide their time among when they aren't working, and Joanna has admitted that maintaining a healthy work-family balance isn't always easy. "As a working mom, it's the hardest when my kids grab onto me as I'm walking out the door and say, 'Mommy please stay home!' I don't want to ignore that, so I always explain to them that being with them is my favorite thing in the world," the "Fixer Upper" star wrote in a blog post for Mother's Day in 2016.
Luckily for Crew, he got plenty of mommy-and-me time in 2019, with Joanna telling People that she was bringing the then-9-month-old with her to work each day. And she's still making sure that she squeezes in that quality time with Crew now that he's a little older. Evenings are an excellent time to do this, and those special bonding moments are even better when they take place in a magical greenhouse where your child performs an absolutely adorable bedtime ritual.
Crew Gaines is the cutest plant protector
We already know that Chip and Joanna Gaines' youngest child has a green thumb thanks to a video that Joanna shared on Instagram last month. In it, Crew was watering pots of tulips at night. It turns out that making sure his leafy friends stay hydrated isn't the only way he helps them stay healthy. On March 9, Joanna posted another video of Crew inside a gorgeous greenhouse. He was walking around and talking to tiny seedlings, vines, bushy greenery, a young pineapple plant, and one large potted plant that was taller than him.
"Before the sun sets, he tells his little plants good night and to not let the (bed) bugs bite!" Joanna captioned the sweet video, which was a hit with her followers. "He's so gentle with his little plants," observed one commenter. "Soooo precious! We need more love like this in the world right now," another wrote. Others suggested that the plants looked so great because Crew was speaking to them, and there might be something to this — a biophilia expert told The Guardian that "some research shows that speaking nicely to plants will support their growth." So just call Crew the plant whisperer.
Crew likely inherited his fondness for flora from his mother, who gave a massive staghorn fern at Magnolia Market a name: Earle. Joanna also titled her first children's book "We Are the Gardeners," which seems like the perfect bedtime story for Crew's plants.