How Lynda Carter Switched Things Up For Her Latest Red Carpet Appearance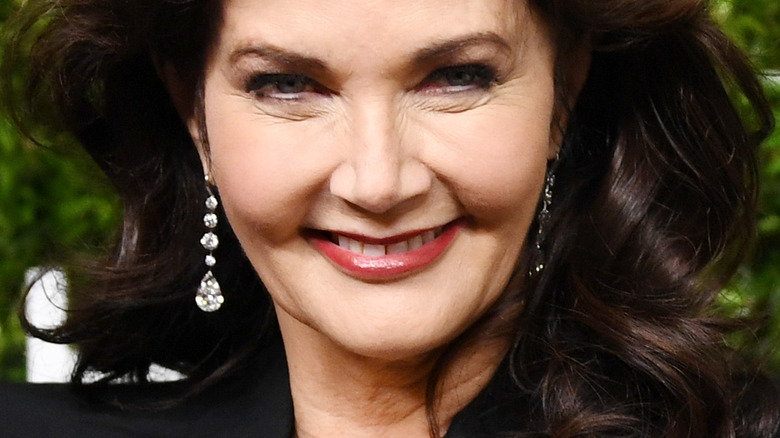 Dimitrios Kambouris/Getty Images
Lynda Carter just seems to get better with age. The original "Wonder Woman" hit the red carpet for the Ruth Bader Ginsburg Woman of Leadership Award ceremony at the Library of Congress in the nation's capital. Per the Daily Mail, Carter attended the March 11 event to cheer on her close pal, legendary fashion designer Diane von Furstenberg, who was the recipient of the ceremony's Feminist Award.
Carter is a Hollywood trailblazer and a proud feminist herself, and is all about keeping it real when it comes to her appearance. Although Carter refuses to judge others for getting cosmetic producers, she keeps it mostly natural herself, except for "a little Botox" every now and then. "I'm just too afraid of looking different," she admitted to Closer in 2018. "I don't think I'm ever going to go under the knife — I am what I am!"
Clearly, Carter believes what's on the inside shines through and makes a person truly beautiful. And going solely by outside appearances, the 70-year-old certainly looked stunning, and she made a statement with her latest red carpet appearance.
Lynda Carter puts her bare feet forward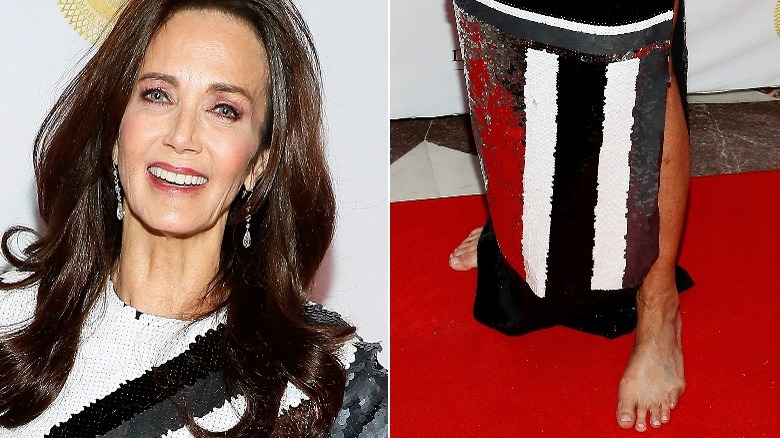 Paul Morigi/Getty Images
As Page Six notes, Lynda Carter ditched the heels and let her naked soles walk the red carpet. She was following in the bare footsteps of Taylor Swift, Cyndi Lauper, Lady Gaga, Madonna, Cardi B, and many other multiple other shoeless celebs, per iHeart. 
Britney Spears ditched her Uggs and kicked off the barefoot fad in 2004. The singer was slammed after being photographed walking shoeless out of a gas station bathroom, per The New Yorker. Spears came under fire again in 2019 for flaunting her feet. According to TMZ, she exited a conservatorship hearing with "no shoes, no socks — barefoot." Maybe it was because she was supposedly forbidden to buy shoes while under her father's legal control, as the documentary "Controlling Britney Spears claimed, per The Independent.
Thankfully, Carter has nobody controlling her footwear. And after the past couple of years that she's had, she deserves to do whatever she wants. Carter's husband of 37 years, groundbreaking director Robert Altman, died from a rare form of blood cancer in 2020. "I cry probably three times a day, in the morning and various times when I think of him," the grieving widow told Tamron Hall, per People. "I feel that I need to pick myself off and dust myself off and put one foot in front of the other and be as courageous as I can be," she explained. And those feet can be as bare as her grieving heart desires.