The Truth About Reese Witherspoon And Vince Vaughn's On-Set Tension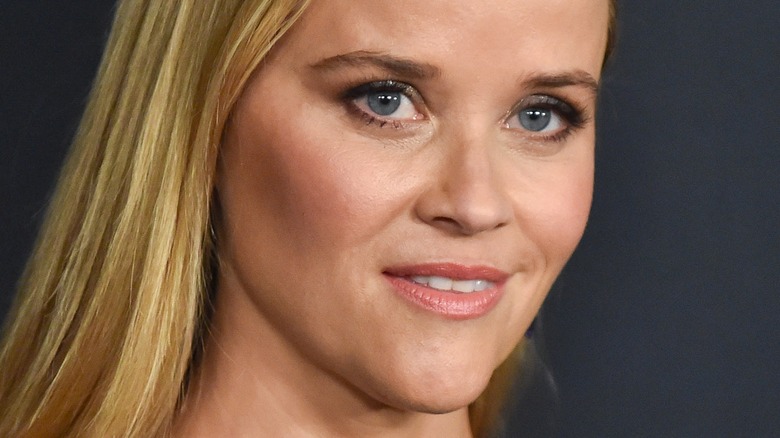 DFree/Shutterstock
"Four Christmases" is one of those wacky holiday romps that always makes the rounds on the streaming services come the festive season. Starring book-club aficionado and Oscar-winning actor Reese Witherspoon, and, uh, *checks notes* one of the few actors banned from "The Ellen DeGeneres Show," Vince Vaughn, the 2008 holiday romance is jolly and uncomplicated. But, according to reports, filming it was a gong show for Witherspoon. In fact, the stars' rehearsal styles before filming and performance styles during filming clashed so much, that Witherspoon allegedly even refused to do one important scene with the "Swingers" actor.
During production, rumors started to fly that Witherspoon "hated" Vaughn. That must make it tough to pretend to be a loved-up couple in a goofy rom-com, for sure. In 2007, while the film still had cameras rolling, the Daily News reported on the feud that was brewing on-set between the two thespians. "Vince rolls onto set in the morning looking like he just came in from a night out, while Reese will arrive early looking camera-ready," a source told the outlet at the time.
The "Mr. and Mrs. Smith" star even reportedly refused to rehearse his lines with the "Big Little Lies" star, with the source saying, "Reese tries to force Vince into blocking out each scene and running through their lines as Vince tries to convince her that he's an ad-libber and wants to play around and see where the scene goes." And apparently, it was all downhill from there. 
Inside the Witherspoon-Vaughn sex scene that never was
Dimitrios Kambouris & Jon Kopaloff/Getty
Vince Vaughn's antics on the set started to chip away at Reese Witherspoon's resolve, with the Daily News reporting, via a source, that "She's a one-take perfectionist and Vince likes to try it a few different ways. Sometimes Vince will be standing behind her and he has this look on his face that he just wants to kill her!"
But it all came to a head when it was time to film a steamy sex scene between the stars. According to the New York Post (via Digital Spy), Witherspoon axed the idea of even filming it, and had the scene cut. "Reese has an issue with the scripted love scene. It is meant to be a funny, 'American Pie'-style romp, full of bumps and laughs, but Reese is of such a prude, she thinks it's just too much."
Even though they were both producers on the movie, and therefore had a vested interest in seeing "Four Christmases" succeed, Vaughn practically abandoned the film's press tour, neglecting to even show up to the premiere. The Hollywood Reporter has a video from that red carpet where everyone, including Witherspoon, talk about working with Vaughn, while "The Break Up" star is nowhere to be seen. Sure, she's saying nice things about him, but doesn't it all seem a bit forced?
Reese Witherspoon and Jennifer Aniston clearly had different experiences with Vince Vaughn
Ron Adar/Shutterstock
Since the fiasco of "Four Christmases," which was overwhelmingly panned by critics, Reese Witherspoon and Vince Vaughn have moved on to other projects, and have publicly never spoken about their feud. Witherspoon found critical success with her "Friends" on-screen sister, Jennifer Aniston, in "The Morning Show," leaving us to wonder if the topic of Vince Vaughn has ever come up privately between the two A-list stars.
If you're too young to remember, Aniston famously dated Vaughn, her co-star in the rom-com "The Break Up," in 2005, right after her divorce from Brad Pitt was made public. It happens quite frequently in Hollywood that co-stars end up falling for each other, and even though Aniston and Vaughn didn't last, they still speak so highly of each other, In 2008, Aniston gushed to Vogue, "I call Vince my defibrillator. He literally brought me back to life. My first gasp of air was a big laugh! It was great. I love him. He's a bull in a china shop. He was lovely and fun and perfect for the time we had together. And I needed that."
Vaughn told Parade, "I still talk to her constantly. I have a real, genuine connection with Jen. And I have a real appreciation of her. That continues to this day." We have a sneaking suspicion such mutual high praise will never be exchanged between Witherspoon and Vaughn.