Eric Trump's Latest Comments About His Father And Putin Land Him In Hot Water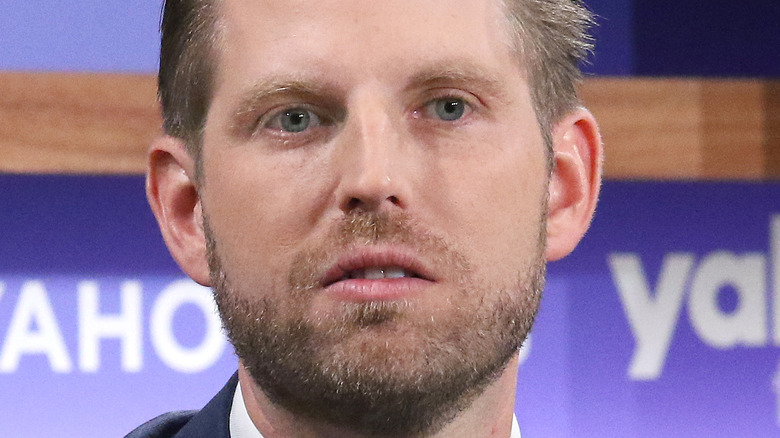 Jim Spellman/Getty Images
Chip off the old block Eric Trump is notorious for saying... well... interesting things. Take for instance the time he inadvertently roasted his own father for sitting around all day. "These people are not present... The difference between them and my father, my father sat there 24 hours a day..." he famously and ever so confidently declared about the difference between Donald Trump and the Biden administration during an appearance on Fox News' "Jesse Watters Primetime" program. Yikes. Or how about the time he dirty deleted a tweet wherein he juxtaposed images of then-president Barack Obama and his own father at the demilitarized zone between North and South Korea. "DMZ 2008 vs DMZ 2019. #KeepAmericaGreat" Eric penned in the tweet (via Someecards). There was only one little problem... George W. Bush was the president in 2008. Maybe math just isn't Eric's strong suit...
Alas, the former prez's son is under fire yet again for making another outlandish comment for all the world to hear...
Eric Trump said that Vladimir Putin "could tell that Donald Trump was a very strong person"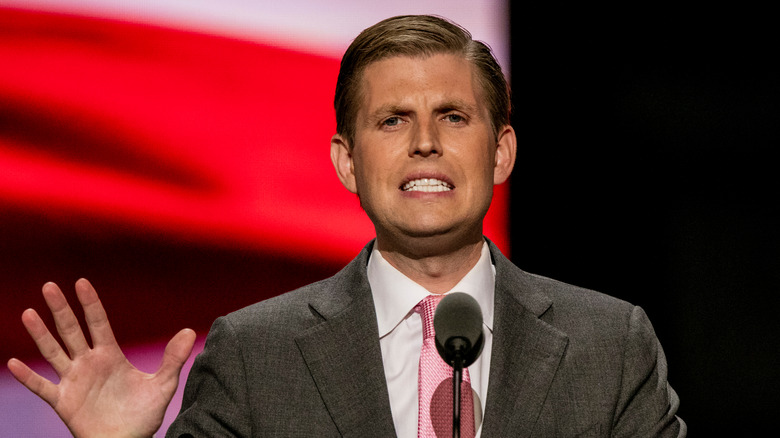 mark reinstein/Shutterstock
Open mouth, insert foot. 
In yet another installment of the Trump Brothers' "My father..." show middle child Eric Trump dished about all the ways that his father, former one-term President Donald Trump, would've halted the Russian invasion into Ukraine before it even started. "Putin was in with the KGB, he can read people, and he could tell that Donald Trump was a very strong person," Trump declared during an appearance on Fox News' "The Sean Hannity Show", per HuffPost. Umm... well, alrighty then? "My father would've called up and said 'Vladimir, don't even think about it. Don't even try us. I'm telling you it's not going to work out very well for you,'" he continued.
As one can imagine, the backlash was swift following Eric's on-air comments. "Breaking: Eric Trump claims the feelings his father has for Putin are mutual. Eric is the dumbest Trump. And that's saying something," one user tweeted. Meanwhile, another wrote, "Embarrassing: ERIC TRUMP BRAGS ABOUT PUTIN BEING IN THE KGB & HOW 'HE COULD TELL THAT DONALD TRUMP WAS A VERY STRONG PERSON." Later, Eric appeared to double down on his controversial comments when he retweeted a video of Russia's president, Vladimir Putin, and Donald Trump shaking hands along with the caption, "Alpha energy prevents war."