This Is How Far Eric Trump Actually Got In School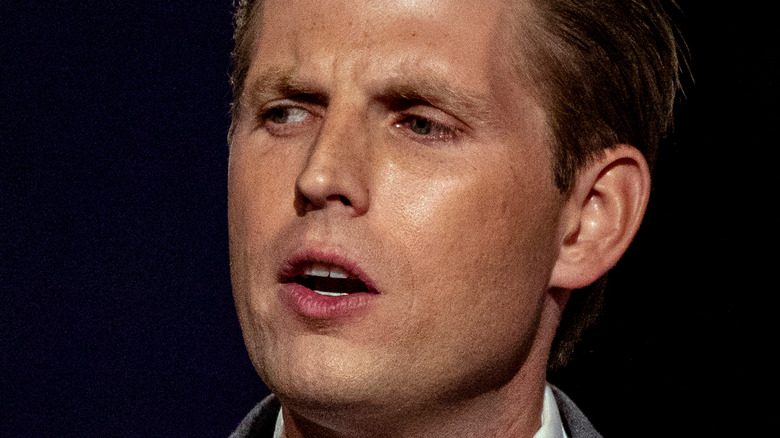 Shutterstock
Before Donald Trump won the presidency in 2016, his children Ivanka Trump, Donald Trump, Jr. and Eric Trump were all involved in their father's business, The Trump Organization. The Trump children didn't make as many tabloid headlines before their father moved into the White House, with even Trump's 2016 opponent Hilary Clinton noting how she admired Ivanka, Donald, and Eric at the time. During their second presidential debate, Hilary had actually praised the Republican candidate and his family when she said (via CNBC), "I respect his children. His children are incredibly able and devoted, and I think that says a lot about Donald."
And while the Trump children have all had their fair share of criticism since then (with many old friends even distancing themselves from the family) a lot of critics kept also bringing up the family's background, experience, and of course, education. While a lot has been reported about Donald's own education, many can't help but wonder just how far his children went in school, too. Here's what you need to know.
The Trumps and their backgrounds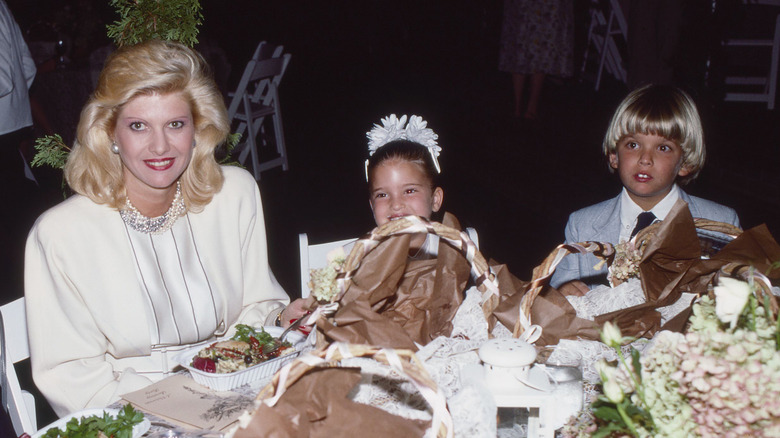 Sonia Moskowitz/Getty Images
Ivanka Trump attended Georgetown University for two years before transferring to the Wharton School of the University of Pennsylvania where she graduated cum laude, while her brother Donald Trump Jr. also graduated from the same school in 2000 with a B.S. in Economics. But what about Eric Trump? It appears as though he took a different route compared to his father Donald Trump and his siblings Ivanka and Donald Jr. Eric graduated from the Hill School and later attended Georgetown University in Washington, D.C., receiving a bachelor's degree in finance and management, reports The Georgetown Voice. 
Of course, that doesn't mean he didn't take his education any less seriously than the rest of his family — or the country's state of education for that matter. In an interview with the Irish Independent in 2017, he even opined that a lot still needs to be done to revamp the country's classrooms. "When you have an education system that is ranked 30th in the world — that's the American dream running away," he said at the time.
However, when Eric visited Georgetown during his father's administration, he didn't get the kind of homecoming one would expect at their alma mater. 
Eric Trump didn't get the warmest welcome when he returned to Georgetown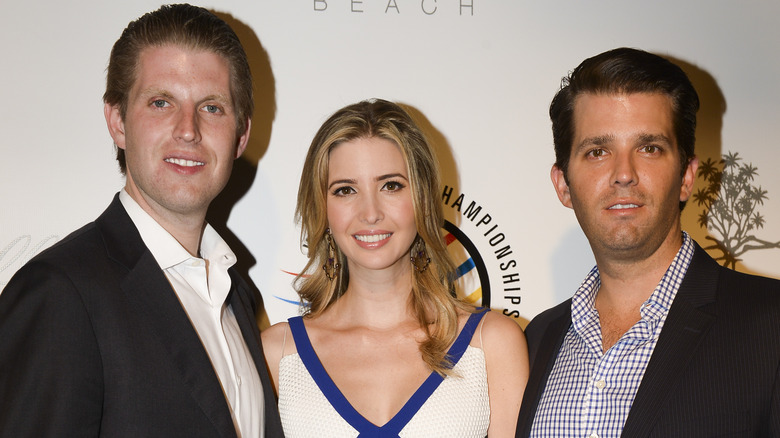 Gustavo Caballero/Getty Images
According to The Hoya, when Eric Trump returned to Georgetown to speak at the Georgetown University College Republicans and The Georgetown Review in 2020 with Turning Point USA founder Charlie Kirk, about 40 students in bright orange suits left the auditorium in protest of the "offensive rhetoric" of then-President Donald Trump. Eric continued to address the rest of the crowd, arguing that the way the protesters had dressed was detrimental to their activism. 
"When you see people dressed in orange jumpsuits like they came out of prison, no one is ever going to take them seriously. And then you look at all of you in here. Look how well you're dressed," Eric told the audience. "The lesson in life here is, if you want to be taken seriously, act like a serious person." Perhaps that's advice he might have gotten from his own dad?