Donald Trump Reveals The Most Important Advice He Ever Gave His Kids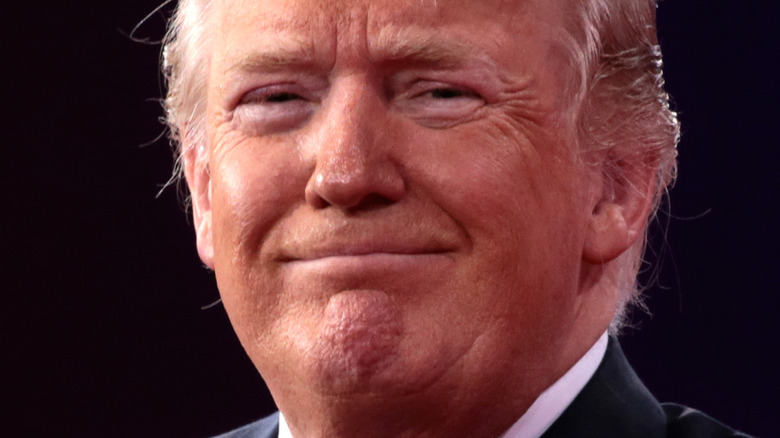 Shutterstock
There's no doubting Donald Trump's children are a big part of his life. The former President of the United States is dad to Donald Trump Jr., Ivanka Trump, Eric Trump, Tiffany Trump, and Barron Trump, all of whom are regularly spotted by their dad's side and even became key players in Donald's presidential run and eventual four-year stint in office.
Donald's kids have also regularly spoken out in his defense. Donald Trump Jr. has been particularly outspoken when it comes to defending his father, repeatedly standing up for the former president in interviews and on social media. In February 2020, Donald Jr. claimed to Fox News that media outlets were supposedly "out to get" his father "from the get-go." He added, "As my dad often says, before he ran for president, the press loved him, but all that changed the second he got into the political arena."
Well, now the tables have turned and Donald is speaking out about his kids by revealing the best advice he thinks he ever gave his offspring, who he shares with his former wives Ivana Trump and Marla Maples, and his current wife, Melania Trump. Scroll on to find out what he said during a somewhat unconventional interview.
Donald Trump told his children to stay away from drugs, alcohol, and cigarettes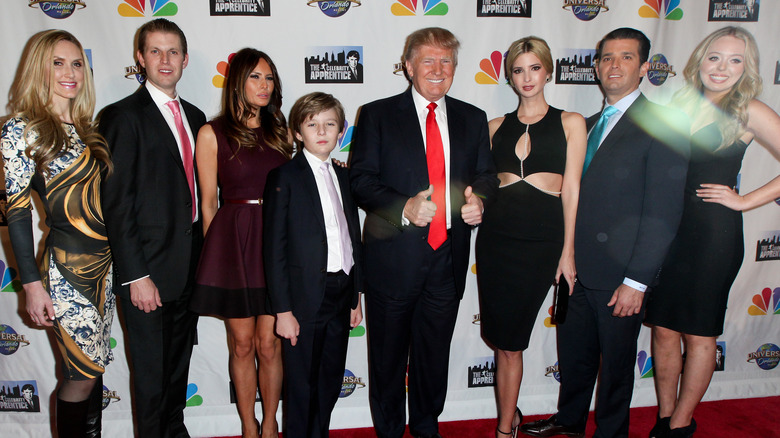 Shutterstock
Donald Trump chatted with what may be one of his youngest interviewees ever as 11-year-old Clover Weitsman grilled him on some big topics in a video posted to her father, Adam Weitsman's Instagram on August 14. The clip showed the two traveling on a private jet as the pre-teen quizzed Donald on the advice he'd give to her dad on raising kids.
"Okay, are you ready? This is good," Donald replied. "I have five children. From the day that they were old enough to speak, I said no drugs, no alcohol, no cigarettes... I say it all the time."
According to Daily Mail, the interview was conducted back in April. Adam revealed in the caption it was part of a "homeschool project" and added, "I want Clover to listen to all sides of the Political spectrum then choose for herself. Big thanks to President Trump for taking the time to do this. Could not have been more respectful and kind to my kid."
Donald has spoken openly about his pride for his children on multiple occasions. Back in 2006 — the same year Barron Trump was born — he admitted to Barbara Walters on "20/20" that his children were "basically good kids... And they've done very well. I've never been embarrassed by my children." Donald Trump Jr. echoed that they were never allowed to drink or smoke, saying, "It's not an option for us."