Donald Trump Has A Strong Message For Joe Biden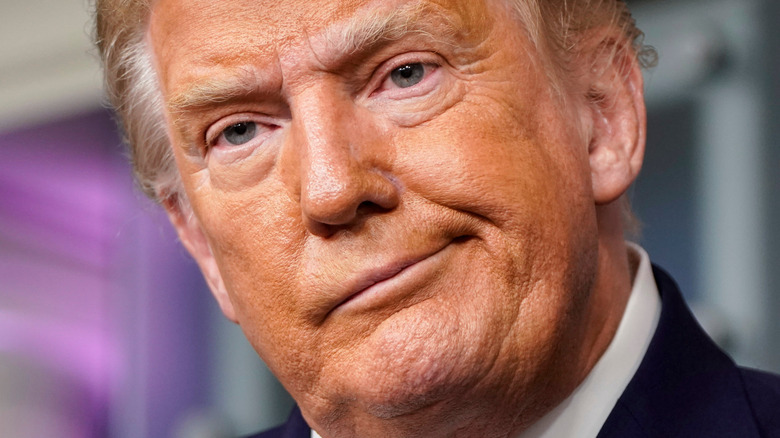 Shutterstock
Former President Donald Trump has some strong words for current President Joe Biden over a very controversial issue. Trump hasn't exactly been shy about sharing his thoughts on how he thinks his successor has been doing in the White House, calling out Biden on more than one occasion since he took office back in January.
In February, Trump gave his thoughts on Biden's first full month as president, and, unsurprisingly, the businessman didn't exactly have the nicest things to say about the Democrat. Speaking to his supporters at the Conservative Political Action Conference (CPAC) in Orlando, Florida, Trump seriously slammed the current president.
"We all knew that the Biden administration was going to be bad — but none of us even imagined just how bad they would be, and how far left they would go," Trump said (via CNBC). But he wasn't done there. The former president went on to call the current one's first month in power "the most disastrous first month of any president in modern history," adding, "that's true." Yikes.
Well, now Trump is speaking out once again — and he seems to be rallying against Biden even harder this time. Read on to find out what he's saying now and why.
Donald Trump urged Joe Biden to 'resign in disgrace' over the crisis in Afghanistan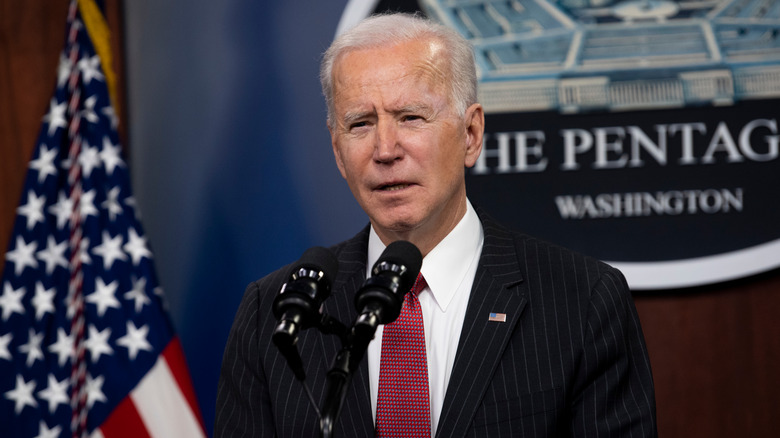 Shutterstock
Donald Trump had some harsh words for Joe Biden, urging him to "resign" as the President of the United States over the crisis in Afghanistan.
In a tweemail on August 15, Trump wrote, "It is time for Joe Biden to resign in disgrace for what he has allowed to happen to Afghanistan, along with the tremendous surge in COVID, the Border catastrophe, the destruction of energy independence, and our crippled economy" (via Washington Examiner). Trump then continued by doubling up on his unfounded claims the 2020 election was rigged in Biden's favor, adding, "It shouldn't be a big deal, because he wasn't elected legitimately in the first place!"
Afghanistan is in disarray after the Taliban took over the capital city of Kabul and thousands of people fled the country, including the president, Ashraf Ghani (per Associated Press). Trump's administration had previously been trying to get U.S. troops out of the country, something Biden was also working towards, though Trump's remarks came shortly after Washington Examiner reported that 1,000 more troops had been sent to Afghanistan to help with evacuations, meaning around 6,000 U.S. troops would be in the country.
Biden has not yet publicly responded to Trump's calls for him to resign.