The Real Reason Joe Biden Is In Trouble With His Staff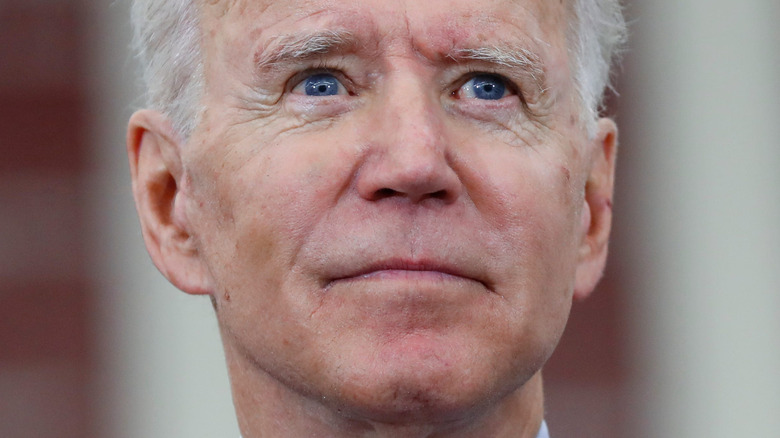 Shutterstock
It seems like President Joe Biden is in a little hot water with his staff. In June, the 46th and current president of the United States made his first overseas appearance since being sworn in back in January when he and his wife, Dr. Jill Biden, flew to the U.K. to attend the G7 summit.
While there the Bidens also met with Queen Elizabeth II and enjoyed tea with the monarch at Windsor Castle, which is where she's been spending much of her time since the coronavirus outbreak in March 2020. Fans noticed some subtle gestures the president did for the queen as they appeared in public together, though some took issue with him failing to take off his sunglasses to greet her.
But while it seems like a meeting with the queen might be the most likely way to get someone in trouble for accidentally not following royal protocol (we're looking at you, Barack and Michelle Obama), that's actually not why the former vice president revealed his staff wouldn't be too happy with him. That all went down during the summit and came with a somewhat surprising reason. Keep scrolling for all the details.
Joe Biden didn't do exactly what he was told during the G7 summit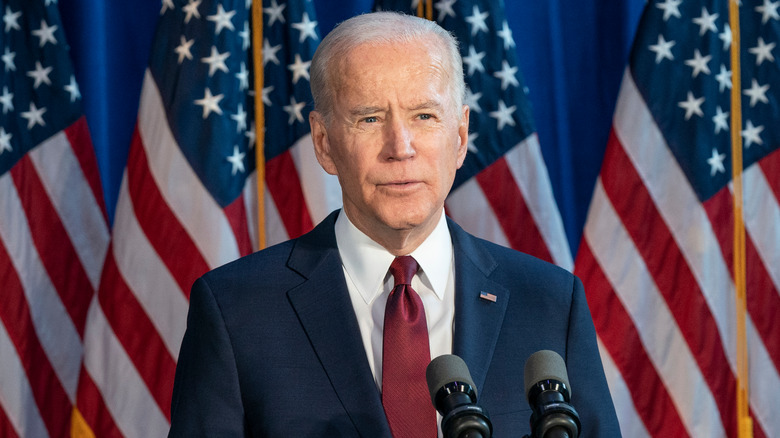 Shutterstock
While speaking to press at the G7 summit in the U.K. on June 13, Joe Biden quipped to reporters, "I'm sorry, I'm going to get in trouble with staff if I don't do this the right way" (via New York Post). He then revealed he had a pre-approved list of questions to go through as well as an order he was supposed to go in — but Biden got a little cheeky and didn't totally stick to the rules.
Biden spoke a little before asking, "Why don't I take some of your questions?" and pointed out he was "told" he was supposed to speak to a reporter from the Associated Press first. While it all seemed to go well and the politician stuck closely to what he was asked to do, he made a little addition at the end when he was asked to speak about his relationship with the U.S.'s allies. 
Biden responded with a laugh, "I'm going to get in trouble with my staff. Yeah, go ahead. But pretend that I didn't answer you." Sneaky! He was then asked about the ongoing sanctions regarding steel and aluminum put into place by Donald Trump and if he had any plans to change things, to which he responded, "A hundred and twenty days. Give me a break. Need time."
We're guessing Biden may have wished he'd stuck closer to the rules after that tough question.