Joe Biden Wearing Aviators To Meet The Queen Sparks Mixed Reactions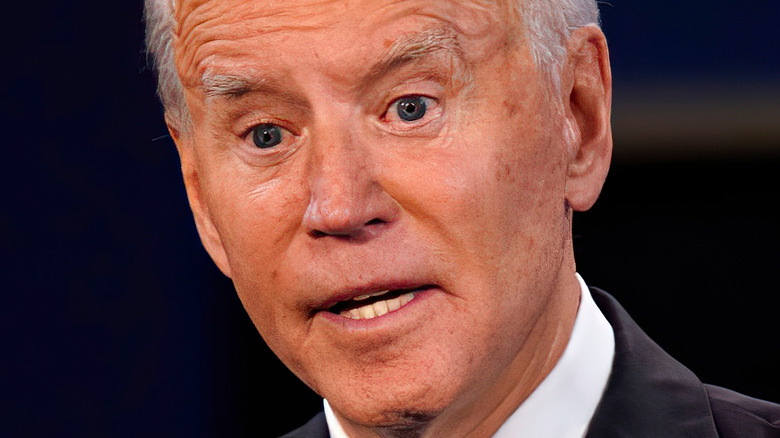 Shutterstock
No matter what side of the political aisle you find yourself on, you can't deny that President Joe Biden has a lot of personality. He is basically America's grandpa — telling goofy jokes, and of course, wearing his signature aviator glasses. 
He wears them everywhere, even Time put him on the cover of the magazine wearing them, with Vladimir Putin in the reflection. And apparently, no one told him that she probably shouldn't have been wearing them when he and Dr. Jill Biden met Queen Elizabeth II at Windsor Castle in June 2021.
Queen Elizabeth, per Politico, has met every American president since World War II (except Lyndon Johnson), though President Biden has met her personally at least two times before. Presidential historian Douglas Brinkley told the outlet that he bets they get along swimmingly. Brinkley said, "It's a mighty long ride from being Scranton Joe the Amtrak commuter to dining with Queen Elizabeth, but they'll get along fabulously. The wonderful thing about Biden is that he is comfortable with himself in any setting."
Maybe too comfortable, because as much as Biden likely went through all the proper protocols when it comes to meeting the queen, many people took issue with the fact that the president kept his aviators on. 
People had mixed reactions to Biden's sunglasses
President Joe Biden took a break from the G-7 Summit to have tea with Queen Elizabeth and a picture of them, along with Dr. Jill Biden, has sparked a ton of commentary on Twitter. Some people were impressed that Biden kept his aviators on, with one person writing, "President Biden is freaking awesome to wear his aviators!" Another added, "Biden is wearing sunglasses and a dark suit that make him look like Agent Smith in The Matrix. Queen Elizabeth is wearing a pink suit and hat. Both have facial expressions of 'badass'." 
But others were not as impressed, going so far as to call the president rude for not taking them off. "Bad etiquette to meet queen wearing sunglasses," one person wrote. Another person tweeted, "Why is Biden still wearing the sunglasses to meet the Queen? Incredibly disrespectful." Another questioned, "Are the British going to get mad at Biden for wearing sunglasses?" Judging from the handles of the tweets and the response on social media, it seems that the British people didn't mind the shades, as most of the criticisms came from people who seemingly did not vote for Biden or think he is a good president.
Luckily for him, though, it was probably just because the sun was in his eyes at the time, as the president did take them off when they went inside to have tea.