Tory Lanez Just Found Himself In A Completely Unexpected New Feud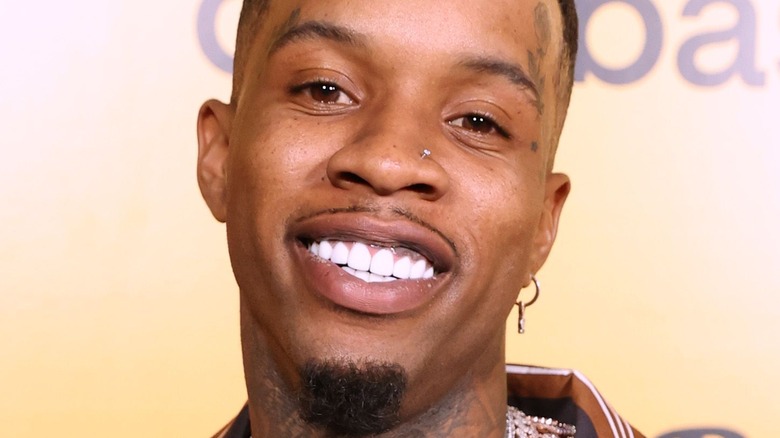 Rich Fury/Getty Images
More beef in the music industry is ahead for Tory Lanez. The "LUV" hitmaker has made his fair share of headlines for his face-offs over the past few years, and continues to remain front-page news for reasons he probably wishes he hadn't. 
In 2020, it was reported that Lanez allegedly shot fellow rapper Megan Thee Stallion after leaving a house party. The event took place on July 12, however, Megan didn't initially state who shot her. In a now-deleted Instagram post, she explained what happened without naming names. "On Sunday morning, I suffered gunshot wounds, as a result of a crime that was committed against me and done with the intention to physically harm me," the "Savage" chart-topper wrote, via Billboard, adding, "I was never arrested, the police officers drove me to the hospital where I underwent surgery to remove the bullets. I'm incredibly grateful to be alive and that I'm expected to make a full recovery, but it was important for me to clarify the details about this traumatic night." 
As noted by Variety, Lanez was arrested after the police found a concealed weapon in his car. After much speculation, Megan revealed on Instagram Live that it was Lanez who shot her in the foot. "You shot me, and you got your publicist and your people going to these blogs lyin' and s***. Stop lyin'. Why lie?" she expressed, via Pitchfork. It seems Lanez is now in a new feud, and this time, he's at war with music legends.
George Michael's estate isn't happy with Tory Lanez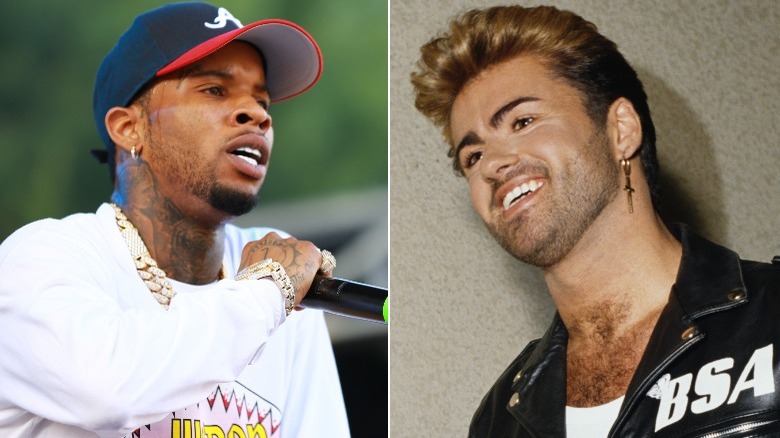 Michael A Walker Jr/Shutterstock & Michael Putland/Getty Images
In December 2021, Tory Lanez released the single "Enchanted Waterfall," which allegedly features an uncleared sample of George Michael's famous hit, "Careless Whisper." The pop classic was written by the late singer and his Wham! bandmate Andrew Ridgeley. Variety reports that the George Michael estate is not happy and wants the song taken off streaming services, especially since they never gave Lanez permission to use the sample.
"Permission for this use had been declined in June 2021 so we took immediate action on behalf of the writers ... to prevent further exploitation as we will not tolerate any unauthorized use of any songs within the catalogues of George Michael and/or Andrew Ridgeley," a statement obtained by Variety on behalf of the Michael estate and Ridgeley announced. As noted by the outlet, "Enchanted Waterfall" was taken off Spotify earlier this year, but it currently remains on YouTube and Apple Music. As of this writing, Lanez's publicist has yet to comment on the situation.
This isn't the first time Michael has had an impact on rap music as Future and Nicki Minaj's unreleased song "Rockstar" sampled "Careless Whisper," per Applebum. Lanez's unauthorized use of Michael's famous track, however, could result in litigation against the rapper — potentially adding more court dates to the docket for Lanez, who is expected to appear at a hearing on April 5 for his charges related to the shooting involving Megan Thee Stallion, Rolling Stone reports.