The Truth About Madonna And Michael Jackson's Relationship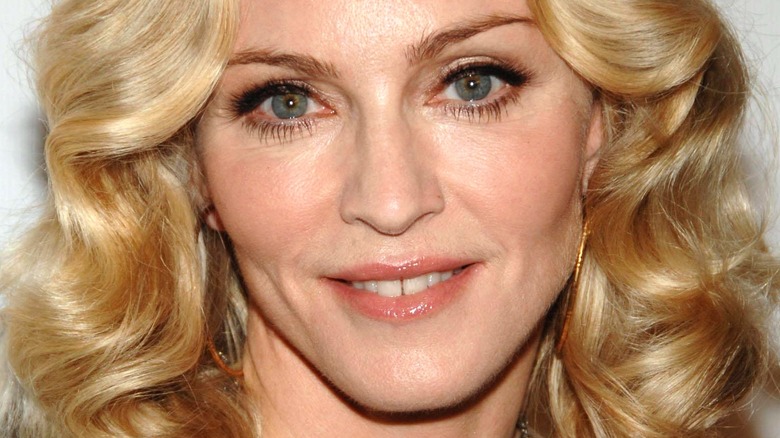 Everett Collection/Shutterstock
Throughout the years, Madonna has been romantically linked to an eclectic group of celebrities. Following her headline-making marriage to Sean Penn in the '80s, the singer was often featured in the tabloids alongside Sandra Bernhard, and even had a rumored tryst with the King of Pop himself, Michael Jackson.
The "Lucky Star" singer was fascinated with Jackson from an early age. "I was madly in love with him, totally smitten. He was mind-bogglingly talented," Madonna recalled in the book "The Michael Jackson Tapes: A Tragic Icon Reveals His Soul in Intimate Conversation" released in 2009 (via MTV). Early in her career, Madonna shared a manager with the "Billie Jean" crooner and was able to meet him after he performed at Madison Square Garden. "There was a party at the Helmsley Palace Hotel. He was very shy, but it was a thrill for me," Madonna said of their first meeting.
There was a mutual artistic attraction between the two musicians, as they contemplated collaborating on a project together. "He wanted to work with me, I think he wanted to get to know me, and I wanted to do the same," Madonna told Rolling Stone in 2009 when recollecting on their early encounters (via MTV). To gauge their artistic compatibility, Madonna and Jackson started hanging out semi-regularly. "He got relaxed. He took off his sunglasses, had a glass of wine, I got him to laugh," she recalled. Soon after, their relationship transitioned into more than simply recording music together. 
Madonna's surprise Oscars date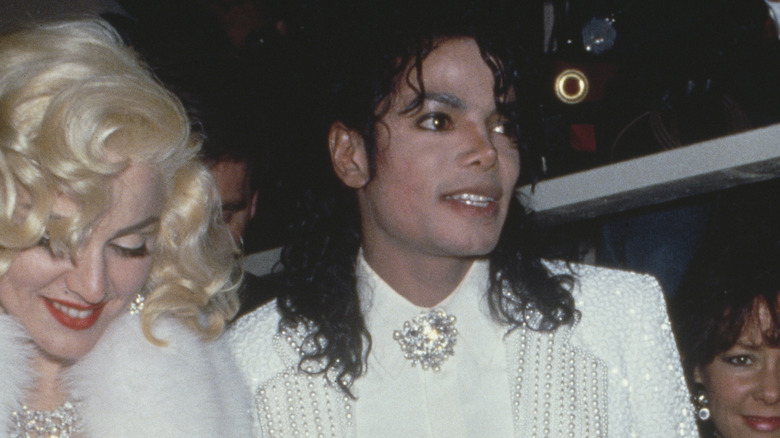 Michael Ochs Archives/Getty Images
In 1991, fans were worked into a frenzy when Madonna brought Michael Jackson as her date to the Academy Awards. According to the "Justify My Love" singer, it was Jackson's idea. "Michael [Jackson] was like, 'Well, who are you going to go with?" Madonna said in a 1991 interview, per VH1. "I looked at him and said, 'I don't know. You want to go?' And he said, 'Yeah,'" she added. At the time, Madonna was reticent to give up details, but did reveal that she went home with the "Dirty Diana" artist.
Madonna looked back fondly on that Oscars date with Jackson, later posting a photo from the night on Instagram in 2018 with the caption "Best DateEver." In 2016, Madonna spilled some additional details about the famous date, revealing on "The Late Late Show with James Corden" that her and Jackson engaged in "tongue-in-mouth kissing." Madonna said Jackson was "shy" but wine helped him relax. "I did get him to loosen up with a glass of chardonnay. And it did wonders," she said teasingly.
After the Oscars, the duo spent more time together and contemplated whether to make it official — but unfortunately, they disagreed on one major point. "[I]f they were going to start dating, she wasn't going to Disneyland, his favorite place," Flo Anthony, a friend of Jackson's told the Outline in 2016 (via the New York Daily News). And later, Jackson had unkind words when reflecting on his time with Madonna.
Madonna and Michael Jackson clashed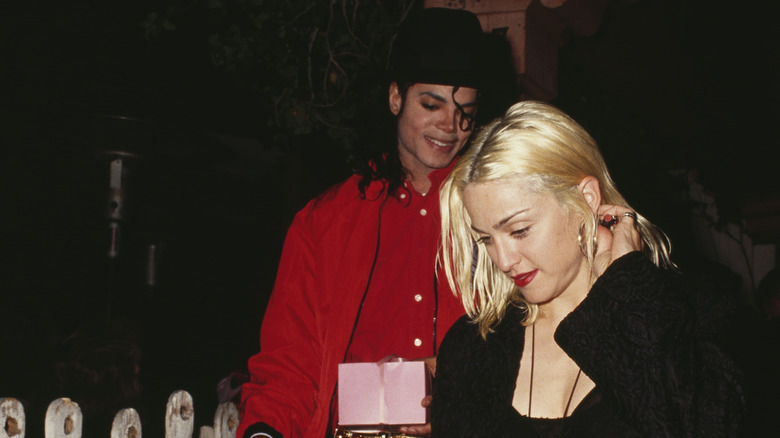 Michael Ochs Archives/Getty Images
Wildly different lifestyles led to arguments between Madonna and Michael Jackson. Later, Jackson did not mince words when speaking about Madonna. "She is not a nice person," he said in an interview for the book "The Michael Jackson Tapes: A Tragic Icon Reveals His Soul in Intimate Conversation," (via CNN). The pair strongly disagreed on what constituted a fun night out. "Madonna laid the law down to me before we went out," Jackson was quoted saying in the book. "She said, 'We are going to the restaurant. And afterwards, we are going to a strip bar.'"
One of their breaking points came when both were approached by a young fan in public, and the "Vogue" singer was rude to the youngster. "Don't you ever talk to children like this," Jackson recalled saying in the "Tapes" book. "She said, 'Shut up,' ... I said, 'You shut up,'" (via MTV).
Although their relationship ended on terse terms, Madonna defended Jackson after his death in 2009. "He didn't seem to have any close friends. And in the last decade, everybody abandoned him, or wrote him off as crazy," she told Rolling Stone at the time while mentioning how she related to the fellow pop star (via MTV). After the explosive documentary "Leaving Neverland" aired, Madonna once again came to Jackson's defense. "I don't have a lynch-mob mentality, so in my mind, people are innocent until proven guilty," she told British Vogue (via the New York Daily News).