Dolly Parton Could Still End Up In The Rock & Roll Hall Of Fame Despite Her Request To Opt Out
Kathy Hutchins/Shutterstock
While Dolly Parton has recorded a song about her "Rockin' Years," the beloved country music icon doesn't seem to think that this is enough for her to deserve a spot in the Rock & Roll Hall of Fame. The humble "Jolene" hitmaker took to Twitter on March 14 to graciously opt out of being included on the music organization's 2022 voting ballot, writing in part, "I don't feel that I have earned that right. I really do not want votes to be split because of me, so I must respectfully bow out."
The move was celebrated by Twisted Sister frontman Dee Snider, who tweeted, "She doesn't want to take recognition away from an actual rock artist! THANK YOU MISS PARTON!" And he's not the only rocker who doesn't want to see performers from other music genres inducted into the Rock & Roll Hall of Fame. KISS vocalist Gene Simmons has complained about hip-hop stars being among its inductees, along with pop stars like Madonna and even disco queen Donna Summer. However, Parton actually meets his criteria for being deserving of the honor. "If you don't play guitar and you don't write your own songs, you don't belong there," Simmons told Radio.com in 2014.
While some performers might think that Parton did the right thing, the "Hard Candy Christmas" singer could find herself immortalized alongside hard rockers like Black Sabbath and Metallica anyway.
Dolly Parton wants to make a rock album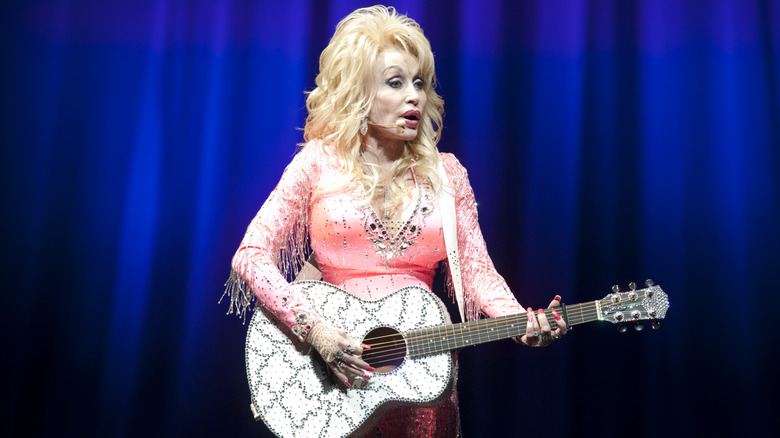 Jack Fordyce/Shutterstock
Dolly Parton didn't decline a spot on the 2022 Rock & Roll Hall of Fame ballot because she didn't want it; according to the "9 to 5" star, she just wants to work to feel more deserving of the honor. "This has, however, inspired me to put out a hopefully great rock 'n' roll album at some point in the future, which I have always wanted to do!" she tweeted. 
But Parton might not have to rock our socks off before she gets inducted into the Rock & Roll Hall of Fame. According to the organization, its ballots for the Class of 2022 have already been sent out, which means that it's too late for Parton's name to be removed. "We are in awe of Dolly's brilliant talent and pioneering spirit and are proud to have nominated her for induction into the Rock & Roll Hall of Fame," the organization's statement about the matter read in part. So at this point, Parton can only hope that its 1,200 voters honor her wishes.
If Parton does make it in, she won't be the only country star whose contributions have been recognized by the Rock & Roll Hall of Fame. The artists among its ranks include Hank Williams and Johnny Cash, so she would certainly be in good company. We're just hoping she still makes that rock album if she gets inducted this year.