Catherine Zeta-Jones Looks Gorgeous As Ever In New Selfie With Michael Douglas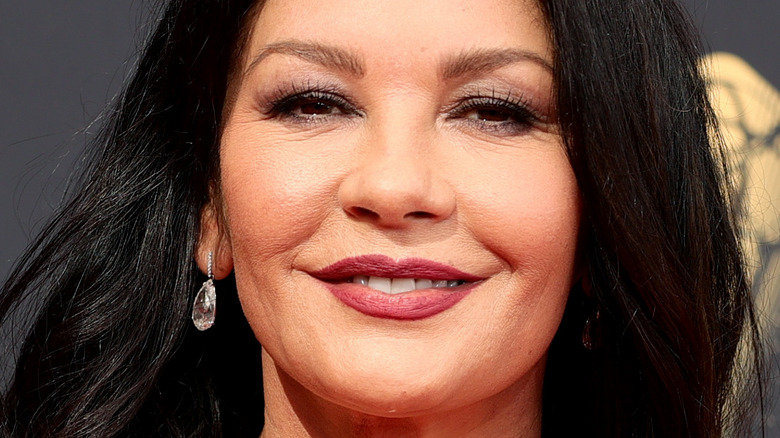 Rich Fury/Getty Images
Catherine Zeta-Jones and Michael Douglas are among the most beloved pairs in Hollywood, and any time they share a photo together, fans go wild. The couple seemed like an unlikely match at first, primarily due to their 25-year age difference. Zeta-Jones and Douglas tied the knot in 2000, and they share two children — Dylan and Carys. The kids make appearances on Zeta-Jones's Instagram from time to time and fans love the famous family. 
Through it all, Zeta-Jones and Douglas are one of the rare pairs in Tinseltown who have withstood the test of time, with over 20 years of marriage under their belt. In 2021, Zeta-Jones sat down for an interview with WSJ Magazine, where she shared some of her secrets to her long-lasting marriage. "My husband and I spend a lot of time together because, unlike so many couples, we've never had a 9-to-5 job where it's consistent," she told the outlet. "We're either on, or we're off. I'm really working 16 hours a day, or I'm not. He's doing the same, or not." The star added that there have been many times in their relationship where it was just her and Douglas. "We lived on the island of Bermuda for 12 years bringing up our kids. We respect each other's space, and our humor is just long-lasting," she said.
The couple showed their love in another sweet shot. They say a picture is worth a thousand words, and Zeta-Jones' most recent update with Douglas has her fans in a frenzy. 
Fans can't stop gushing over Catherine Zeta-Jones' selfie
After you've been in Hollywood for such a long time, chances are you know how to snap a good selfie ... just ask all of the Kardashians. In Catherine Zeta-Jones's most recent Instagram post, the mother-of-three showed off her selfie skills and looked stunning in the process. Zeta-Jones filtered the shot in black-and-white. The star extended one arm outside of the frame, tilted her head slightly, and smiled big for the camera. The Oscar winner wore her hair down and at her back.
Her husband, Michael Douglas, sat next to her and appeared to be in the driver's seat of a car. He smiled for the camera and pointed one finger at his wife. "Here's lookin' at you kid," Zeta-Jones captioned the image. Fans loved the new shot of the happy couple, and many took to the comments section to express their love for it. "Wow! Gosh, you two look stunning. You haven't aged a day. #soulmates," one Instagram user wrote. "Now this is REAL Hollywood. Thanks you two for keeping the 'STARS' shining brightly in our lives," a second added.
Zeta-Jones has been keeping busy both on and off-screen. In mid-March, she shared a short video clip of herself rocking a grey sports bra and matching leggings from her Casa Zeta-Jones collection. "Nothing is more powerful than knowing you can accomplish anything! Don't let anyone stand in your way this week," she reminded followers in the caption. The star may be 52 years old, but she certainly doesn't look it!