What's The Real Meaning Of Carrie Underwood's Ghost Story? Here's What We Think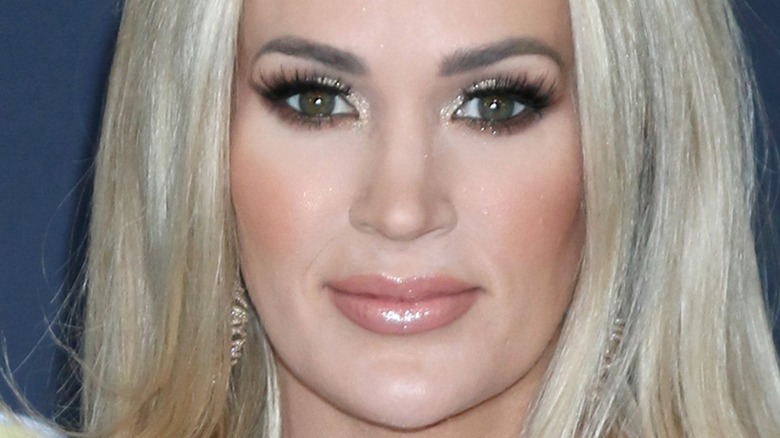 Kathy Hutchins/Shutterstock
Carrie Underwood is back with new music in the form of "Ghost Story," her first lead single from a new album — which wasn't from her Christmas release, "My Gift," or her gospel album, "My Savior" — since she dropped "Cry Pretty," the lead single from the album of the same name, in 2016.
The new single may have come as a bit of a surprise to fans, as the star didn't start teasing the song on social media until March, the very same month as "Ghost Story" actually dropped. March 10, her birthday, saw her share a snap from the studio to Instagram alongside the very cryptic caption, "So, I did a thing..." and the teases just got more and more telling from there. On March 14, she shared a five-second-long snippet of an unknown song as she confirmed it would be dropping on March 18. One day later? That song was confirmed to be "Ghost Story" in another teaser that had fans at the edge of their seats. Underwood dropped the single artwork via Instagram on March 15, and we got an even longer teaser on March 17 before it finally dropped the following day.
But what exactly is "Ghost Story" all about? Well, come along with us as we have a go at decoding the hauntingly powerful song.
'Ghost Story' is about 'revenge'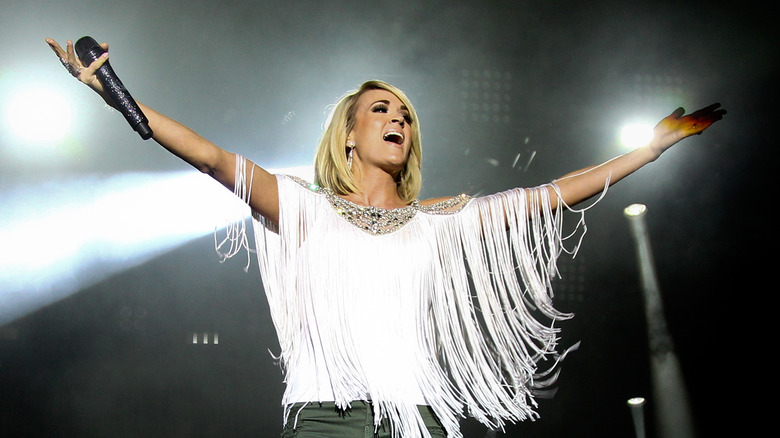 Debby Wong/Shutterstock
"Ghost Story"'s lyrics appear to tell the story of someone figuratively haunting someone else, following a relationship gone wrong. Carrie Underwood's song's lyrics, per AZ Lyrics, feature a woman telling an unnamed person that they're going to be their "ghost story" from now, on, as she makes it clear, "I'll be haunting you, you'll be wanting me." The lyrics also allude to someone turning to alcohol to get over what's assumed to be a messy breakup, with the character stating, "You'll be sitting at home drinking 'bout me/When I'm out with my friends at the bar/But there ain't enough whiskey/For you not to miss me/I'll be waiting at the bottom of the bottle in the dark."
As for what Underwood had to say about the song, she admitted on "Today's Country Radio with Kelleigh Bannen" on March 18, the song's release day, that the track is all about "revenge." "There's some drama. It's a cinematic song. It's a great story song. It's kind of this little revenge kind of song and there's just something kind of epic about it," she admitted.
Underwood shared a similar sentiment to Tulsa World, admitting it's "a different take on a revenge song," while comparing it to one of her biggest hits, "Before He Cheats." "Instead of smashing headlights, this scorned lover is letting her ex know that she will continue to haunt him no matter how hard he tries to forget her," Underwood revealed, calling it "thrilling" and "dramatic."
Why 'Ghost Story?'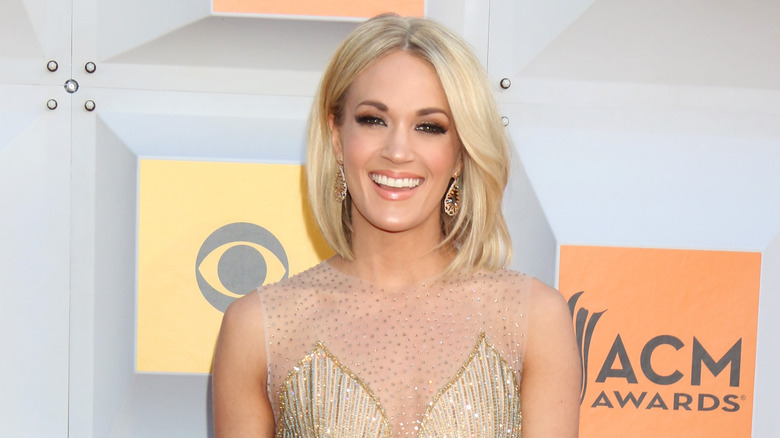 Kathy Hutchins/Shutterstock
As for why Carrie Underwood wanted to record "Ghost Story?" Well, she admitted that she was initially drawn to the lyrics, but then found the music that went along with it to be "super cool." She shared on "Today's Country Radio with Kelleigh Bannen" on March 18, "I feel like the chord changes and just kind of the musicality of it. It just didn't sound like anything else that's on the radio right now."
The "American Idol" winner also shared that she believed it was unlike anything she herself had recorded before, too. "From the first time I heard it I knew I had to record it. I have always loved performing songs that tell a story and inspire some kind of cinematic imagery when you hear them, and that is definitely true of 'Ghost Story,'" she told Tulsa World on March 18. "It creates a mood and a vibe that is different than anything else I've recorded before."
And it sounds like fans agree. Plenty of listeners took to social media to share their thoughts on the new song, with many heaping praise on the track, and Underwood's vocals. "Sooooooooo I LOVE #GhostStory !!!! What a lyrically stunning song! Authentic and beautiful. And the vocals," one person tweeted. "@carrieunderwood delivers powerful vocals #GhostStory... it's so beautiful to listen to, I wanna cry!" another wrote. Looks like another hit for this country superstar!