The Truth About Nina Dobrev And Julianna Hough's Friendship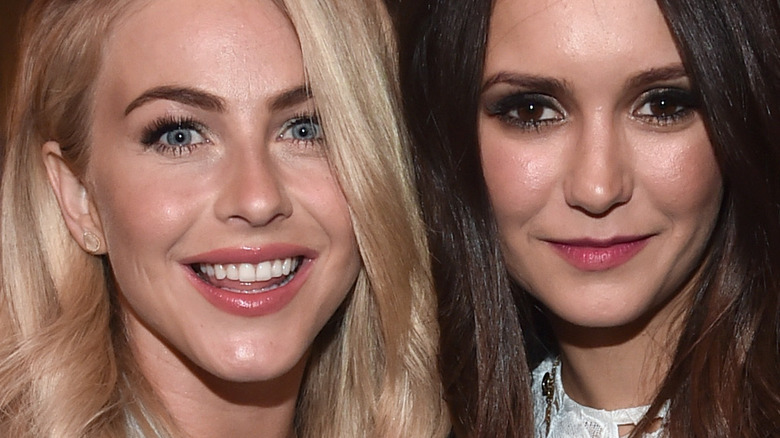 Alberto E. Rodriguez/Getty Images
Celebrity friendships can be more fickle than most, given that everybody wants to be their bestie. But sometimes, it's only another A-lister who can truly understand life in the spotlight. From those who grew up together, like Ben Affleck and Matt Damon, to truly unlikely pairings, such as Martha Stewart and Snoop Dog, Hollywood has brought together some of the most adorable BFFs out there. Of course, if we're talking about well-known celebrity besties, we have to mention Nina Dobrev and Julianne Hough. The "Vampire Diaries" alum and former "Dancing With the Stars" judge have been joined at the hip since meeting through a mutual friend, as the pair revealed on "The Drew Barrymore Show." 
"Julianne and I were both going through life crises at the time, and we were using that mutual friend as a free therapist," Dobrev explained. "It got to a degree where she was so sick of hearing about our problems ... that she was like, 'OK, I'm going to put you guys together, and you guys can use each other for therapy, and I can remove myself."
From Lakers games, to award shows and red carpet appearances, Hough and Dobrev have gone on to spend a lot of time together over the years. However, their connection delves much deeper than the superficial, as Dobrev told Cosmopolitan. Now, a decade after they first linked up, their friendship shows no signs of slowing down — in fact, it's stronger than ever!
Julianne Hough and Nina Dobrev are always there for each other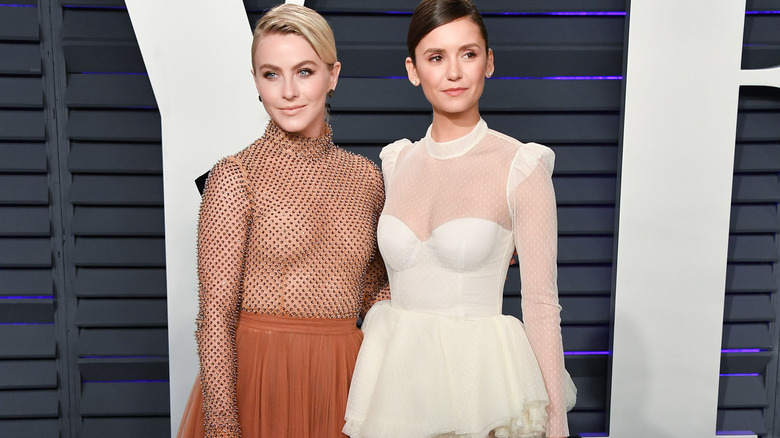 George Pimentel/Getty Images
Julianne Hough and Nina Dobrev have an authentic relationship that's grounded in their love for spontaneity and adventure. "We just keep it real. We always have fun," the dancer told PopSugar UK in 2017. "It's fun to do things that keep you out of your comfort zone. We're very spontaneous when we're together." Dobrev returned the favor when she spoke glowingly of their similarities in a 2018 interview with People. "We are goofy, we like to laugh, we like to play with our dogs and hang out and watch movies and get ready together and go places together," she said, adding that Hough is "such a positive, awesome person" with "an infectious energy."
With that said, the duo has supported each other amid the more important moments in life, too. During a 2022 appearance on "The Ellen DeGeneres Show," Hough admitted to taking Dobrev to the emergency room "more times than I can count on both of my hands." When asked by guest host Adam DeVine whether she'd noticed that Dobrev was "always getting hurt," Hough responded, "She's the most accident-prone but it's because she's a risk-taker." Outside of the hospital room, the "Vampire Diaries" star has shown up for Hough in her love life. Per People, Dobrev served as a bridesmaid at Hough's 2017 wedding to NHL player Brooks Laich. And, although Hough and Laich are no longer together, Hough and Dobrev's love for one another has turned out to be the lasting kind.
Julianne Hough and Nina Dobrev are business partners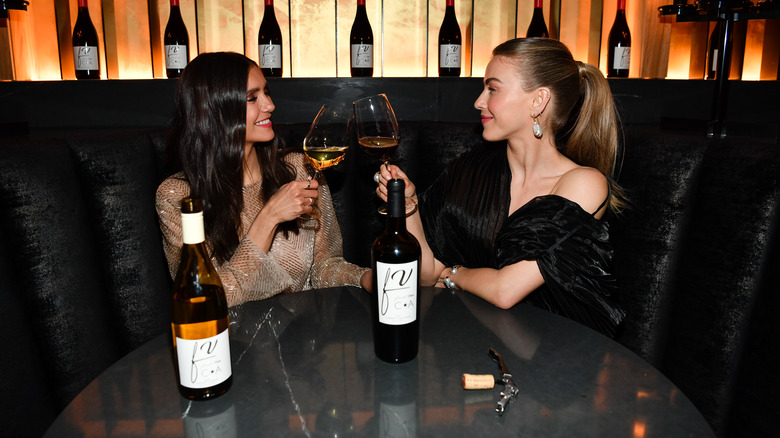 Denise Truscello/Getty Images
In 2019, Nina Dobrev and Julianne Hough took their relationship to the next level by becoming partners... in business together. Per Variety, the duo launched Fresh Vine, a wine company with less sugar and carbs meant to induce hangover-free fun times. Or as the Fresh Vine website explained, it's "a guilt free wine that compliments active lifestyles." After Hough and Dobrev's company went public on the New York Stock Exchange in 2021, they sat down with People to discuss the realities of becoming business partners. "A lot of people even say don't do business with friends and family because it gets complicated, but our experience in it has proven otherwise," Hough explained. "When you have great communication and ... a foundation of respect for one another, you get two different perspectives and you're able to challenge each other in a way that just helps you be your best self."
The age-old adage warns not to mix business with pleasure, but Dobrev and Hough are all about bucking the status quo. Working together definitely is not for all friends, but it works for this pair. "We're so honest with each other so if anything were to come up, we're really good at communicating it and it's really strengthened our friendship," Dobrev told E!'s "The Daily Pop." As for what to expect from Fresh Vine, Dobrev and Hough told Variety they are planning "a reserved Cabernet" in the future — so it seems like their working collaboration is only getting stronger.